A familiar quote alludes to Spring being a lovely reminder of how beautiful change can be. As we welcome the warming of temps and the promise of greenery here in Minnesota, we are also excited for another sign of Spring, the Parade of Homes Spring Remodelers Showcase! We are thrilled to be taking part in the Remodelers Showcase happening April 8-10, 2022. We'll be showcasing a recently completed Eagan kitchen remodel at stop R9 and let us tell you, this is definitely a beautiful showcase of change! 
Now, we know how hard it is to wait (for both Spring and the Remodeler's Showcase), so we're giving you a sneak peek behind-the-scenes look at the project! Keep reading to learn the details behind the light-soaked kitchen remodel we're naming A Modern Farmhouse.
Before: Nowhere to Go
Our homeowners came to us wishing to renovate the kitchen of their 1980s two-story home in Eagan. Several of their built-in appliances had recently broken, providing them with the final push they needed to remodel. While the kitchen was a decent size, it was utterly overwhelmed by a large center island that left them with very little room to move around and dark flooring that left the space feeling cramped despite the white painted cabinetry. Finally, the chopped-up cabinetry layout left very little room for storage, a squeeze that had them storing many of their serving dishes in the adjacent dining room, which otherwise sat unused.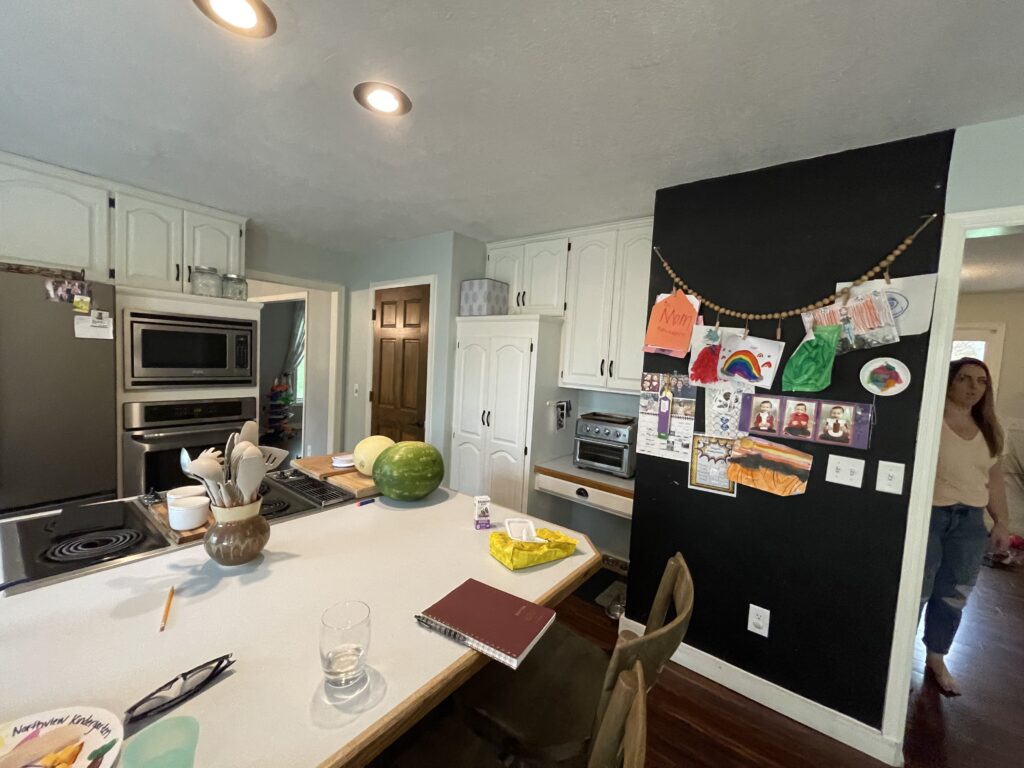 The Plan: Make Way for Space
As avid home chefs, our homeowners' primary hope was a design that would foster their love of cooking and welcome family and guests into their home. A wish list of cooking related features and a desire to brighten up the space rounded out their goals for the project.
To make way for a more open floorplan, we began as we do with so many houses, by removing the wall between the existing kitchen and dining room. Interestingly, no new windows or added doorways were needed, the light and space were there – we simply needed to make way for it.
After: A Modern Light-Filled Farmhouse Design
A clean, modern farmhouse aesthetic provides the guiding light for this project. Every detail strives to ensure that the newly designed space feels light-filled, clean, and open. Centering the design is beautifully textured, quarter sawn white oak cabinetry that brings both warmth and interest to the space. Contrasting white cabinetry provides balance while complementing the oak. An eight-foot long island topped with quartz countertops offers ample seating and food prep space, and a built-in prep sink, drawer refrigerator, and a baker's table at the end of the island topped with butcher block top and storage for cookbooks cement the island's status as a chef's dream.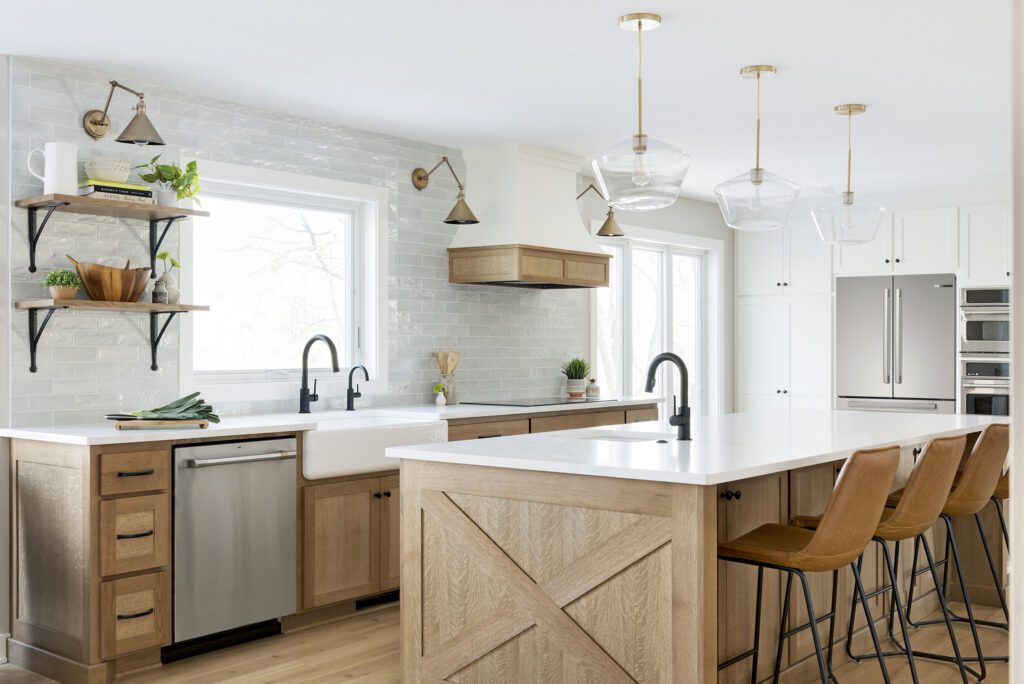 Along the back wall, pale blue subway tiles in varying sheens reach from the counter to the ceiling, adding a perfect subtle note of interest without overwhelming the rest of the design. White oak floating shelves with black brackets, a beautiful custom white and oak hood, farmhouse sink, induction cooktop, and brushed brass sconces complete the wall.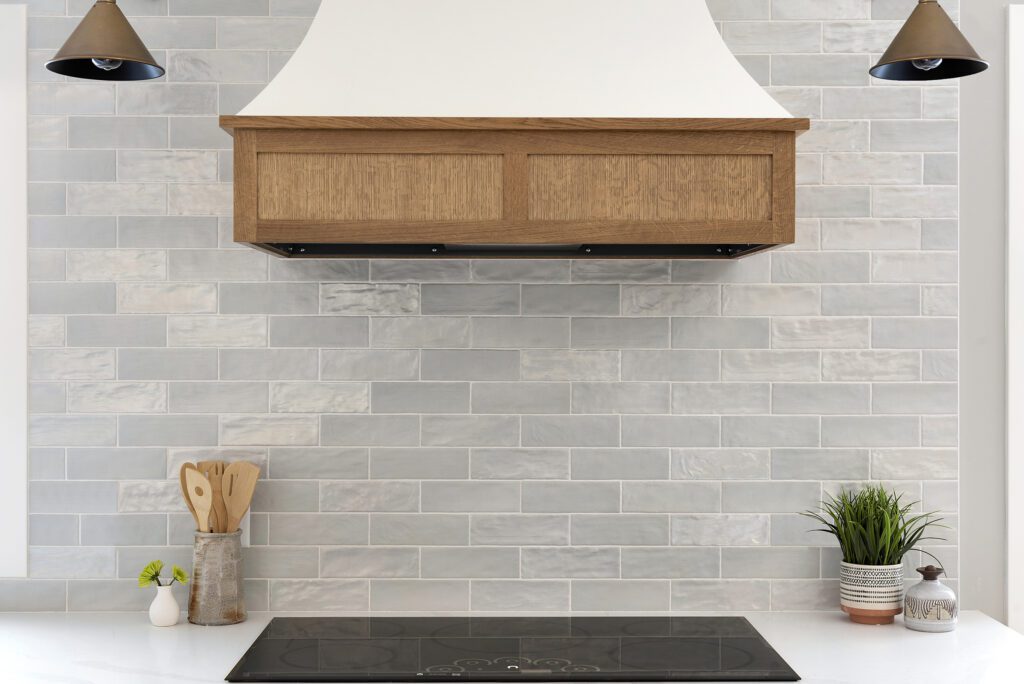 Meanwhile, the far wall packs in the function. A large pantry, fridge with overhead storage, and oven/microwave combo nestled together within easy reach of the island prep area make cooking a breeze. Nearby, a beverage station with beverage cooler, wine shelves, and beautiful glass door cabinetry ensures easy refills for family & guests.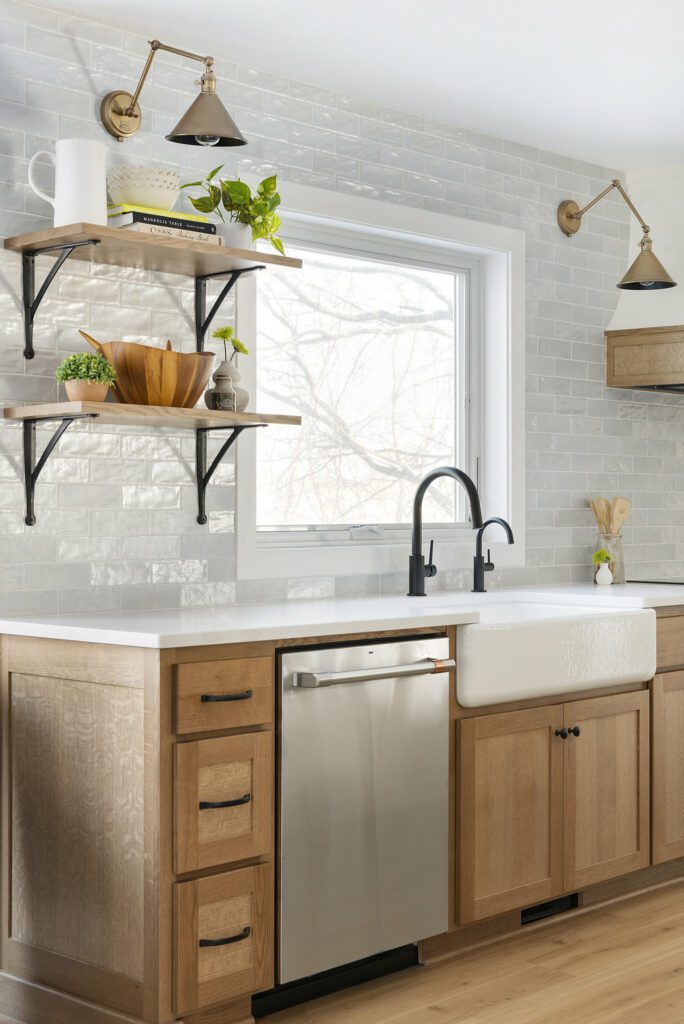 New swiss oak praline colored LVT flooring completes the light-filled space while brushed bronze lights above the island and matte black hardware and faucets add a touch of contrast. The result is an enchantingly timeless kitchen space ideally suited for a range of needs, from active family life to chef's playground to entertaining haven.
Stop By and See Our Eagan Kitchen Remodel in Person!
As enchanting as this project is in the pictures, we can tell you that it is even more beautiful in person! Whether you are on the precipice of wanting to start a remodel of your own or simply interested in seeking inspiration, we invite you to stop out and see us! You can find all the details on the Parade of Homes website, and of course, you're always welcome to drop us a note.
Specializing in kitchen, bath, basement, and home remodels in Lakeville, MN and beyond, White Birch Design works with clients across a wide range of project scopes. From total renovations like this one to partial remodels, we believe in listening to our clients to deliver a design that delights and inspires, no matter the budget. Reach out to us today to start a conversation with us and learn how we can help you #lovewhereyoulive!