Beyond wanting an overall update, many of our clients come to us with one or two must-have features on their wish lists. For the homeowners of our French Toast kitchen remodel in Lakeville, MN, one of their first design sessions included a conversation about how much they wanted a kitchen island with breakfast seating. Because of a relatively narrow footprint, we had to think creatively to deliver but rest assured, we did, along with a light-filled, open design that significantly updated the space and home. Stay tuned as we walk you through the project from start to finish!
Before: Dark & Contained
Our homeowners came to us with a very common layout, a smaller kitchen sharing a wall with a seldom-used dining room area and a peninsula separating the kitchen from the casual eating area. Black countertops and golden oak cabinetry made the space feel dark and the layout contained very little counterspace.
After weighing the options, they decided that a full remodel, over a partial remodel, would ultimately result in the space they truly desired. In addition to wanting a larger, more modern kitchen, they wished for a kitchen island with enough breakfast seating for their family of four to use on a daily basis, as well as for entertaining. They also desired more storage and a better-equipped kitchen for cooking and baking.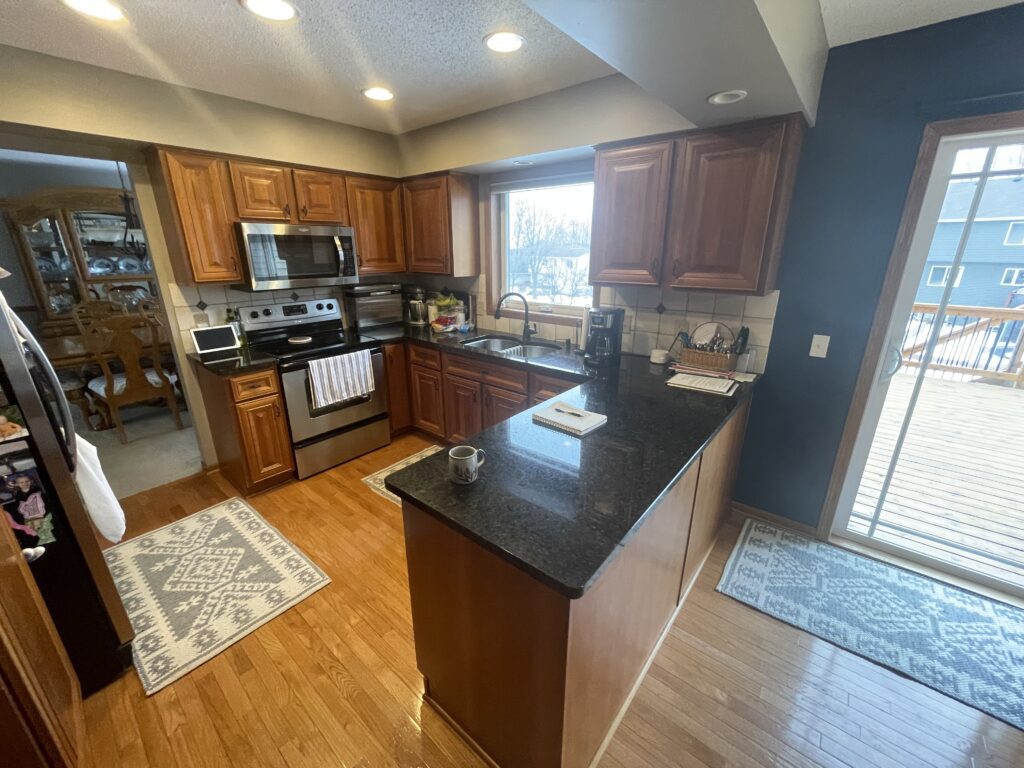 Checking All The Boxes
We began the transformation by removing the wall separating the kitchen and dining room, providing a much larger footprint to work with. Designed around the existing windows, new cabinetry with ample open countertop carries along the outside wall, housing a new induction cooktop and stainless-steel hood, sink and dishwasher.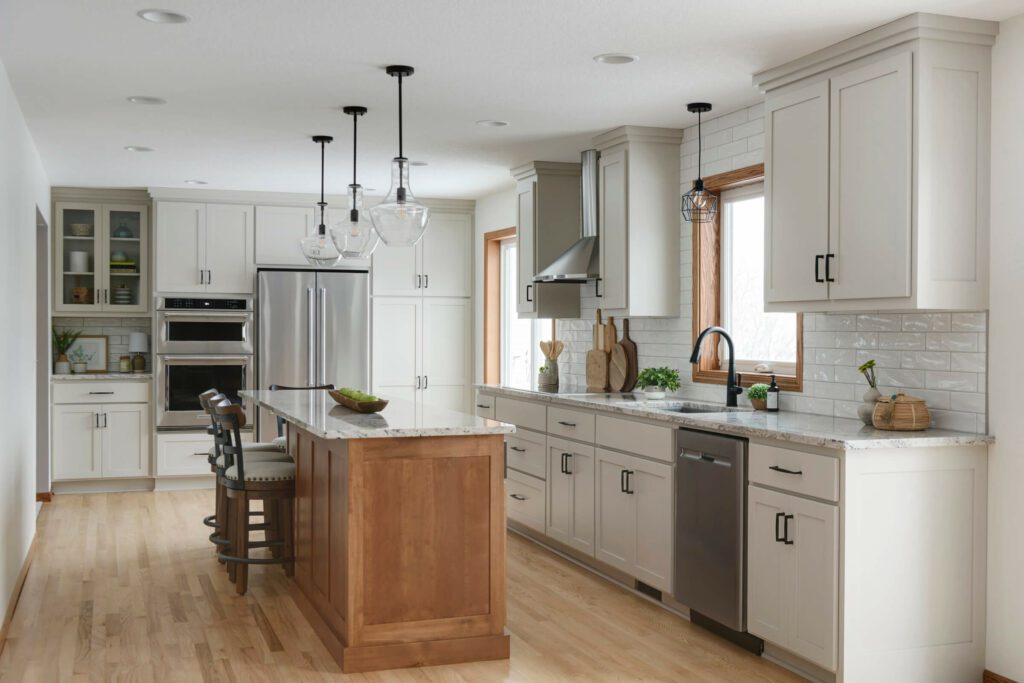 Meanwhile, the far wall packs a one-two punch of storage, with cabinetry that includes a built-in pantry and beverage station, in addition to an oven /microwave combo. Moved from its original location on the inside wall, a new fridge along the far wall opens the walkway space needed for a 10' long island with storage lining the inner corridor. The island by itself was straightforward to incorporate, but including the seating is where we put on our creativity hats to deliver on our homeowner's wish list item.
A traditional island with a larger overhang to accommodate seating would have impeded traffic flow. Instead, we designed the island base to jog in at one end, providing an inset area in the cabinetry to allow for seating without blocking the walkway. Opposite the seating, shorter-depth drawers and cabinet space deliver a consistent visual of drawer and cabinet fronts while retaining storage capacity.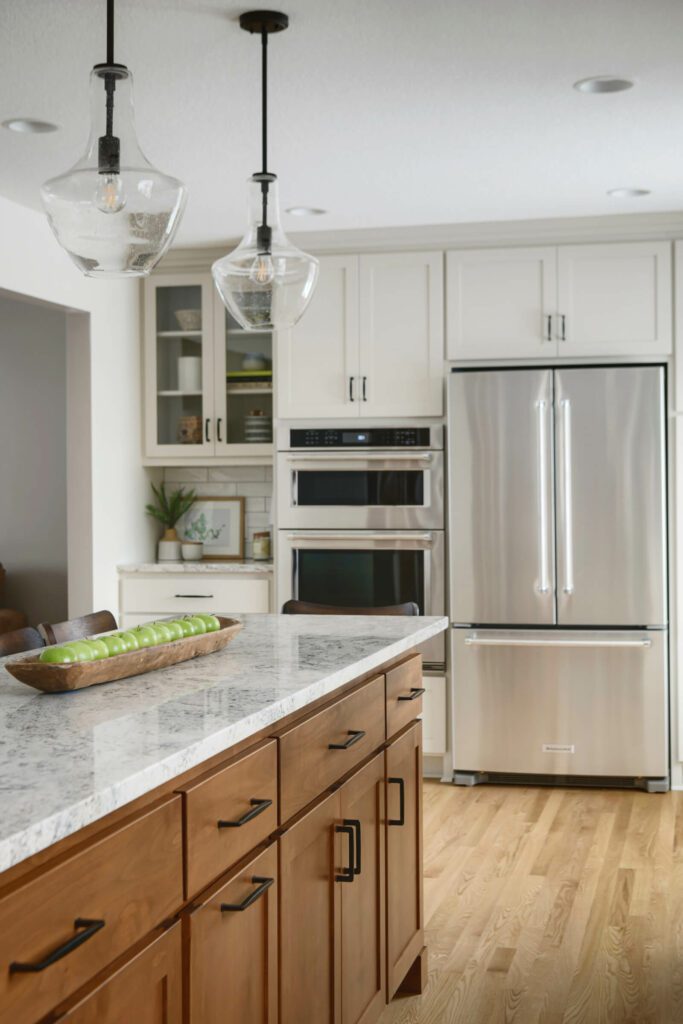 After: Awash in Light & Warmth
Aesthetically, this project is a beautiful example of both how to blend a design with the rest of the home and how drawing outside the lines of white can add warmth and character to a neutral color palette.
Benjamin Moore's creamy Revere Pewter on the exterior cabinets paired with the Alder-stained island create a softer feel balanced perfectly with refinished wood floors and woodwork elsewhere in the home. A counter-to-ceiling white subway tile backsplash keeps the space feeling bright and open, while grey granite countertops lean in to provide character. Black cabinet hardware, seeded glass pendant lighting above the sink and island, and glass front cabinet doors are additional touches that add just a touch of character without feeling over the top. New carpet in the adjoining space and walls freshly painted with Benjamin Moore's Swiss Coffee complete the transformation, delivering a space better suited for busy family life and a fresh outlook on our homeowner's enjoyment of their home.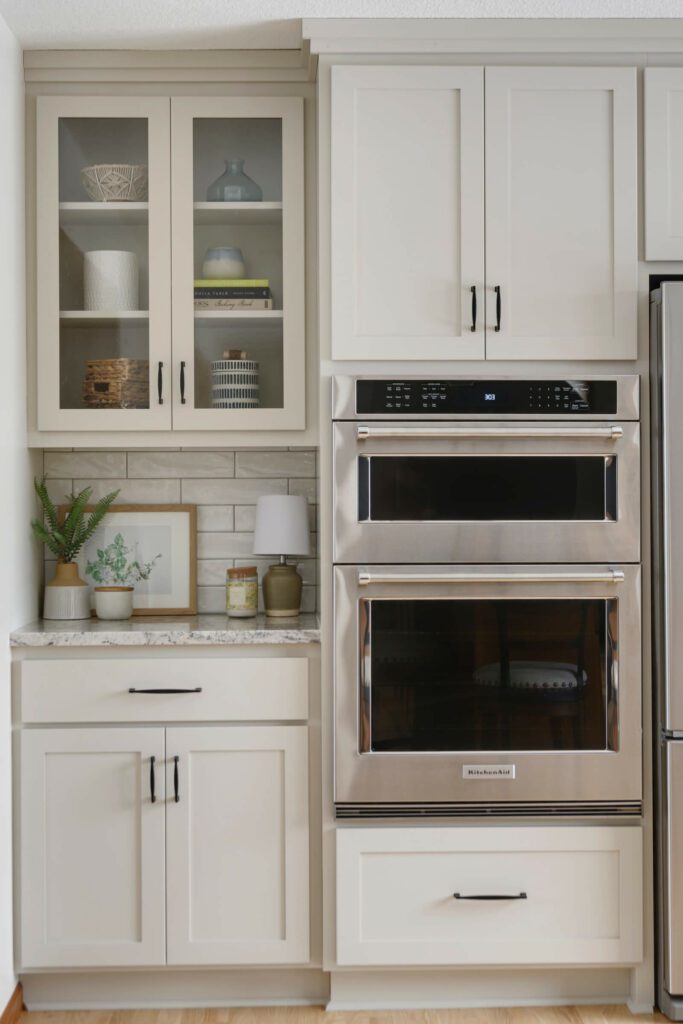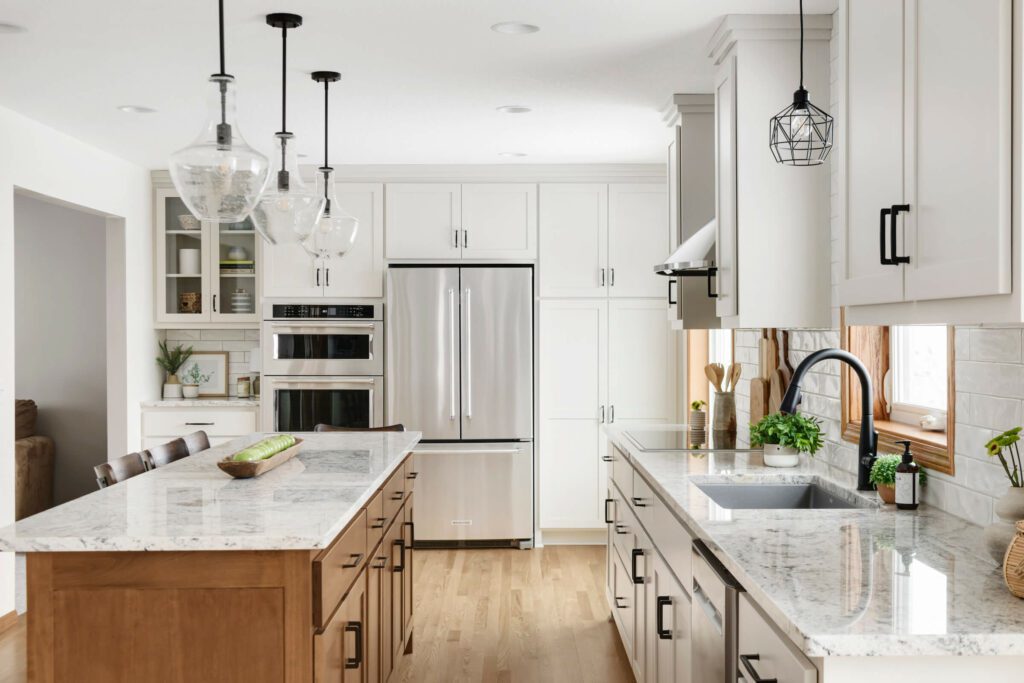 White Birch Design – Kitchen, Bath & Home Remodel Specialists Serving Farmington, Rosemount, Lakeville, Eagan & Beyond
Unhappy with your current space but not sure where to start? Begin with a call to our Minnesota remodel team, White Birch Design. With decades of combined experience in the industry, we're experts at discovering the potential lying dormant in your space.
From kitchen remodels like this one, to bathroom remodels, basement renovations and other home renovations, we work with homeowners to transform their spaces into spaces they love. We offer practical solutions that bring both beauty and function to your home and we do so with a commitment to making the process as smooth as possible. Contact our team of Lakeville, MN remodelers today. Let's get started together on creating a space that will have you loving where you live!