You chop. You cook. You gather. Highlight the heart of your home with lighting that reflects your character and style. Whether you're looking to update your old pendant lights or take on a major remodel, the lighting you choose makes a difference! Just like a balanced diet, your kitchen needs a proper balance of lighting. That's accomplished by using a layered approach. Using a layered approach in your kitchen minimizes glare, highlights work surfaces, and creates an evenly lit space. Here are some easy tips for showing off your kitchen in its best light!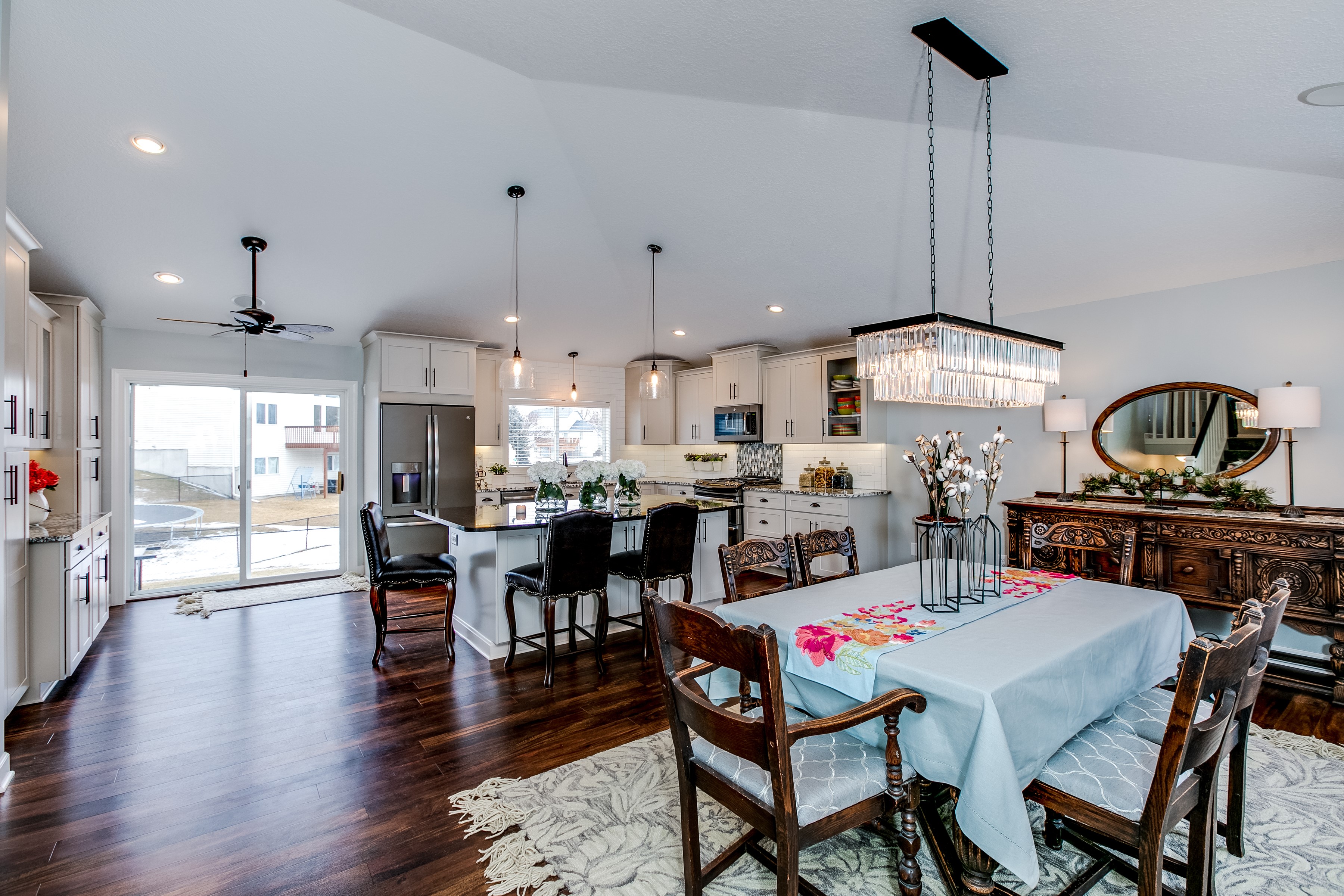 TASK LIGHTING
Task lighting is a cook's best friend because it makes food prep, cooking, and cleaning safe and easy! The bright light provided by task lighting is perfect for cutting food, reading recipes, and finding ingredients in your pantry or cupboard. Consider under-cabinet and pendant lights to provide valuable meal prep lighting while also highlighting your beautiful countertops.
PRO TIP?: Misplaced task lighting can throw shadows and actually result in hindering your work. A good kitchen designer will help you consider your placements carefully based on how you intend to use various spaces.
ACCENT LIGHTING
Accent lighting brings depth and dimension to your kitchen. Add a soft glow with up-lighting, low-voltage rope lights above your cabinets or under your island countertop. Showcase your glassware with in-cabinet LED lights or add a gorgeous chandelier above your wood table. Track lighting as shown below is versatile because it can be mounted almost anywhere and provides both ambient and task lighting. There are no rules for accent lights, they can be functional, whimsical, or both, it's up to you!
PRO TIP?: Consider a dimmer switch for your accent lighting. This will allow you to adjust lighting depending on the time of day or time of year, enhancing its effect.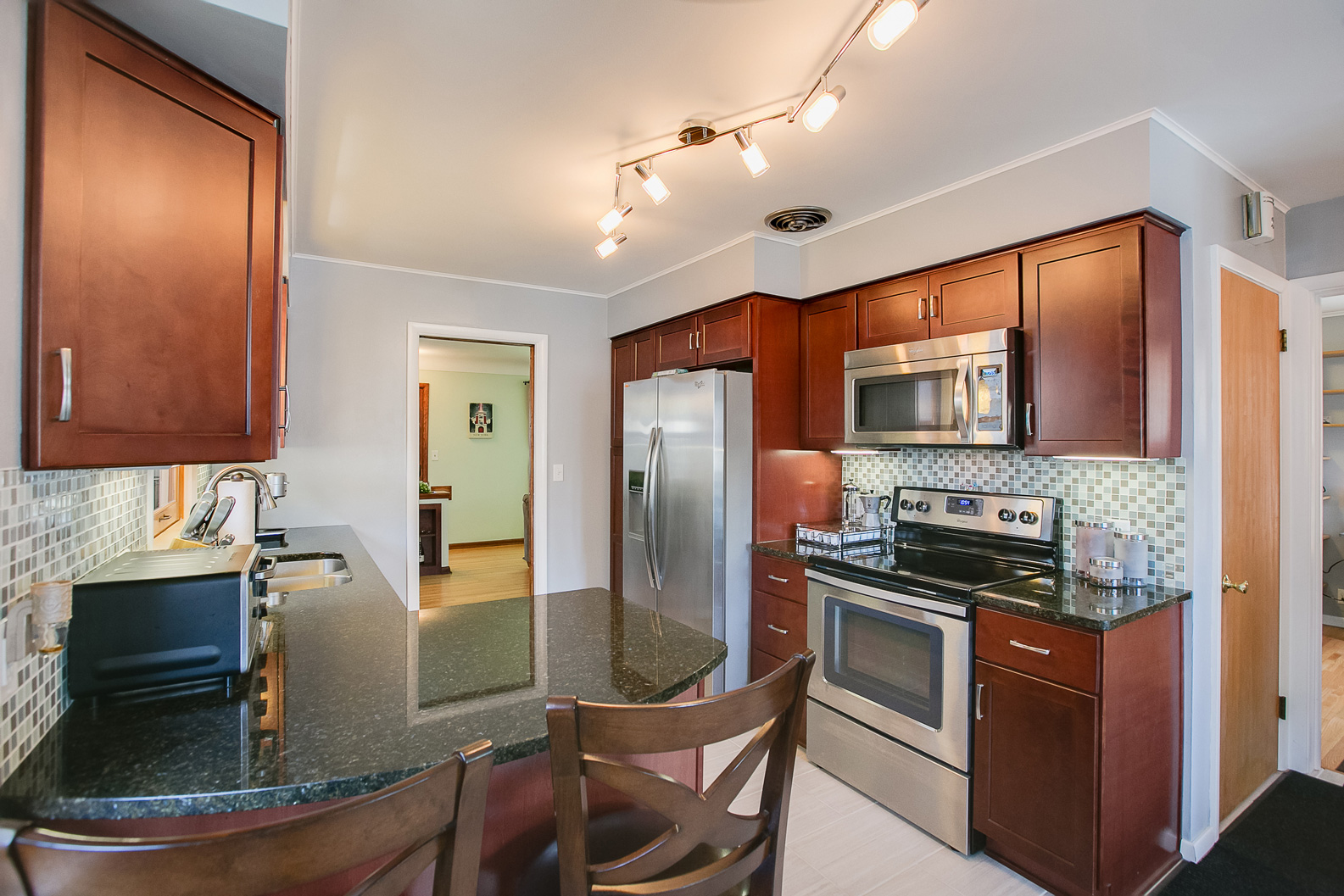 DECORATIVE LIGHTING
Bring personality and pizazz to your space with decorative lighting. Specialty and unique light fixtures are your chance to have fun! Show off your aesthetic with modern wall sconces, a beautiful chandelier, or industrial pendant lights. It's your opportunity to incorporate color, style, and maybe a little sparkle to the visual appeal of your kitchen!
PRO TIP?: If budget limitations have you holding off on decorative lighting, consider installing the wiring & infrastructure during the remodel so you can add the decorative lighting easily at a later date.
AMBIENT LIGHTING
The foundation or backbone of kitchen lighting is ambient light. Its purpose is to provide a backdrop for your other fixtures to "pop." While you may be tempted to skip it, we can guarantee you'll soon regret it. Ambient lighting creates a well-lit, gentle glow that softens shadows and fills the room with the flip of a switch. It includes recessed, flushed, and semi-flush lights that provide even lighting throughout your space.
PRO TIP?: Space your ambient lighting to your needs and always check the recommended spacing concerning your ceiling height and the power source.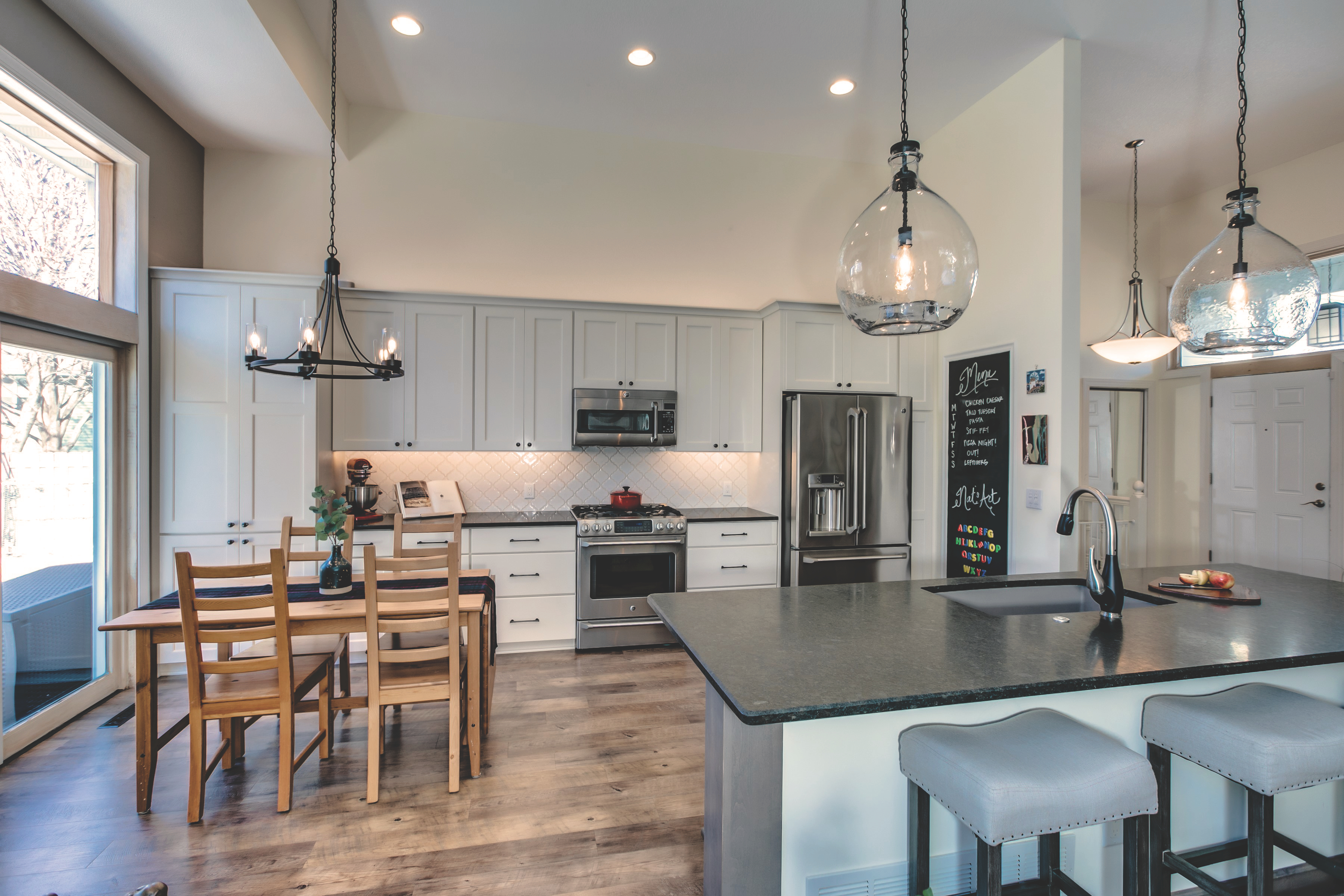 LIGHTING TRENDS
If you're looking to update your home but aren't sure where to start, lighting is the perfect starting point. These lighting trends range from simple to statement-making and may nudge you in the 'light' direction.
Geometric pendant lights: in soft tones, these can be modern to minimalist
Matte black and soft gold: blends with any decor from farmhouse to contemporary to urban
Vintage Edison style bulbs: adds warmth and an updated retro feel
Refined industrial lighting: provides a unique and modern focal point
Smart lights: customizable, energy-saving, and last longer
Your Lakeville, MN Kitchen Lighting and Kitchen Renovation Resource
If you're in the dark about where and how to start lighting your kitchen, we would love to help! White Birch Design is your South Metro resource for kitchen, bath and basement design and remodeling. Located in Lakeville, Minnesota, we offer a full range of services to homeowners throughout the South Metro. From concept to completion, we take pride in guiding you through the process of creating the kitchen of your dreams. Want to see more? Check out our Portfolio to see more examples of our work, and when you're ready, contact us to get started!