Well, it has been a crazy spring for all of us, hasn't it? Practically overnight, our world has changed with COVID-19. With so much more time spent at home, many of us are applying a new level of scrutiny to our living spaces. Why don't I have enough kitchen storage? Wow, my bathroom is in need of an update. We need to finish the basement so the kids have someplace to go play! If these are questions and thoughts going through your head right now, we have answers.
We understand that a full remodel might not be an option you can consider at this time. But, what if you could do something on a smaller scale, right now? Something that could create a big impact in the way you see your home and live in your space? That is what we want to talk about today – small changes that create a BIG impact! Take a look below as we share bathroom, kitchen, and basement partial remodeling updates you can undertake that carry a lesser cost but maximum impact!
Bathroom Updates
Bathrooms are ideal candidates for a partial remodel! There are so many different changes you can make without having to tear up the whole room or spend a ton of money. Take the vanity, for example. Do you have a shorter vanity? Most new homes today are opting for a taller vanity (think kitchen cabinet height) that makes it easier to brush your teeth, wash your face and hands, and provide more storage.
If your considering this update, one option is to replace your existing vanity. This option allows you to customize your vanity in terms of color, style, and configuration. Take the example below.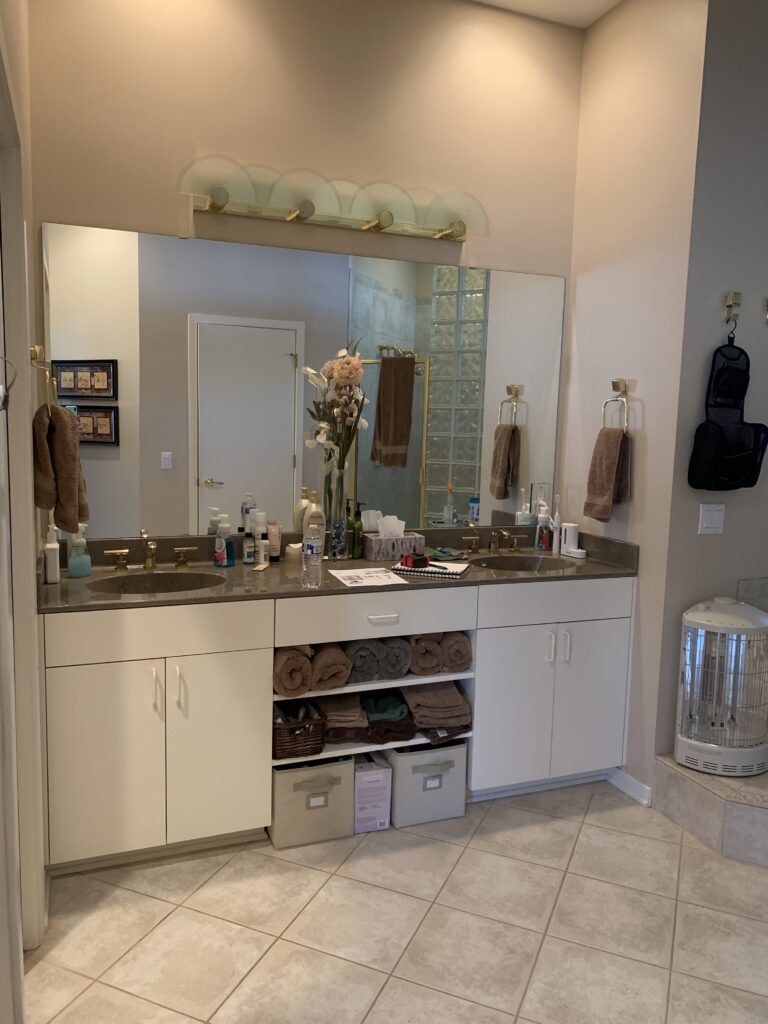 As you can see in this before and after, we replaced the entire vanity. The new vanity features added extra storage below the sinks with added drawers, perfect for rolls of toilet paper or extra towels. We also added a center cabinet on the countertop for an extra boost of storage and it even has has a lift up door on the bottom that holds an outlet for hair tools and toothbrushes.
Another option for updating your vanity height is to simply raise it up! In the before and after below, we took an existing cabinet (as the homeowners wanted it to match the rest of the home) and raised it up to be 36″ high. We added some blocking under the vanity and then used a furniture molding around the bottom to hide where it had been raised. We completed this look with new sinks, faucets, and a new countertop!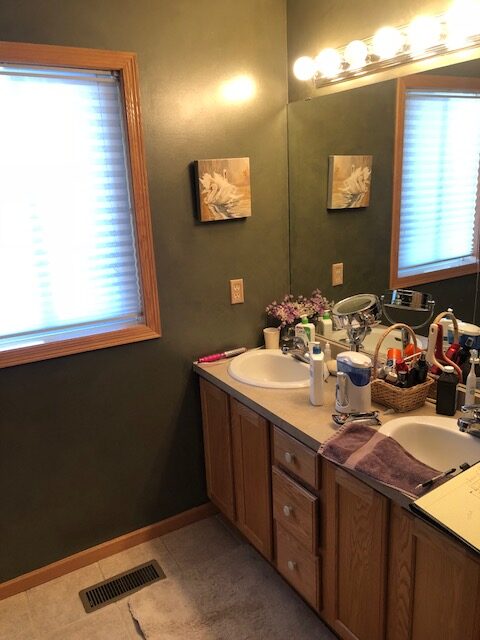 And let's not forget the rest of the bathroom. Consider changing out a fiberglass shower or tub/shower to tile. The bathroom below shows the before and after of the old fiberglass shower that we replaced with a new tiled one. I think you'll agree that it makes a big impact on the overall feel of the space! It brightens up the space considerably and makes the bathroom feel much bigger!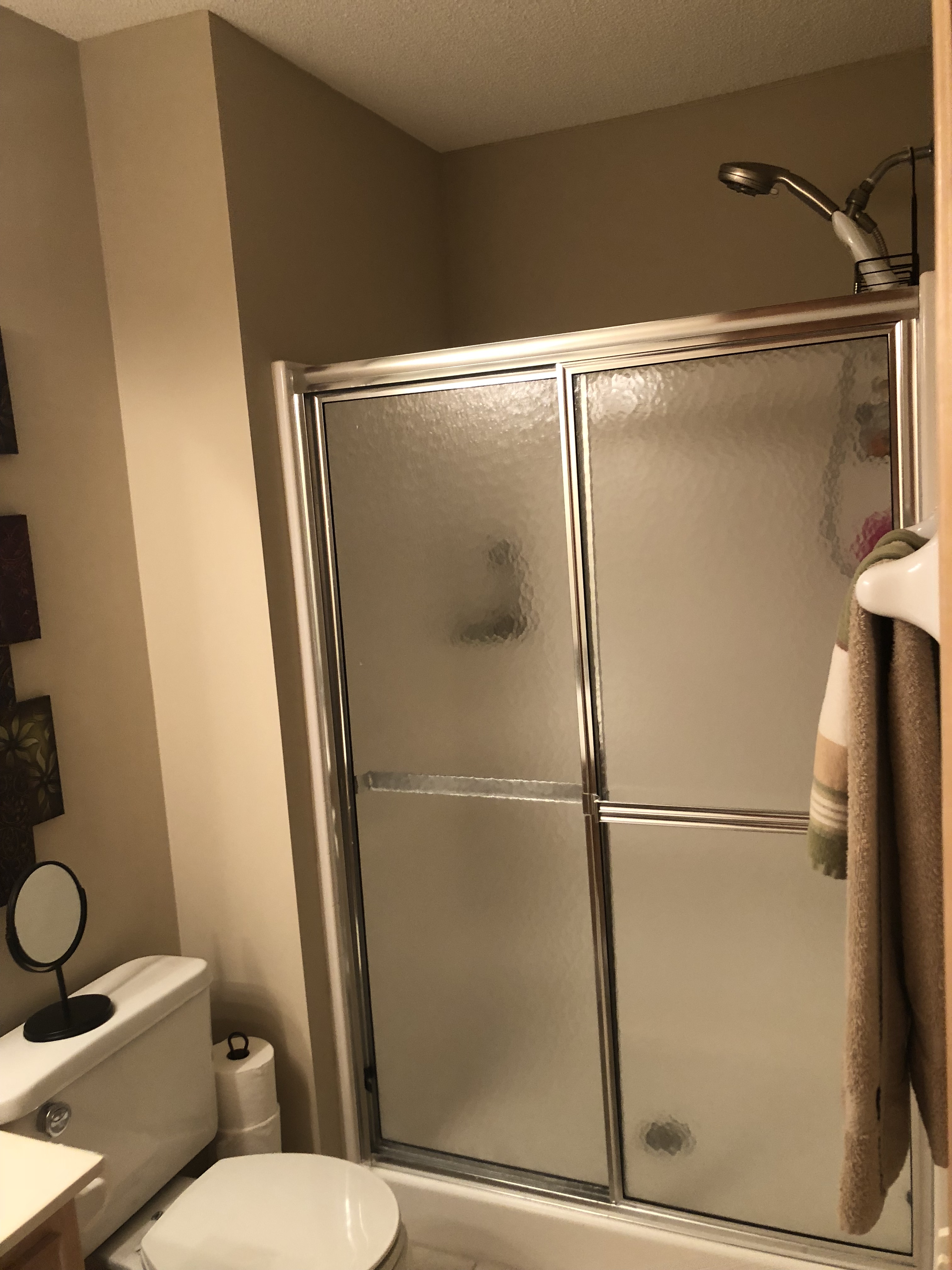 A final option for updating a vanity could be as simple as changing the countertops, painting the cabinet, and putting on new hardware! This can give you a new look for your bathroom with little cost to put it together!
Kitchen Updates
Many of us are now spending way more time in our kitchens cooking, doing homework, or perhaps even work. With all this added use, you might have noted a few areas that could use improvement. As with the bathroom examples above, it is possible to make some big changes without a full remodel. Skeptical? Check out these great options!
In our first example shown below, we took the existing cabinets and rearranged them a bit to create a more open kitchen and give the homeowners a new island! In this kitchen, the cabinets had already been refaced. The homeowners liked the way they looked and didn't want to replace them all. By looking at the available options we had with the existing cabinets, we determined we could use the peninsula cabinets and turn them against the sink wall to create an 'L' shaped kitchen, allowing a large island to be added! The countertops had recently been installed, and given the configuration of where the seams were, we were able to re-cut the peninsula countertop and seam it back together with the new configuration.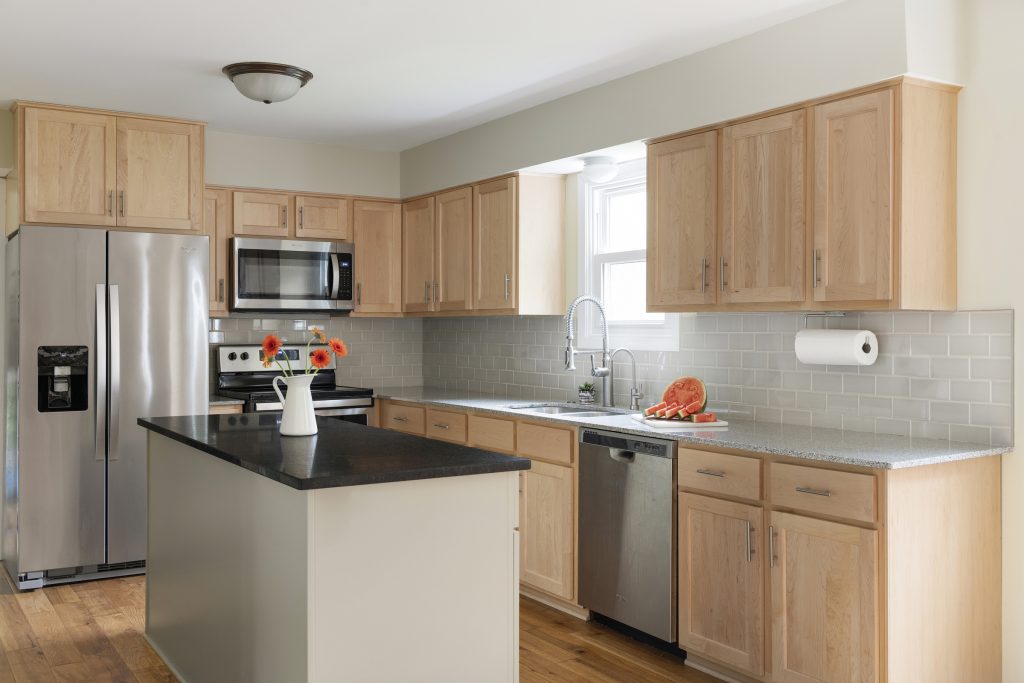 Next, let's talk kitchen islands!
A simple change out of your existing island can make a big impact in your kitchen. You could change up the color of the island cabinets to add a fun accent color (think blue or orange!), and a new top, butcherblock perhaps?
Another option would be to add an island. Don't have enough space? What about a movable island!? In another of our recent kitchen remodel projects, our homeowner's dream was to have a kitchen island to bake cookies on with her grandkids. While there wasn't enough space in her floor plan for a fixed island, we designed for her a movable island using cabinets seamed together on casters! Topped off with a butcherblock countertop, the island features fold-down sides. This allows the island to take up less space while not in use but when lifted up, they create a 6-foot countertop! If you have a compact kitchen, this is definitely something to consider!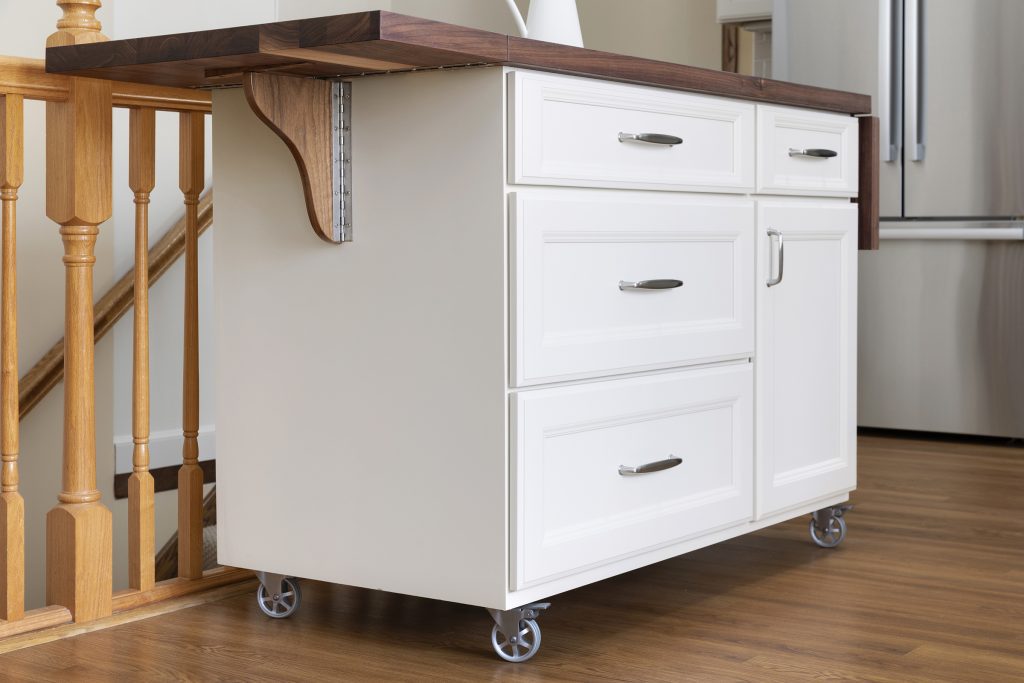 Lastly, another option for updating your kitchen is to simply replace the countertops. Changing out your laminate tops for new granite or quartz tops can create a huge impact in your kitchen. A countertop update also typically includes a new sink and faucet. Think all sinks are the same? Think again! Sinks can really make a statement in your kitchen with options that include colored cast iron, durable granite composite, or copper stainless! The options are endless. Always dreamed of a farmhouse sink? There are now options made to retrofit into your kitchen (it used to be that a farmhouse sink could only be done with new cabinets). Complete the whole look with a new tile backsplash and you seriously have a new kitchen to be proud of!
Basement Remodeling
What is there not to love about basements? As the bonus space of a home, basements are great for entertaining guests or a place for the kids to hang out! If finishing your basement is out of the question, consider breaking the project into chunks. There are a couple ways you can tackle this. First, you could finish the bathroom. This is a stand-alone room in the basement that doesn't affect the rest of the space and for many homes, having that extra bathroom is a real bonus. Next, you could get all the framing, mechanicals, and drywall finished, leaving the rest to completed at a later date. For some, even having this roughed out space adds some much needed functionality or the ability to work on it themselves. Another option is to finish the basement without adding some of the 'extras' you'd like to have at a later date, like a bar or fireplace. In these cases, these features can roughed-in or planned for with the proper electrical or water connections for finishing in the future. This is a great option for biting off little pieces at a time and still getting what you really want in the end!
Your Apple Valley, MN Kitchen, Bath, and Basement Remodeler!
Whatever project you want to take on, we are here for you! We pride ourselves on giving our clients options that allow them to make the best decision for their home and family. No matter the size of the project, we love being able to help make your remodeling dreams possible!
Contact us today to schedule an appointment with us to discuss your kitchen, basement or bathroom remodel project! We look forward to working with you!