In a happily ever after home renovation tale, the story rarely begins "the dishwasher leaked and ruined our kitchen floor!" In this storybook kitchen remodel, however, that's exactly how the story begins. A water-damaged kitchen floor provided the opening for our homeowners to take a leap of faith to begin a kitchen remodel they had always dreamed of. When the damage occurred, they had the option to simply repair their flooring, or to go all in and chase down the kitchen of their dreams. We're so very glad they chose the latter and reached out to us for help. Keep on reading to see how this Lakeville, MN kitchen remodel story unfolds! 
Before:  Cramped, Dated and Damaged
This 1980s kitchen had an awkward layout surrounded by half walls and was missing a significant section of flooring caused by the water damage when we first saw it. It was compartmentalized with inadequate storage and limited workspace. Not surprisingly, it featured golden oak cabinetry and trim throughout adding to its dated look. The detached, and seldom used, dining room was inefficient for this growing family. The space presented our Twin Cities remodeling team a significant challenge in terms of design to meet the homeowner's vision.
After: Transformation to Open and Sleek
It was immediately clear that the half walls had to go in order to create the open and expansive kitchen that our homeowners imagined. The kitchen design left us with a single wall to work with, which was broken up by existing windows. In addition, we also needed to retain a dining space for the family. 
Windows Then Walls
We began by moving several windows in the space. To open up the kitchen, we narrowed the existing window over the sink, added a transom window over it, and cut the existing dining room window in half, moving it over slightly and adding a transom window above it. This gave us a longer stretch along the exterior wall to work with, while also preserving the natural light in the space. Next, we removed all interior walls. The blank canvas was now in place.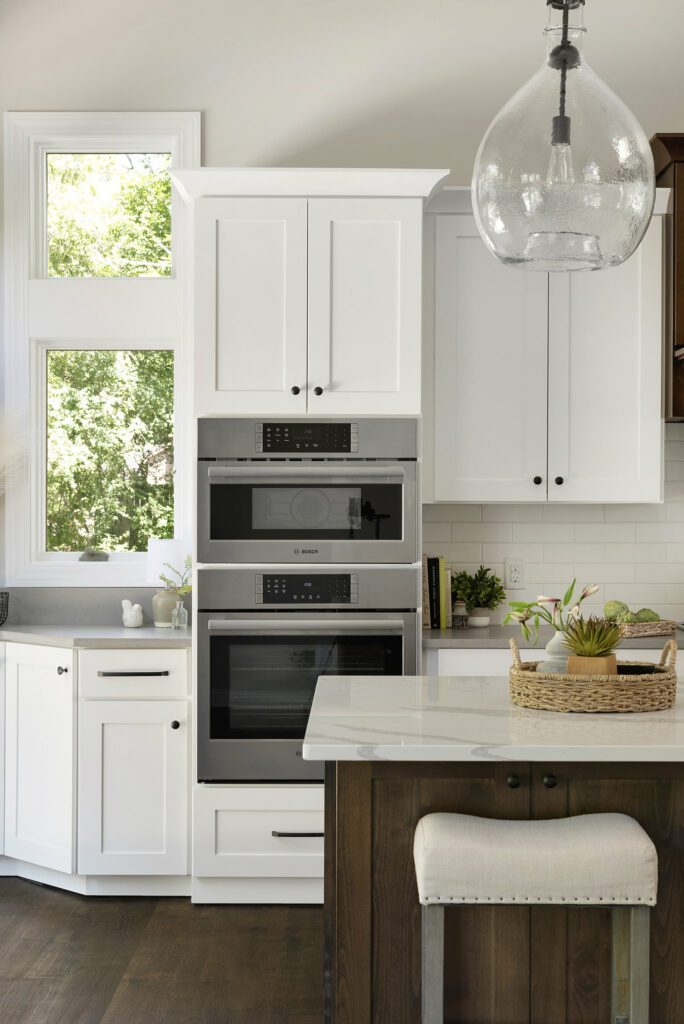 Storage and Workspace
With storage and function in mind, mission-style white cabinetry with shaker doors and a new pantry took up residence along the unobstructed exterior wall. A stained alder hood over a range top accompanied the cabinets and anchored the wall. 
One high-functioning wall does not make a grand kitchen, however! We designed a massive 11-foot island to take center stage and serve as the new space's focal point. The island features stained alder cabinetry and a stunning seamless 11-foot continuous quartz countertop. With seating running along the back of the island, and a sink, dishwasher, garbage station, and ample customized storage built into the main side, the island is truly the workhorse of this Lakeville, MN kitchen.
The Final Chapter
To round out the design and finish the story, we incorporated final touches designed to enhance, rather than distract, from the open and spacious nature of the new space. Clean, white subway tile, simple matte back hardware, and dark LVT flooring perfectly set the stage for an updated and classic take, that is simple, yet anything but expected.
Our homeowners truly took the bold path to write their own story and partner with us to create a stunning, yet functional space. The kitchen is now well suited for family life with children and for hosting extended family gatherings in sophisticated style. It was our incredible pleasure to help them 'Love Where They Live'!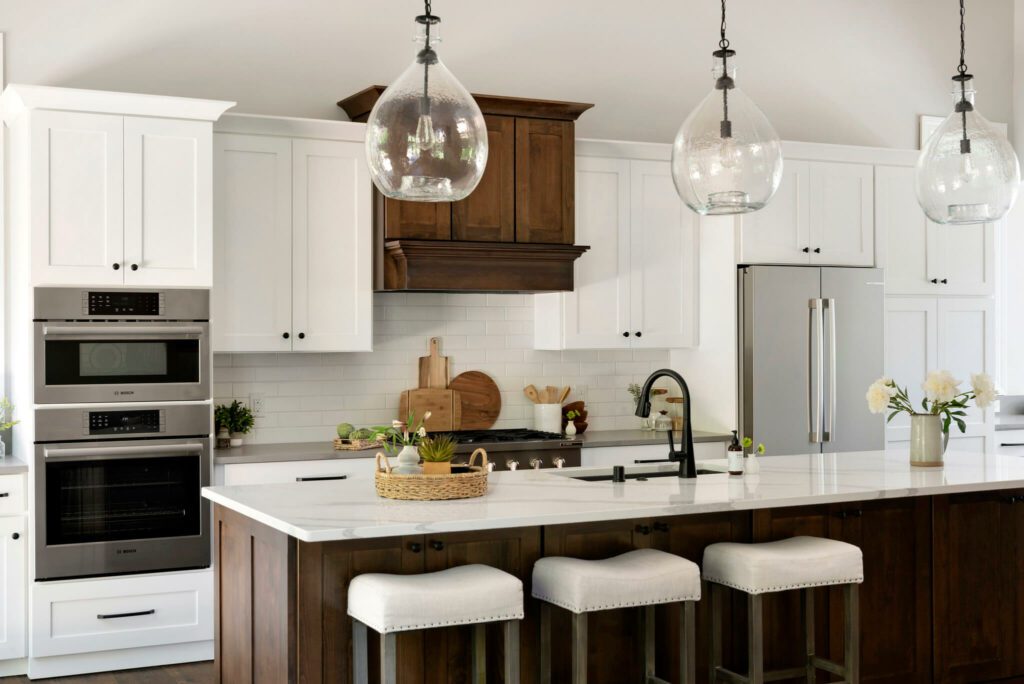 Inspired? Let's Talk! The remodeling team at White Birch Design in Lakeville, MN is here to help.
Here at White Birch Design, our motto is 'Love Where You Live'. Based in Lakeville, MN, our design team helps homeowners across the Twin Cities and South Metro transform their kitchens, baths, and basements into spaces they love. We do this with honest communication, a client-focused attitude, and beautiful design. We aren't a big Minnesota remodeling firm, but that's a good thing. It means that every remodeling project we undertake means as much to us as it does to our homeowners. Ready to start dreaming about your kitchen, bath, or home remodel project? Contact us today to get the process started! We look forward to hearing from you.