The inspired bathroom projects highlighted below are remodels we've been working on over the last several months. Each project has a vastly different feel. The common factor among all three is that we worked within the original footprint to renovate. You'll be amazed at the transformation that can happen without major structural changes! While bathrooms may be small relative to other spaces in your home, we contend that they are mighty. And not only in the way they function.
At White Birch Design our Lakeville, MN home remodel team takes great pride in our bathroom projects and we design them to be extraordinary for our homeowners – in both appearance and function. Take a look at these bathroom remodel gems. You're certain to find something you like! 
Mocha Mornings, A Savage, MN Bathroom Remodel
While we love white cabinetry as much as the next designer, this project is proof that it is refreshing to head in a different direction every once in a while. Beginning as an exhausted and bland space, this Savage, MN bathroom is completely transformed!
Before Photos
A new rich mocha-stained custom vanity with a matching framed mirror greets you as you walk into the space. Adjacent to the vanity stands a gorgeous free-standing soaking tub where a dated drop-in tub with tub deck once stood. This feature alone is a game-changer, instantly modernizing and opening up the space.
Moving onto the shower, we replaced the builder-grade shower insert with a new fiberglass shower base and a beautiful large format tile that reaches to the ceiling. A smaller arabesque mosaic accent tile adds a beautiful finishing touch to the shower space, appearing as a wall accent and in the newly added recessed shower shelf. A design-forward hex porcelain floor tile replaces the former dark travertine tile, lightening up the room. Finally, cool brushed chrome accents in the new hand shower and showerhead, faucet, lighting and hardware tie the design together. What a spectacular end product!
After Photos
Want more? Visit this Savage, MN bathroom remodel project on our portfolio page!
Seize the Day – A Rosemount, MN Owner's Suite Remodel
Wouldn't you love waking up in this Rosemount, MN owner's suite? The blend of rustic coziness and warm touches makes this a perfect place to start the day!
Before Photo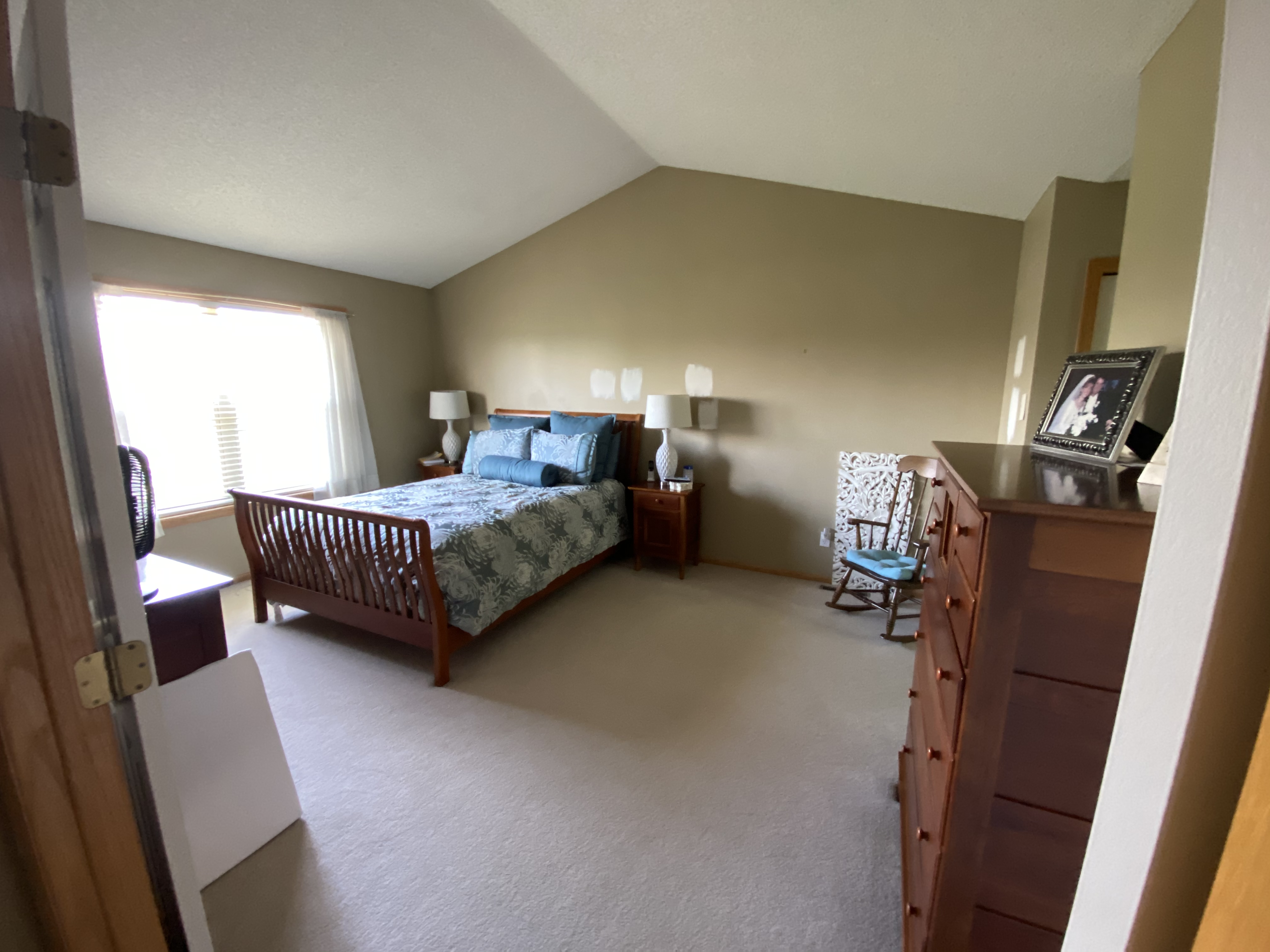 Entering the owner's suite, you are greeted by reclaimed wood beams locally sourced by Boards and Beams Woodshop installed in the vault of the bedroom room. Meanwhile, new medium-toned wide-plank luxury vinyl flooring leads from the bedroom and into the bath. Topped with a classic chandelier, the room emits a soft, relaxing tone, creating a quiet space to greet each day.
Entering the bathroom, you're greeted by crisp white cabinetry with smooth drawer fronts, shaker-style doors and brushed gold pulls, and knobs. A subtly patterned wallpaper hung over the vanity is tucked behind a circular mirror, adding a dash of modern playfulness to the transformed space. As you gaze into the mirror, reclaimed wood beams make another appearance, this time as floating shelves mounted above the toilet space. Finally, replacing a builder-grade shower unit with shiny brass everywhere, a new beautiful shower space completes the transformation featuring a natural pebble floor, white subway shower walls with a hexagon mosaic strip.
The completed look is playful yet elegant, warm and relaxing, in summation, the perfect place for beginning and ending each day.  
After Photos
Our team loved working with the homeowners on this owner's suite bedroom and bathroom remodel. Don't miss seeing all the photos.
Santorini Blue – An Eden Prairie, MN Bathroom Remodel
Those who love a playful pop of color will absolutely adore this project! We worked in tandem with our homeowners to update their 90s era Eden Prairie, MN bathroom. They came to us asking for help to remodel the space which was dark, dated, and clad in contractor beige and pink. A tiny shower, a lack of windows, and too many walls within the space made this bathroom feel small and enclosed. We set about creating a space that would feel light and open without a major overhaul of the floorplan.
Before Photos
To open up the space, we lowered the toilet wall and removed two of the shower walls. In perfect complement to the newly open space, lighter-toned tile and LVT flooring keep things bright with a delightfully brilliant Santorini Blue hexagon tile adding personality and, dare we say, a pop of playfulness to this elegant space.   
While the existing tub stayed, we refaced it with a new wood front and retiling of the tub deck and surrounding border wall. Meanwhile, the shower space, while remaining the same size, is made to feel more open with its newly removed walls, glass shower enclosure, and a lighter updated color scheme. Grey large format tile that reaches to the ceiling and a new recessed shelf are elegantly complemented by pops of the blue hex tile and a silver metal accent strip. The ambitious duo wanted to put some elbow grease of their own into the project and so they went to work refinishing the vanity while our South Metro design team sourced and installed a gray & blue quartz top for the piece. The blue hex tile makes it final and perhaps most impactful appearance as the bathroom counter backsplash, topped with stunning lighted mirrors and artwork. Finally, new brushed stainless faucets and hardware cap off our efforts, creating a brighter, more elegant, packed with personality space far removed from its cramped, dull, and dated origins. 
After Photos
This bathing blue-ty is worth a better look! Check out our Eden Prairie bathroom remodel project page featuring additional photos.
White Birch Design, Your Bathroom Design & Remodel Specialists in the Twin Cities
If these bathroom designs inspire you, contact us to start a conversation about a project of your own. White Birch Design is a full-service design/build/remodeling company specializing in bath remodeling, kitchen remodeling, and basement design and remodeling projects.  Located in Lakeville, Minnesota, we serve the South Metro communities of Lakeville, Rosemount, Eagan, Apple Valley, Burnsville, Savage, Elko, Inver Grove Heights and beyond. Check out our Lakeville, MN home remodeling portfolio to see more examples of our work. Let us help you love where you live!