As remodelers, we often feel like a parent in that we're not supposed to have favorites among our projects. But we must admit that sometimes, we fall just a teensy-weensy bit harder for a particular project! We can't explain it, but it happens, as it did for this Lakeville, MN kitchen — a beautiful representation of how a beautifully classic-inspired design can blend with more playful elements!
Cramped Beginnings
This certainly wasn't a case of 'Beauty and the Beast' when talking about the before state of this kitchen. Our homeowners came to us having done a fair number of cosmetic updates to the kitchen of their 1995 home. However, having decided that they wanted to make this their forever home, our homeowners wished for more space and an open floor plan to suit their needs and taste better. The current U-shaped layout[AB1]  of the kitchen felt confined and dark, and with a largely unused formal dining room adjacent, they decided to take the plunge, reaching out to us to make their dream space a reality.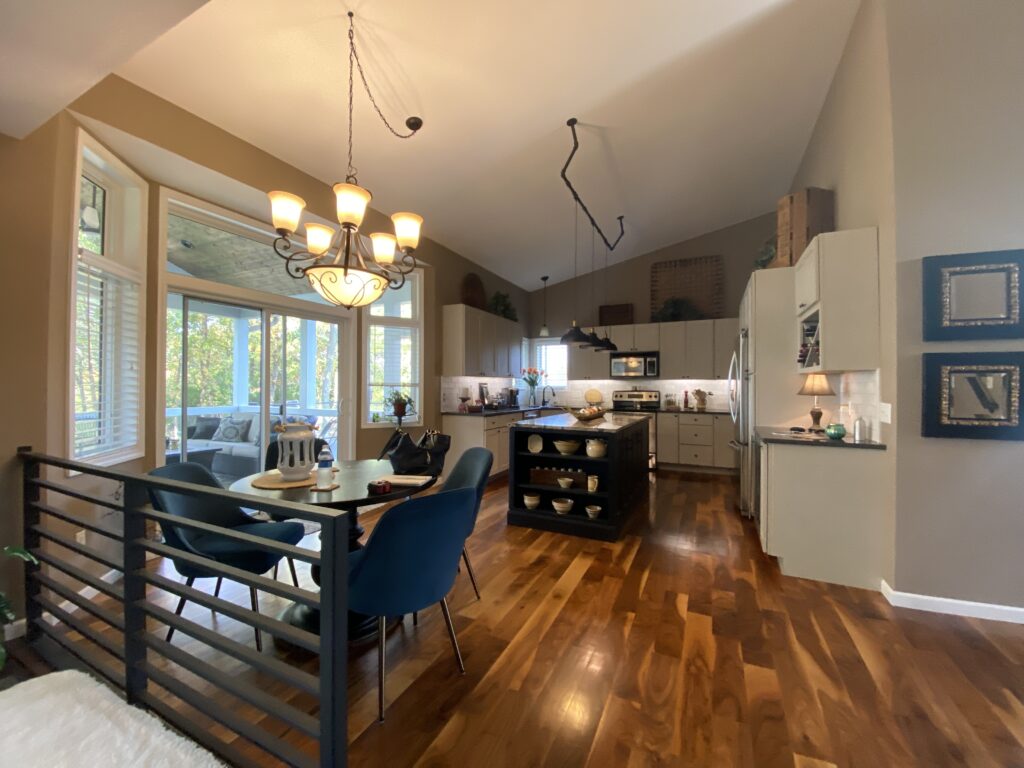 Let There Be Space
We began as we do with many projects, by taking out a wall. Removing the wall separating the kitchen and formal dining room, as well as the adjoining arch and pillars, created a new open floor plan with dizzying potential. We opted to keep the existing walnut floor, feathering in the missing parts where the walls once stood and sanding and refinishing them. To address the lack of light, we added a transom window near the peak of the newly opened far wall, flooding the space with much-needed light.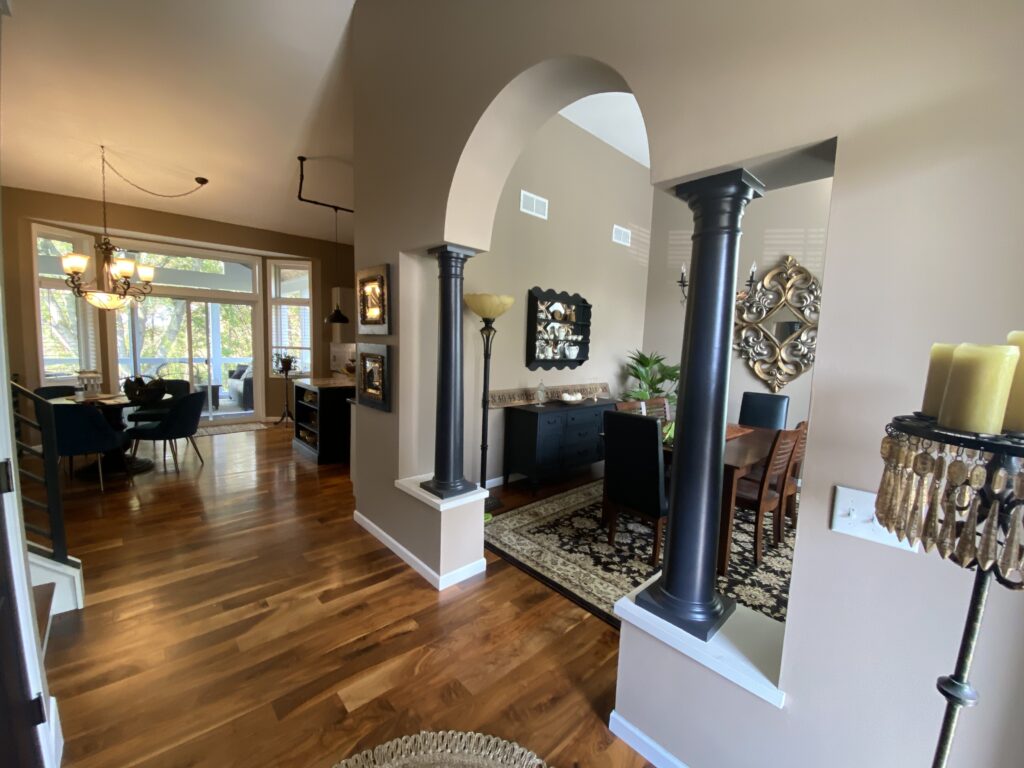 A Formal Affair
Perhaps the most impactful aspect of the new kitchen design is the stunning color palette. Elegant black stained cabinetry on the island and beverage station play beautifully with the crisp white cabinetry elsewhere. Champagne bronze hardware and faucet, matte black accented lighting, and brushed grey quartz countertops along the perimeter cabinets lend a classic feel to the space. Meanwhile, playful elements, including an elongated hex tile backsplash, glass door cabinetry, and walnut wood accents found in the hood wrap and floating shelves, deliver just the right amount of flirtatious interest and warmth.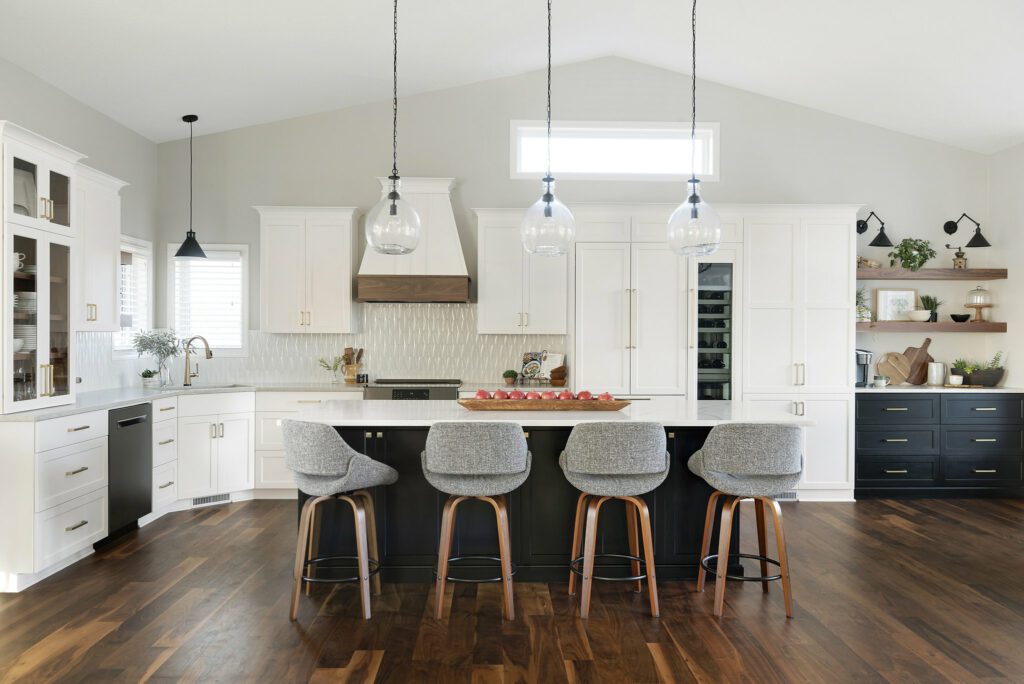 In terms of function, this kitchen is stacked with features for entertaining and day-to-day living, first and foremost being a large nine-foot island topped with white marble-veined quartz. With built-in seating, an under-counter microwave, and plenty of storage, this island checks every box, from morning breakfast to entertaining friends!
The theme of flexibility continues with a new paneled fridge, wine column and enlarged pantry, ensuring plenty of room for whatever the week might bring. And finally, one of our favorite features, a beverage station with deep drawers for glass storage and floating shelves above, is designed to look as beautiful as it functions.
WANT TO SEE MORE? Pop over to the portfolio page for this stunning Lakeville, MN kitchen remodel to see more photos of this project!
Happy Endings
Our homeowners thoroughly love their new open floor plan, and, as for us? Well, we'll always have a soft spot for this classic beauty but, who knows, maybe your kitchen will be the next to sweep us off our feet ??
Specializing in kitchen, bath, basement, and home remodels in Lakeville, MN and beyond, White Birch Design works with clients across a wide range of project scopes. From total renovations like this one to partial remodels, we believe in listening to our clients to deliver a design that delights and inspires, no matter the budget. Reach out to us today to start a conversation with us and learn how we can help you #lovewhereyoulive!
---