We are so excited to be part of the upcoming Fall 2022 Parade of Homes Remodelers Showcase tour! Our favorite part of the tour is meeting all the homeowners who stop by to tour our projects. Hearing their stories, whether they choose to work with us or not in the future, brings us so much joy. We love learning what brings people to the tour, and hearing their ideas and challenges provides us a creative boost that lasts long past the event weekend. 
This fall, we'll be showcasing a kitchen and great room remodel project in Apple Valley. Completed earlier this summer, this story of transforming 80s oak to beautifully updated may sound familiar, but this kitchen and great room remodel design is anything but typical! From the stunning color palette to the details that set the design apart, it's a true transformation story. As we like to do with all of our Remodelers Showcase features, let's whet your appetite for what is to come! Keep reading as we dive into the transformation story behind this project with our latest Before & After feature!
Before
The origins behind our client's motivation for this remodel are a well-known tale we've heard many times before. An 80s-built kitchen awash in oak paired with poor flow and a choppy main floorplan that made everything feel cramped.
The dining room off the kitchen was rarely used. The existing living room space featured an awkward wet bar (just steps from the kitchen) and an unbalanced layout that left little actual room for furniture.
Desiring a more open floor plan with room for both entertaining and day-to-day life, our homeowners wanted an open layout that would keep the eye moving towards the back of the house, one that would flow seamlessly with a future planned addition off the back of the home. 
From a design perspective, they wanted to veer as far away from their oak origins as possible, with a design that felt fresh and modern yet timeless enough to mesh with the rest of the home.
Design Decisions
To open the space and for flow into the future addition, the decision to remove the wall dividing the kitchen and dining room and incorporate the space into the new design was an easy one. While it would require us to move the location of the stove and microwave, it left us plenty of space to work with. The discussion then became, what do we do with three walls of cabinetry? Making the cabinetry feel purposeful without overwhelming the area would be critical to our success.
Within the living room area, we opted to center the space by removing the window to the right of the fireplace. This would give us walls on either side to work with. We also removed the built-in corner TV unit to the left of the fireplace and the oddly placed living room wet bar. Now, with an open floor plan and a blank slate to work with, it was time to dive into the details of rebuilding.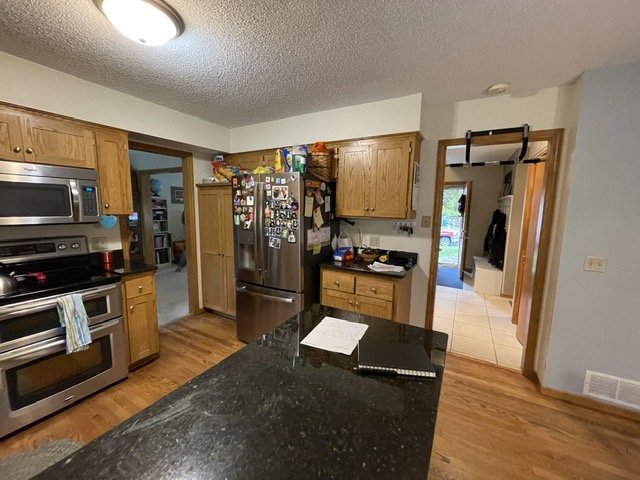 After
Limited in width, there was not enough kitchen depth to include a kitchen island so we set about utilizing the three open walls to deliver a space that felt cohesive and purposeful. Along the exterior wall, the sink remains in its original spot but is flanked by ample countertop workspace, something the previous design sorely lacked. A new sliding glass door to the right of the sink area leads to the deck and, in the future, a four-season addition.
Across the way, the interior wall hosts the newly moved stove with microwave overhead. The refrigerator is bumped slightly to the left to make way for counterspace on either side of the stove. The far wall is home to a gorgeous beverage station with tall pantry storage on either side. All three walls of cabinetry work together to provide much-needed storage, spacious functionality, and enough room to move easily through for day-to-day life and entertaining a crowd.
Meanwhile, within the former living room, a new space is born! A natural stone fireplace with custom built-ins on either side provides balance to the room. New LVP flooring throughout the main floor, paired with all new trim, casing and baseboards, ensures a cohesive feel.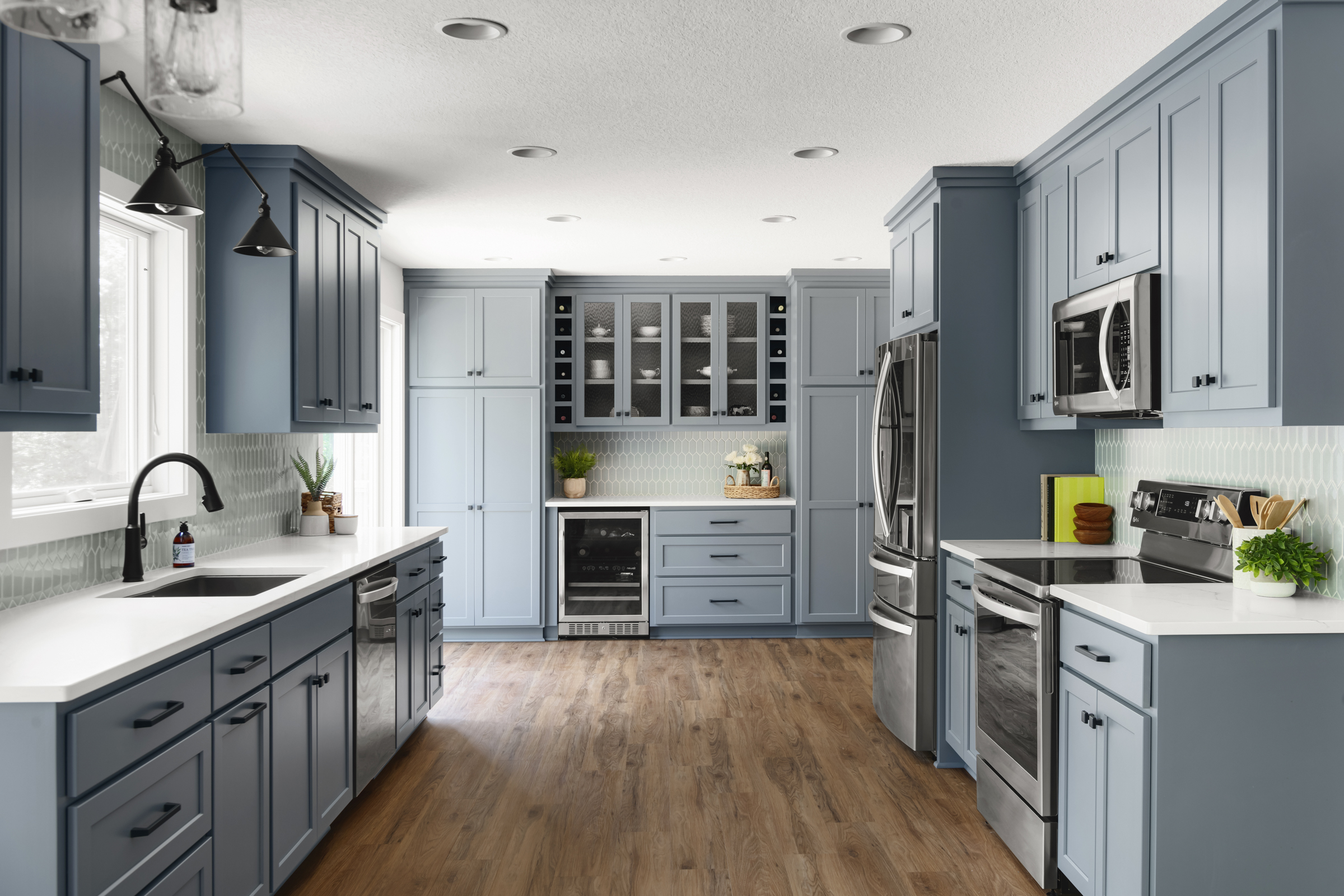 Design Details
Beyond the obvious improvements in functionality, the design and overall aesthetic sing out to grab your attention in a way that feels welcoming rather than pushy. Beautiful grey-blue cabinetry paired with a pale blue mosaic picket backsplash and white quartz countertops steal the show. Meanwhile, hints of black in the form of the faucet, hardware and articulating wall sconces over the sink ensure the space carries a subtle contemporary feel. Altogether, the design feels decidedly different, timeless, yet packed with personality. A new beginning for a tired space that is sure to bring delight for years to come!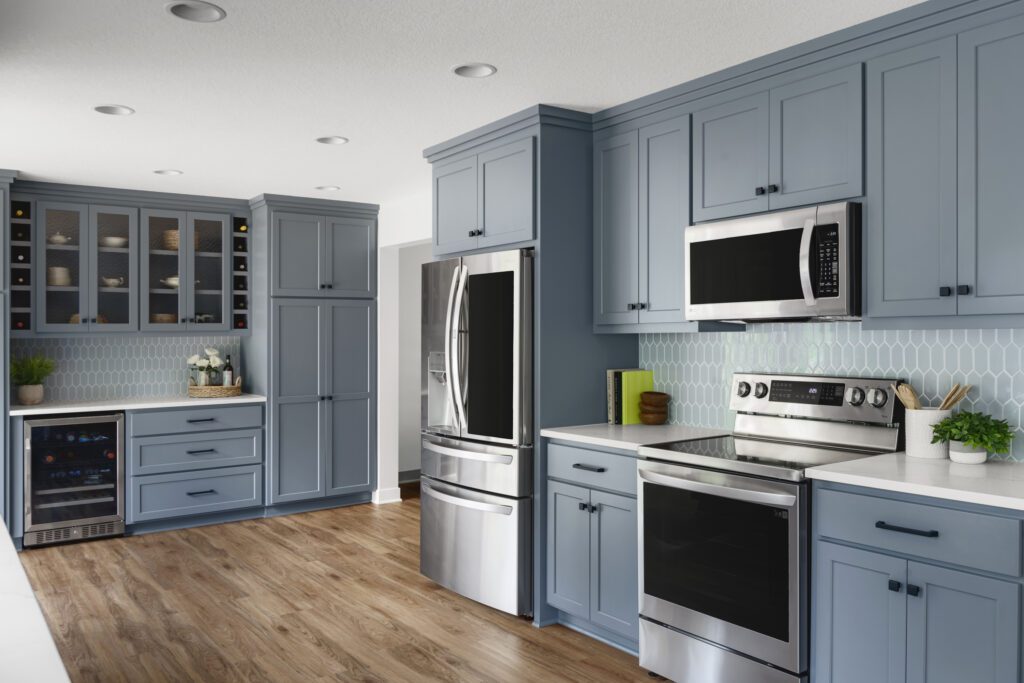 Your kitchen, bath & home remodel specialists in Lakeville, Apple Valley, Eagan & beyond.
Looking to write a transformation story of our own? Stop out and see as at the upcoming Fall 2022 Parade of Homes Remodelers Showcase happening September 30- October 2. See our work, ask questions and meet our team! Can't make it? Give us a call at 952.686.8443 or contact us via our website. Whether you've just started to research or are ready to get started, we'd love to hear from you! 
Located in Lakeville, White Birch Design LLC, is a full-service design/build/remodeling company specializing in bathroom, kitchen & basement design and remodeling projects. We'd love to hear your ideas, share a bit more with you about our remodeling company and explore how we can help transform your home. Love where you live!