Here at White Birch Design, we celebrated an important milestone last month — our five-year anniversary! We've grown significantly in just five years, expanding our team and meeting many new faces along the way. In celebration and acknowledgment of this growth, we thought it would be fun and helpful to take a look back, highlighting the path we took to where we are today, what sets us apart, our process and even answer a frequently asked question as we go! Hang on tight; let's begin!
How It All Started
Founded by co-owners Steve McDonald and Angela Barnhart in 2018, this dynamic duo worked together for many years before deciding to start White Birch Design. With a combined 35+ years of experience in the industry, Steve focuses primarily on project management, while Angela handles design. You'd be hard-pressed to find two more down-to-earth and friendly people, and their approach to working with clients' mirrors this. They believe in having flexible, friendly and honest conversations with homeowners. Leaning into their motto of 'Love Where You Live,' Steve and Angela work with homeowners to create reimagined spaces that exceed a client's expectations and meet their budget as well. As the company has grown, they've remained committed to this approach, assembling a team of like-minded individuals and trade partners who mirror their values and approach.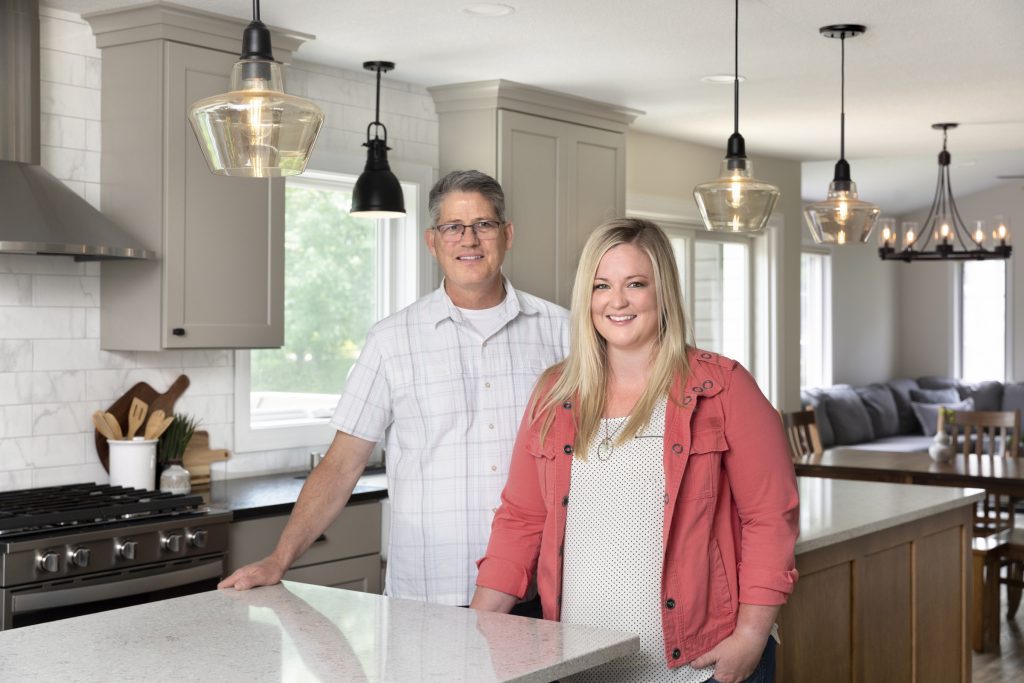 White Birch Design Founders Steve McDonald and Angela Barnhart. Visit our About Us page to meet the entire Lakeville, MN remodeling team.
What Sets White Birch Design Apart
In addition to the honest communication mentioned above, we consistently hear feedback from our clients telling us how much they love our team. From the trades we work with to our employees, we strive to ensure that everyone who comes in contact with our clients is respectful, detailed and thorough. 
Something else we hear mentioned often is that our owners, Steve and Angela, are involved in the process from start to finish. Homeowners aren't handed off to a salesperson or another designer. Steve is there throughout every project and the beautiful designs you see on the website (many of which are award-winnng!) are led by Angela.
Lastly, we like to point to our scope of projects as something that sets us apart. We open our arms to many types of projects, from small bathroom or partial kitchen remodels to full basement renovations, main floor remodels and home additions. We don't turn down a project just because it's smaller, but at the same time, homeowners with a significant remodel in mind value our expertise and experienced staff who have seen and done it all. We understand that everyone's needs are different and welcome the variety to our day and project portfolio.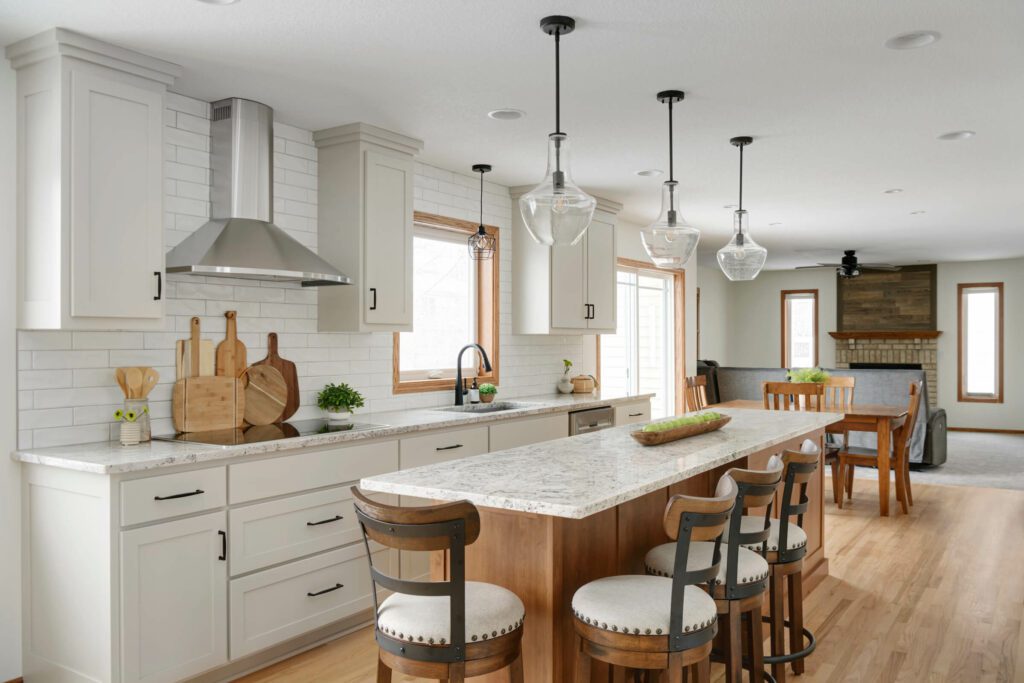 This Lakeville, MN kitchen remodel is just one example of our work. Visit our portfolio page to see our wide scope of project work.
Our Process
White Birch Design is a design-build firm. That means we handle projects from start to finish, from design to construction and everything in between, and trust us, what goes on in between is A LOT.
It starts with your initial design. Many of our projects involve reworking the layout of a space, which can be challenging for homeowners to envision. We sit down with our clients to learn about their wants, needs, features, and the look they are trying to achieve to develop a reimagined design; often one our homeowners had never even considered.
One question we get asked often is, "what would you do in this space?" We always answer the same way. It isn't our job to tell you what WE would do. Instead, it's our job to ask the right questions and figure out what YOU want. One tip we give homeowners is to collect photos of spaces you like. Don't stress about labeling what you like and why. Bring us the photos, and we'll take that step with you to discover the underlying themes of what drew you to those photos, using the discussion to help guide us in creating your unique design.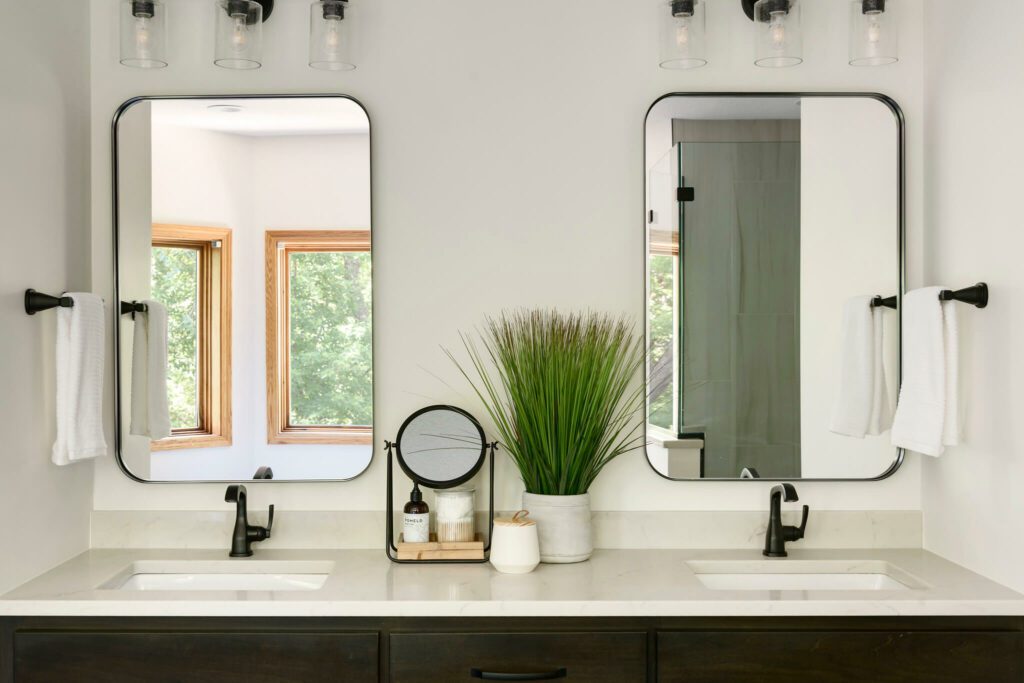 We also assist with selections. Larger projects can involve numerous selection decisions, which can be overwhelming. We don't send you off to make these decisions on your own. Instead, we stay at your side, helping guide you through selections to ensure a cohesive look.
And it won't stop once construction begins. From the demo of your existing space to catching those final details that complete the installation, our crew (whom you'll probably consider family by the end!) will be at your side.
Get to Know Us – Kitchen, Bath, Basement & Home Remodeling in Lakeville, Eagan, Apple Valley & Beyond!
Now that we've shared a little about White Birch Design, we invite you to learn more! Visit the rest of our website and scope out our kitchen, bath and home remodeling team, check out our portfolio of remodeling projects, read our Remodel Before & After blogs to learn how we work from start to finish or sign up for our monthly newsletter to see reveals of our latest projects!
Wherever the next five years take us, we can guarantee that we'll always remain big on dreams while grounded in the small business approach and values we founded the company on. If this sounds like the type of remodeling company you'd like to work with, reach out to us. We can't wait to begin our next story together!