Thinking about remodeling your bathroom? A remodel can be a big decision. Would you like your bathroom to look great and accommodate any needs you may have in your Golden Years? The great news is that it's easy to combine both comfort and luxury in your bathroom design. Here are some aging in place bathroom design tips that allow you to enjoy your home for years to come!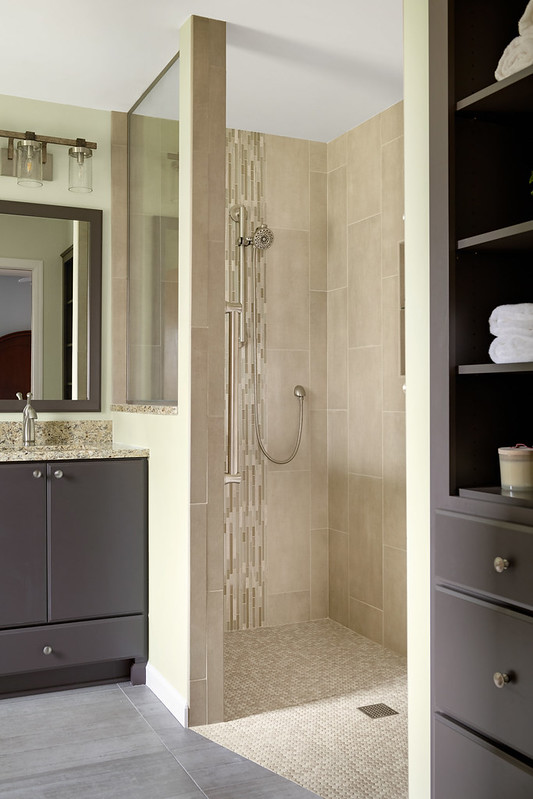 Entrance
Let's begin with the doorway. Older homes tend to have doorways that are only 28". Most experts agree that the optimal doorway size is 36" wide and if possible, a door that swings out not in. A flat threshold entry gives a modern look and also eliminates the risk of tripping. A sliding barn door is another choice that's easy to open and close.
Shower/Bath
If you have the choice between a shower or bath, a shower wins every time! A bathtub is difficult to get in and out of at practically any age! Opt for a walk-in shower that has no threshold, includes a seat or bench, and an adjustable-height showerhead. There is no downside to this design as it makes bathing accessible for people of all ages and physical capabilities.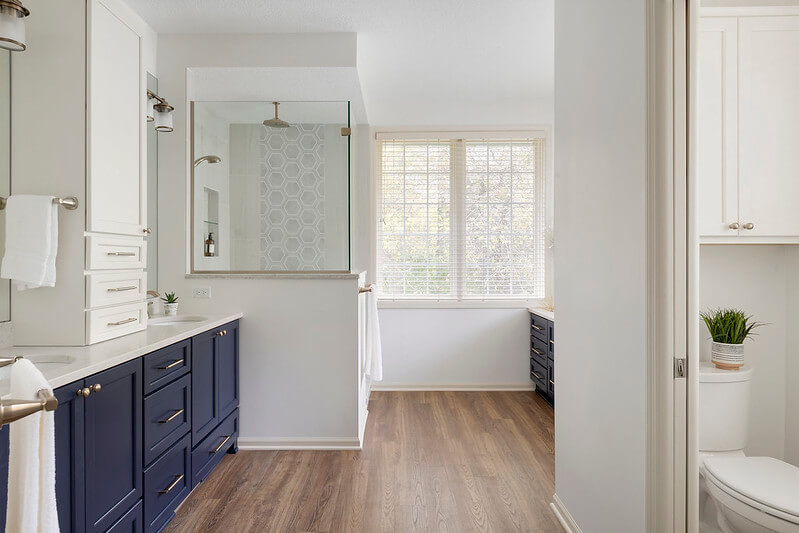 Flooring, Vanity, & More
Nothing updates a room like flooring. Before you fall in love with a floor sample, here are some tips that can help you make the right choice that looks great and decreases the likelihood of falls. The general rule is this: the more textured a tile is, the less slippery the floor! Mosaic tiles, by nature, are less slippery because they have so many grout lines. Or consider vinyl flooring as it offers slip-resistant designs and also doesn't stain or damage from water. Finally, avoid highly polished tiles which can be especially slippery when wet.

Now let's talk about vanities. A vanity raised 9" off the floor (think floating) not only portrays a clean, contemporary look but also allows space for a walker or wheelchair wheels. Other important considerations for your age-friendly bathroom design are:
Support bars inside the shower and outside of the toilet
Pull-out drawers over the cupboard, they are easier to open
A toilet that is 17" off the floor
Lever operated door and drawer handles which are the easiest to grab
Shower size of 5' x 3' or larger
A recessed shower wall niche placed within seated reach
Consider contrasting colors between the floor and walls for those with compromised vision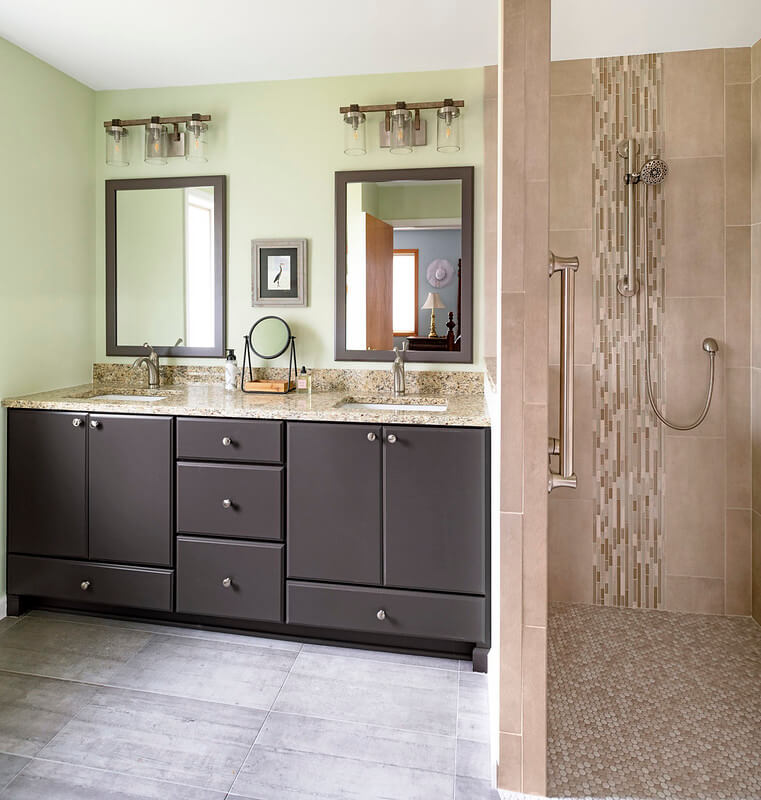 Your Eagan, MN Certified Bathroom Remodel & Bathroom Design Resource
We would love to help you design a bathroom that you can enjoy for years to come! White Birch Design is your South Metro resource for kitchen, bath and basement design and remodeling. Located in Lakeville, Minnesota, we offer a full range of services to homeowners in Eagan, MN and all of the South Metro. From concept to completion, we take pride in guiding you through the process of creating the bathroom of your dreams. Want to see more? Check out our Portfolio to see more examples of our work and when you're ready, contact us to get started!

*National Institute on Aging https://www.mymove.com/design/guide-helping-senior-citizens-stay-safe-home-2/