You don't have to be an interior designer to add personality to your home. You simply need inspiration and ideas! We've seen how adding throw pillows can transform a family room or how adding plants can bring the outdoors in. Kitchen and bathroom design works the same way. Here are some of our favorite ways we use to add character and personality to a kitchen or bath design.
Hardware
Kitchens and bathrooms offer the perfect backdrop to add touches that reflect our client's style preferences! One of the easiest ways to make a big impact is with your hardware choice. From color to design aesthetic, there's a hardware choice to match that can make your entire space feel collected and designed with attention to detail!
For example, choosing minimalistic matte black knobs, pulls, and faucet, like pictured below, lends a timeless look that still pops against the surrounding lighter-toned cabinetry.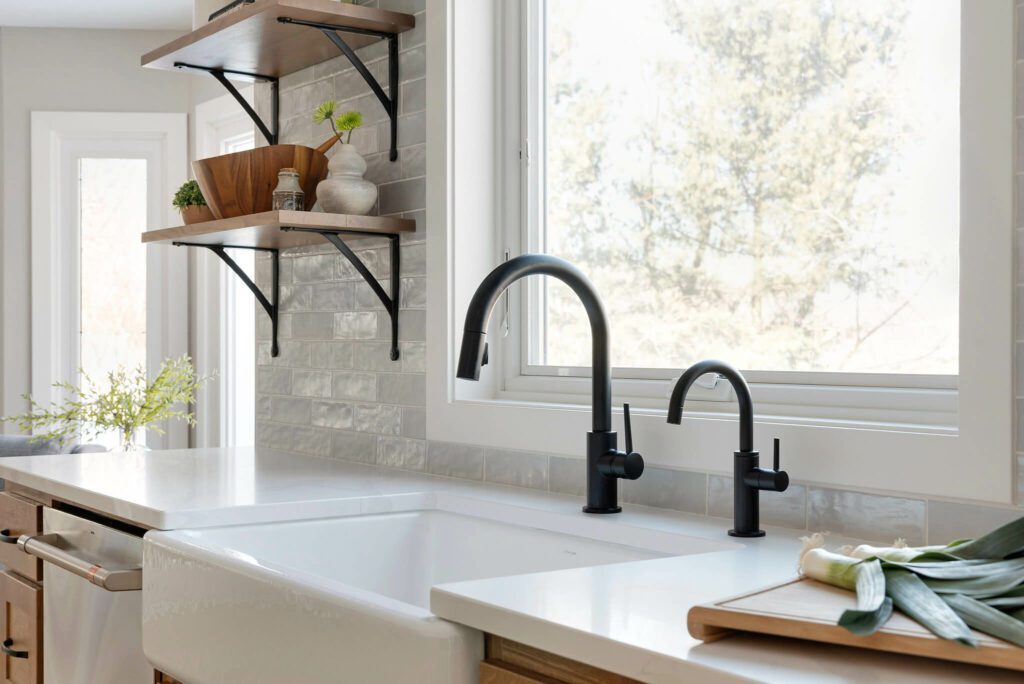 If you're looking for a warmer, more modern look, consider a brushed gold finish like that pictured in our Seize the Day Rosemount bathroom remodel below. Whatever your choice, take note of how your selections play with the surrounding features. As is the case pictured below, the contemporary hardware choice is complemented by a modern round vanity mirror, lending a cohesive feel to the design.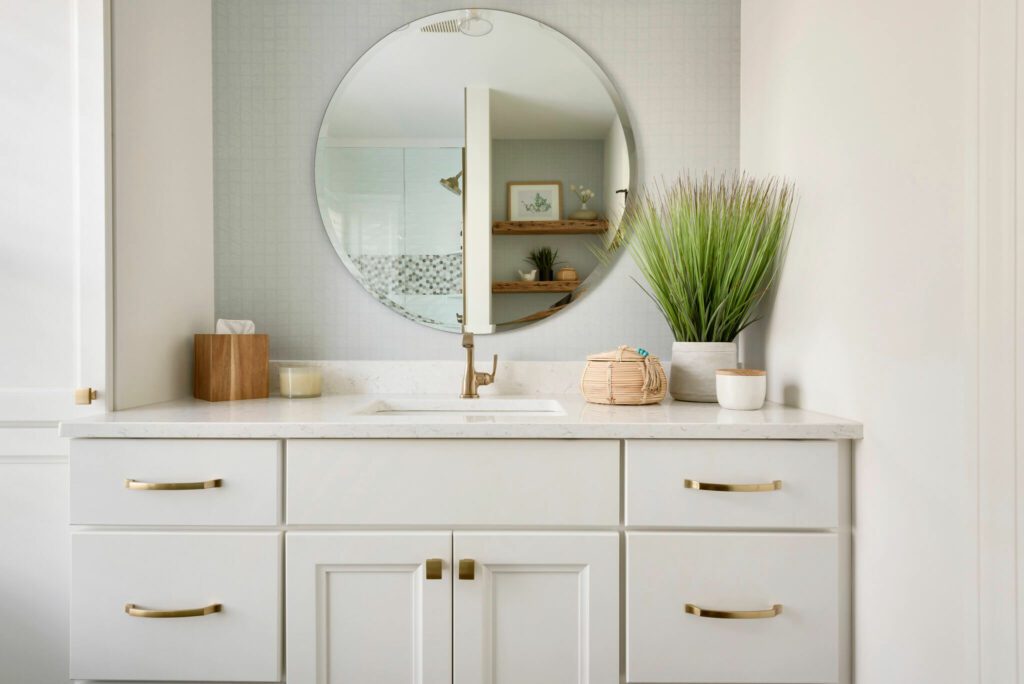 Tile
Tile choice presents another opportunity to infuse personality and individual design aesthetic into your kitchen or bath. In terms of benefits, tile offers durability and efficiency without compromising beauty and is available in endless shapes, sizes, and colors that can be adapted to add as much or as little flair as you prefer.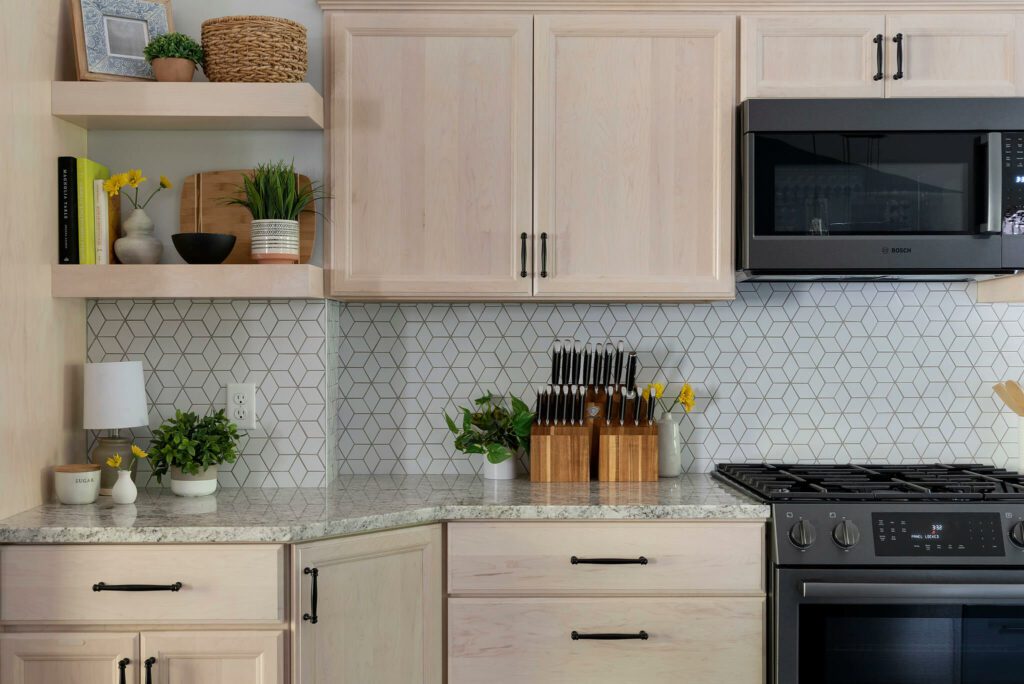 Often, people focus on color as the primary way to add interest to a tile design, but there is so much more! For example, while neutral in color, the backsplash tile used in our Wide Open Spaces Lakeville kitchen remodel pictured above uses shape to draw your eye in, just as the accent shower tile does below. We love how these creative tile shapes add an element of playfulness to an otherwise neutral design!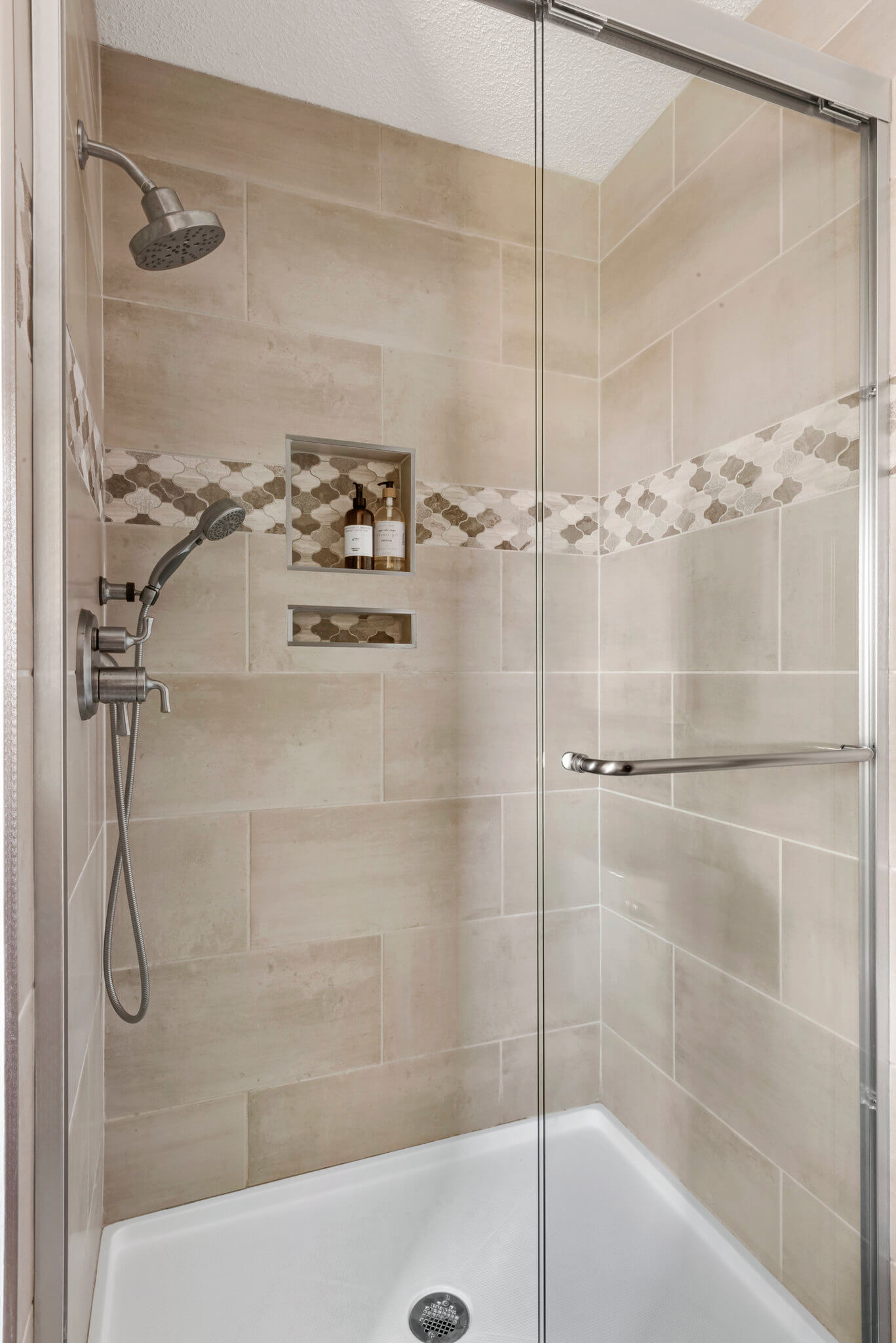 Color
Now, we mentioned color above and if you are open it, used intelligently, color is one of the most impactful ways to influence a design! Whether it's a neutral, minimalist palette or fun and vibrant hues, colors can be used to add a pop or overall tone to a space.
For example, within our Santorini Blue Eden Prairie bathroom remodel, a blue hex tile adds pops of color to an otherwise neutral color palette. The resulting design is playful yet still stays in line with the sophisticated feel of the surrounding space.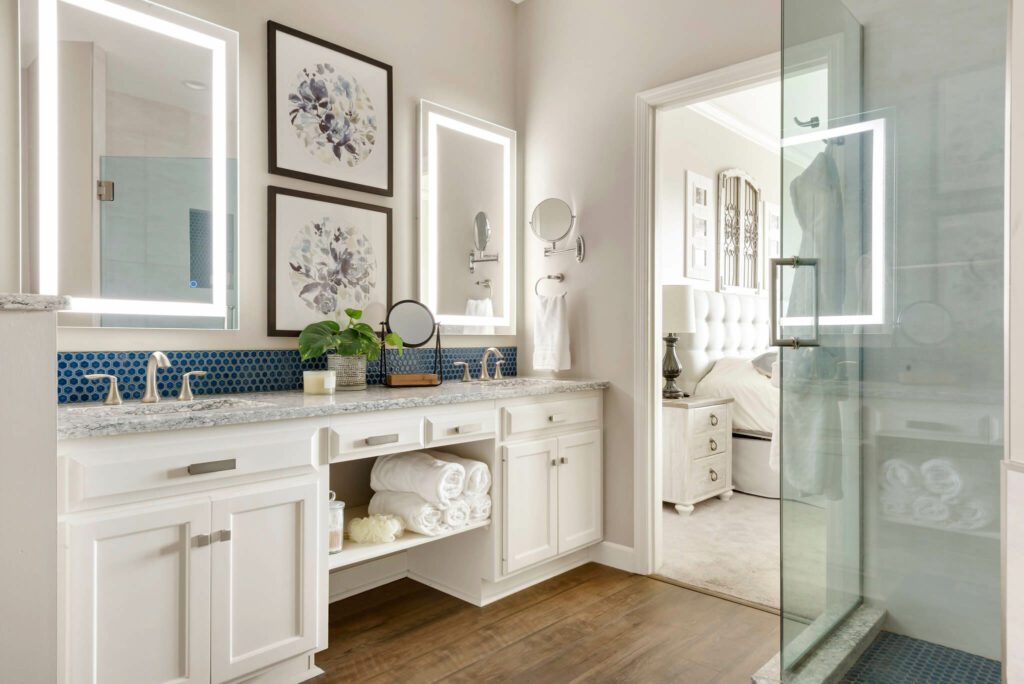 And don't think you need to go bold when it comes to color. Our recent Takes the Cake Apple Valley kitchen remodel proves it. The pale blue, slightly iridescent counter to ceiling backsplash tile manages to make quite a statement, especially when paired with pops of color from the homeowner's cake plate collection.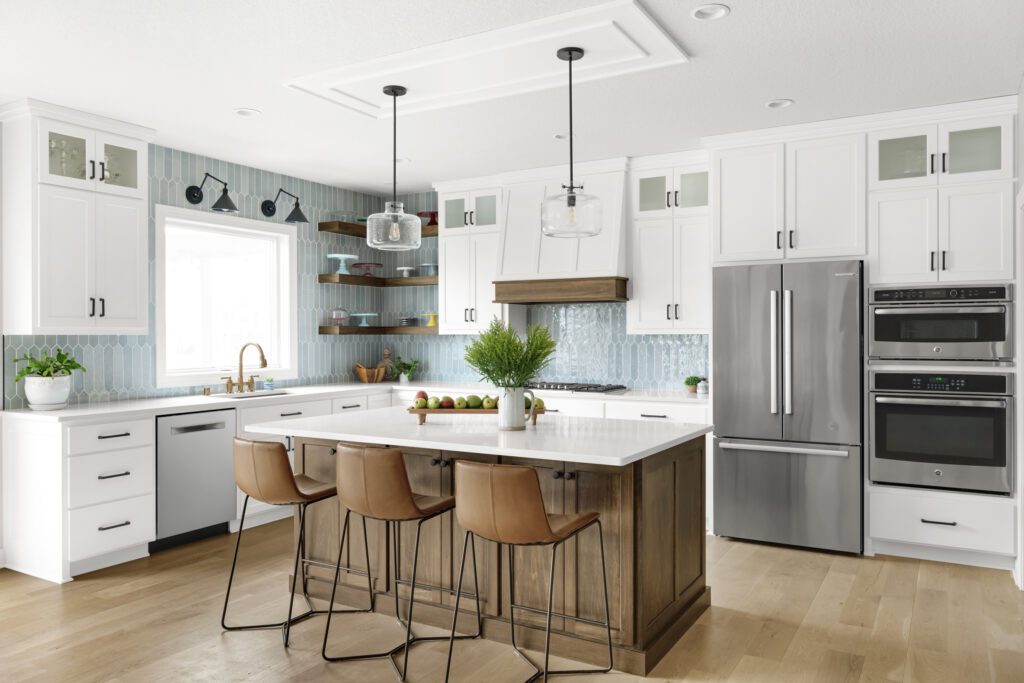 Lastly, if color selection brings on a cold sweat but you still want to dip your toe in those waters, consider a bold wall color choice like we did in our Light and Bright Burnsville kitchen remodel project. We love the bright influx of wall color against the lighter-toned cabinetry but there's comfort in knowing that it can always be painted.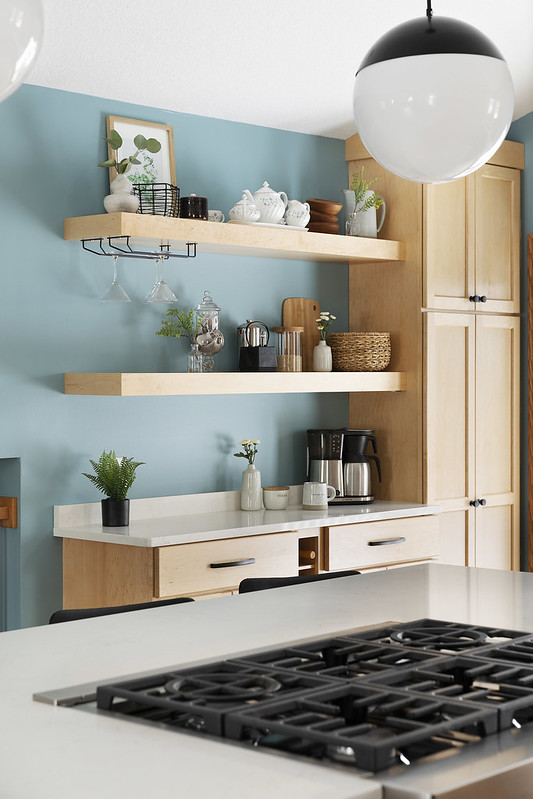 Lighting
A lighting upgrade can change your entire room with the flip of a switch! Whether it's a more modern choice, like the vanity light selection in our Sea Salt Serenity Mendota Heights bathroom remodel pictured below, or a fun, contemporary selection like that shown in our Modern Meets South Minneapolis kitchen remodel project, also below — there are so many amazing choices out there!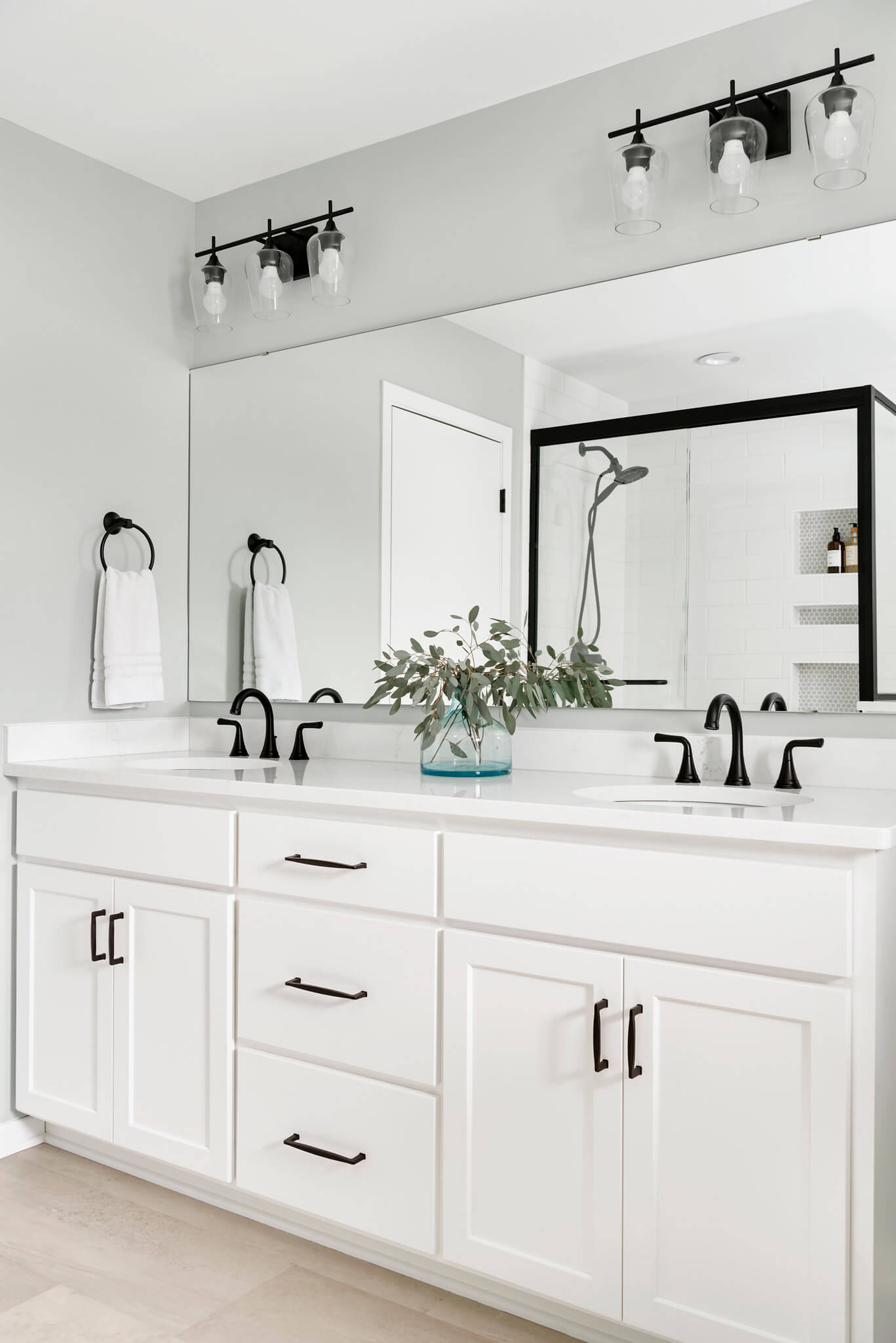 Honestly, the most challenging part of selecting lighting is choosing which leads to our final tip. Don't feel as if you must choose just one style! Two complementary styles, like the oversized and graceful pendants paired with an elegant yet rustic chandelier in our Simply Sophisticated Lakeville kitchen remodel can provide a gorgeous architectural contrast. Our best advice? Choose what 'lights' you up (pun intended!)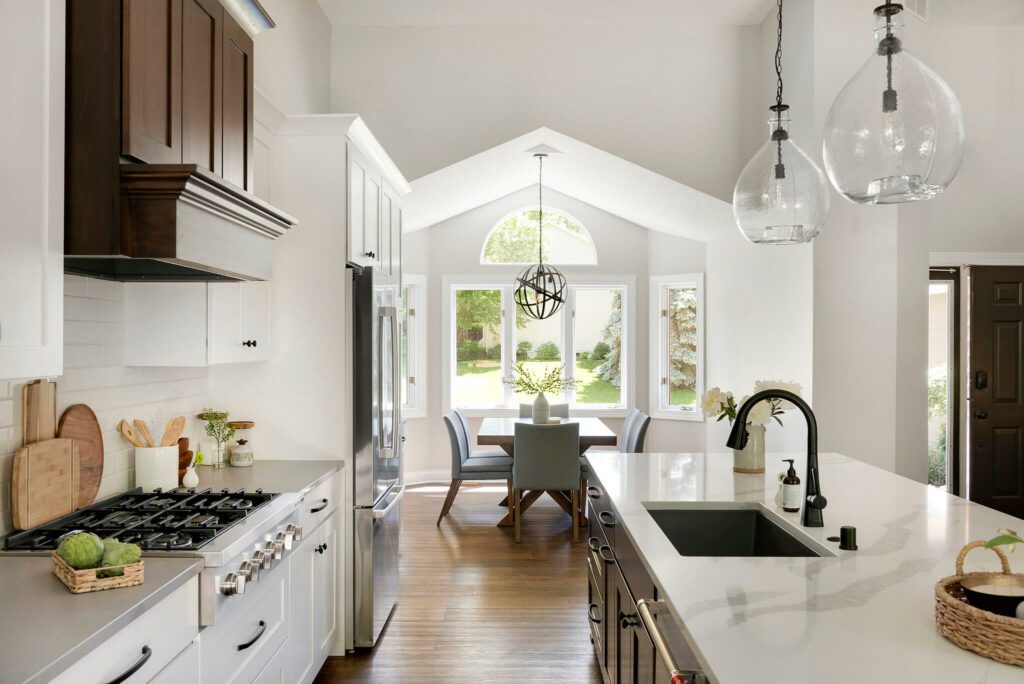 Your Kitchen, Bath & Home Remodel Specialists in Lakeville, Rosemount, Eagan, & Beyond!
Ready to incorporate one or all of these techniques to infuse personality into your home? Contact our south metro remodeling team. We're ready to listen to your vision and help create the perfect space for your unique style! Located in Lakeville, MN, White Birch Design LLC is a full-service design/build/remodeling company specializing in bath, kitchen & basement design and remodeling projects. From start to finish, we take pride in guiding you through the process to create a space that you will love and enjoy for years to come.