So many of the trends we anticipate for 2022 were born out of, or heightened, because of how we've lived during the pandemic. It is interesting to realize that the way in which we live in our homes is acutely influenced by what is happening around us. In hectic times, we want our homes to provide serenity. To the contrary, when things are moving along swimmingly, pops of color, light and levity may be seen all around us, providing great energy. As designers and home remodelers, we are tuned into this reality and create our designs with it in mind. Take a peek at what our Lakeville, MN remodeling team sees coming around the corner for 2022 and see if it fits with what you may be daydreaming about for a space of your own.
Minimalistic Design
Minimalism will build on its blossoming popularity in 2022 as the societal trend to simplify life continues. A minimalistic design aesthetic evokes the desire for open uncluttered space without all the extras. Picture Scandinavian design in your mind.  Those seeking the minimalist approach are looking for a simple, clean look. While void of an abundance of walls or furnishings, it is critical when implementing this design style that a key area or piece act as an anchor – preferably one with high style, design, or a story of its own.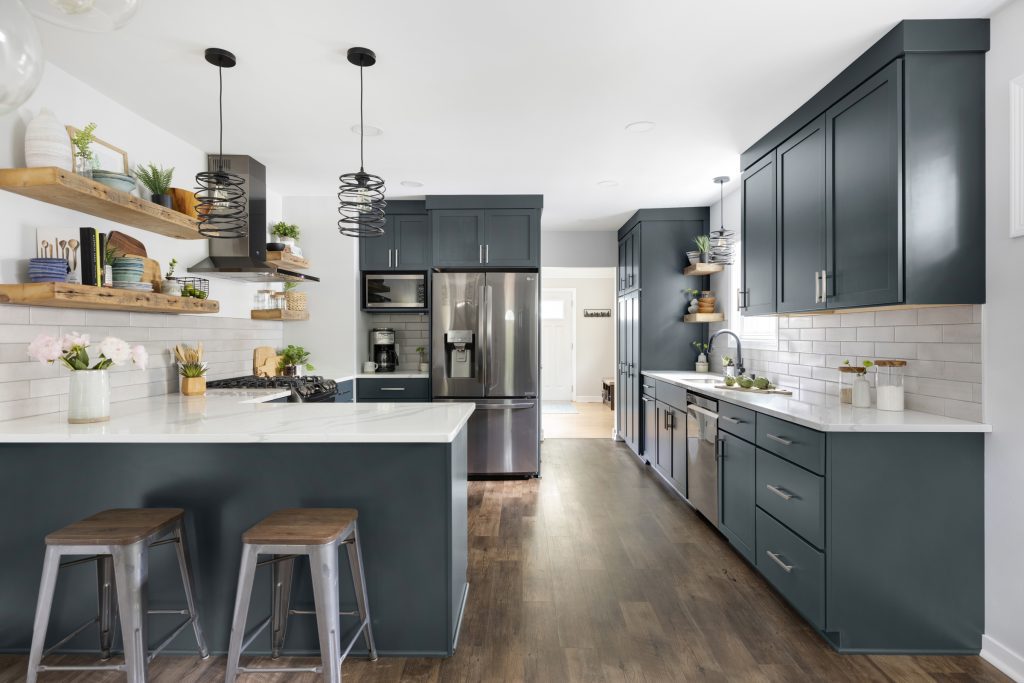 Learn more & find inspiration in our Minimalistic Minneapolis, MN kitchen remodel
All Things Natural
Incorporating natural materials into a remodel or design complements the minimalistic approach previously mentioned in this article. Natural materials provide the warmth to a potentially stark design by bringing elements from the outside in. Unpainted wood is showcased in cabinetry and furniture, as well as in accessories.  Light colored wood is on trend as we look to the year ahead. Granite, natural stone, and marble are used in hard surface applications, and cotton and linen are featured in textiles.   Spaces are often completed with plants or greenery, which provide the finishing touch, softening the space for the homeowner and solidifying an organic vibe.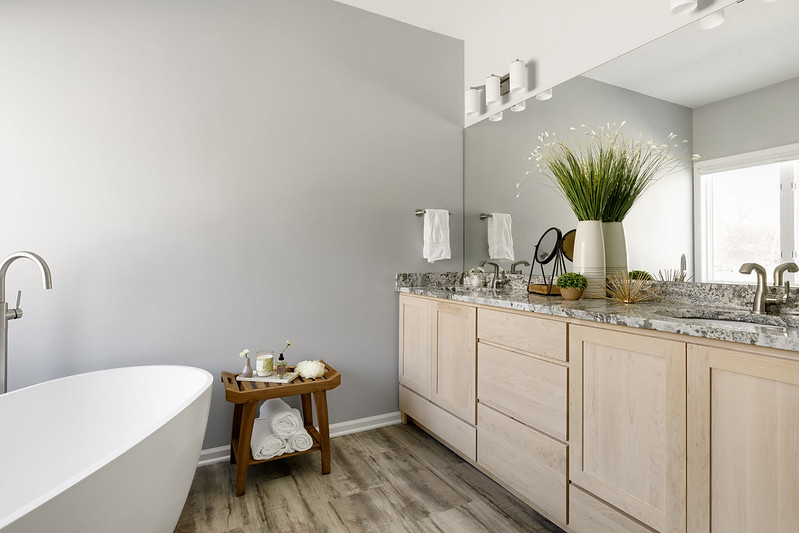 See more of our Simply Zen Bathroom Remodel, Lakeville, MN
Eco-friendly Design
Eco-friendly design folds in beautifully with the previously mentioned trends as homeowners who choose a simple and natural approach often have an eye toward sustainability. As such, the materials they select to surround themselves with reflect this ethos as well. As designers, we look for environmentally friendly design alternatives from recycled, reused, or certified sustainable resources. Glass used in a home is often an overlooked partner in sustainability. Aside from its many design attributes, when proper glass is used in the appropriate application, less energy is needed to light, heat, and cool the home.  Environmental responsibility can work hand in hand with design.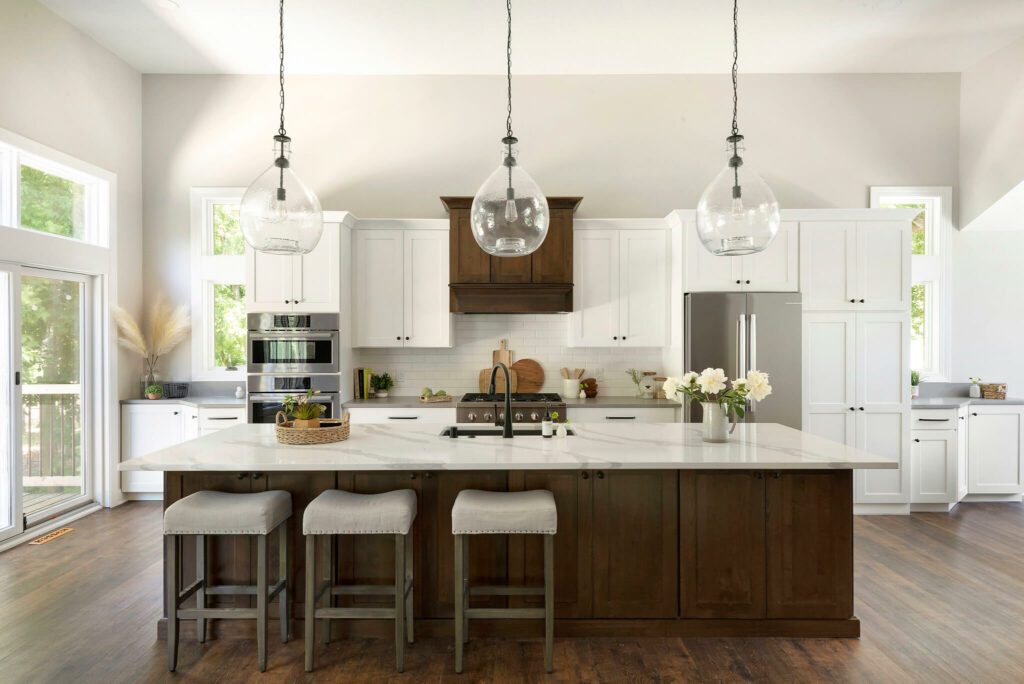 Learn more about this Lakeville, MN eco-friendly kitchen remodel with large glass doors and windows
Dedicated Home Office Space
Not surprisingly, designers across the country are being asked to help their clients create a dedicated home office space as they move through the home remodel process. Working from home showed itself to be less than productive when individuals worked from a bedroom, kitchen table or even the corner of a playroom. As homeowners work a greater number of hours from home in the future, either by choice or by need, an efficient dedicated home office space is a must. The White Birch Design team can work to maximize an existing space or construct an entirely new home office area.
White Birch Design, your home
remodeling

trends & design specialists in the south metro!

As you look toward 2022 and beyond, contact us to start a conversation about transforming your home with these or other home remodeling trends! White Birch Design is a full-service design/build/remodeling company specializing in bath, kitchen, and basement design and remodeling projects. Located in Lakeville, Minnesota, we serve the South Metro communities of Lakeville, Rosemount, Eagan, Apple Valley, Burnsville and beyond.  Check out our Twin Cities remodeling project portfolio to see more examples of our work. LOVE WHERE YOU LIVE!