Get ready to cozy up with some hot cocoa and be inspired by this before & after! Our Timeless White Kitchen project wrapped up early last year, and we're excited to share the amazing results! With some creative design and ingenuity, we overcame several challenges and gave our clients the feel and functionality they were looking to find in the kitchen remodel of their Bloomington MN home.
You ready for a look?
The Before
Our clients came to us in need of help with their dark and dated 1970's kitchen. Original, untouched dark oak cabinets, orange (yes, orange) laminate countertops, and backsplash. Needless to say, it was dark in there! They had previously added a solar tube light and lighter vinyl plank flooring, but the darkness prevailed. Our clients were ready to leave the past behind and have us design and create a bright and updated new kitchen space.
The Challenges
In this remodel, we had to overcome several challenges in order to create the beautiful kitchen our homeowners wanted.
#1: The new floor was worth keeping; however, we needed more of it to accommodate the new layout. Luckily we found a couple of boxes allowing us to add space and keep the flooring intact.
#2: Take a narrow space and create an open kitchen layout with a much-needed island without sacrificing storage space.
#3: Our client wanted to support American-made products.
The After
To create this bright, functional, and timeless kitchen, we needed to open up the space which meant removing the peninsula of cabinetry which cut off the room. To replace the lost counterspace (our homeowners love to cook and bake with their grandkids!), we created a custom, movable island. This beautiful butcher block top provides the perfect place for work and play. It has ample storage and even folds out, adding another 2 feet and making a 6 foot long counter!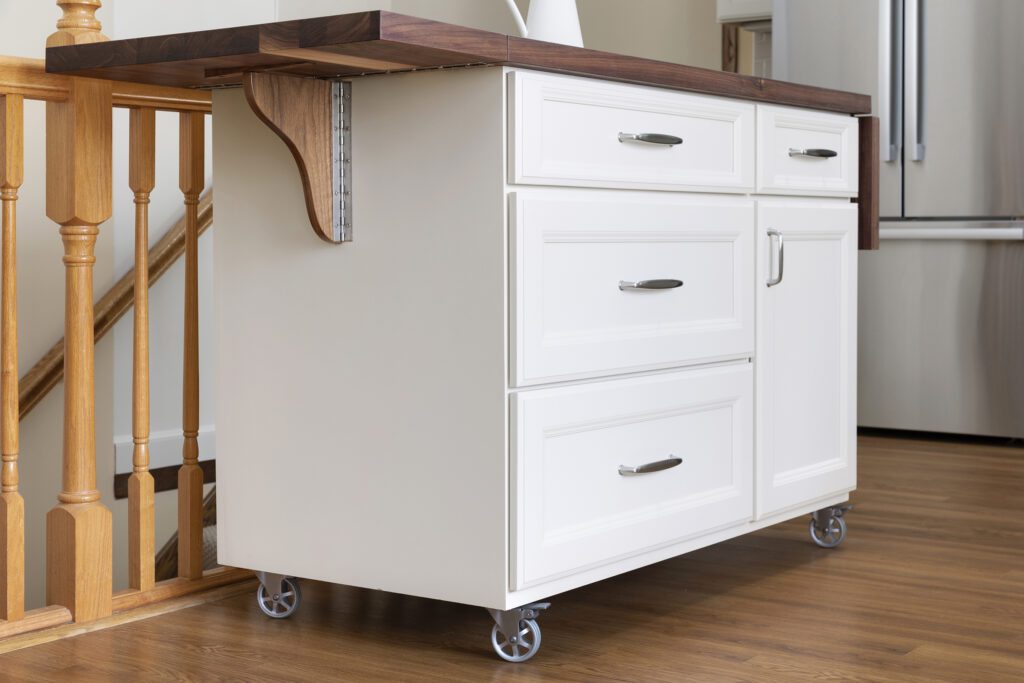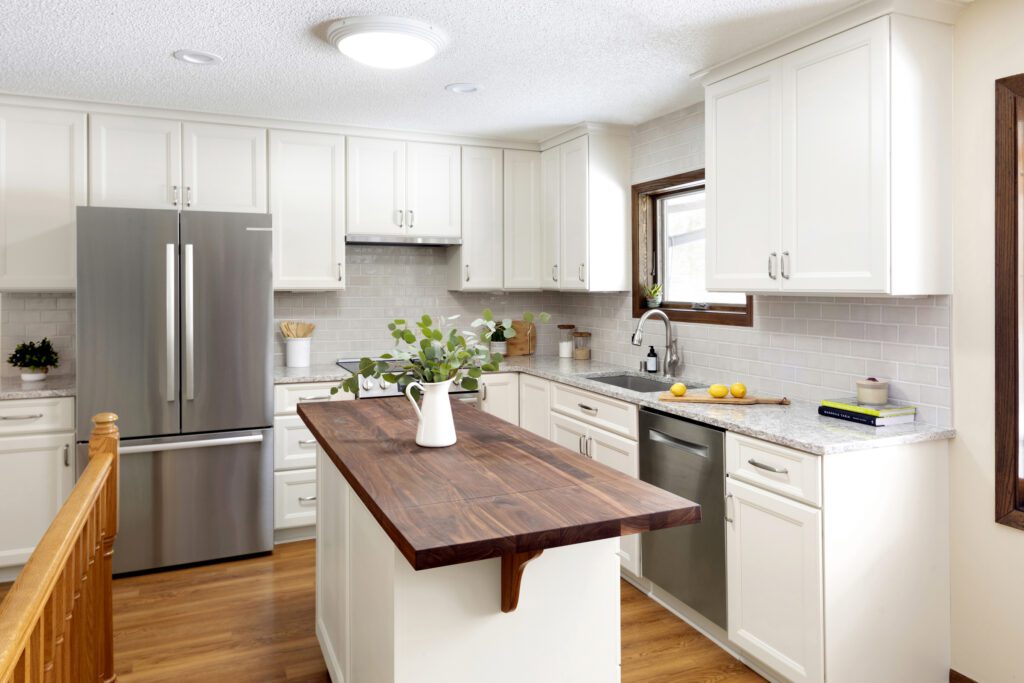 The Materials
As previously mentioned, the homeowners wanted to support American-made products, we used Cambria countertops, made right here in Minnesota! The cabinets came from a carpenter in Rice Lake, Wisconsin that we've been using for over ten years. These beautiful countertops complimented the cabinet color and tile we selected, creating the perfect white kitchen!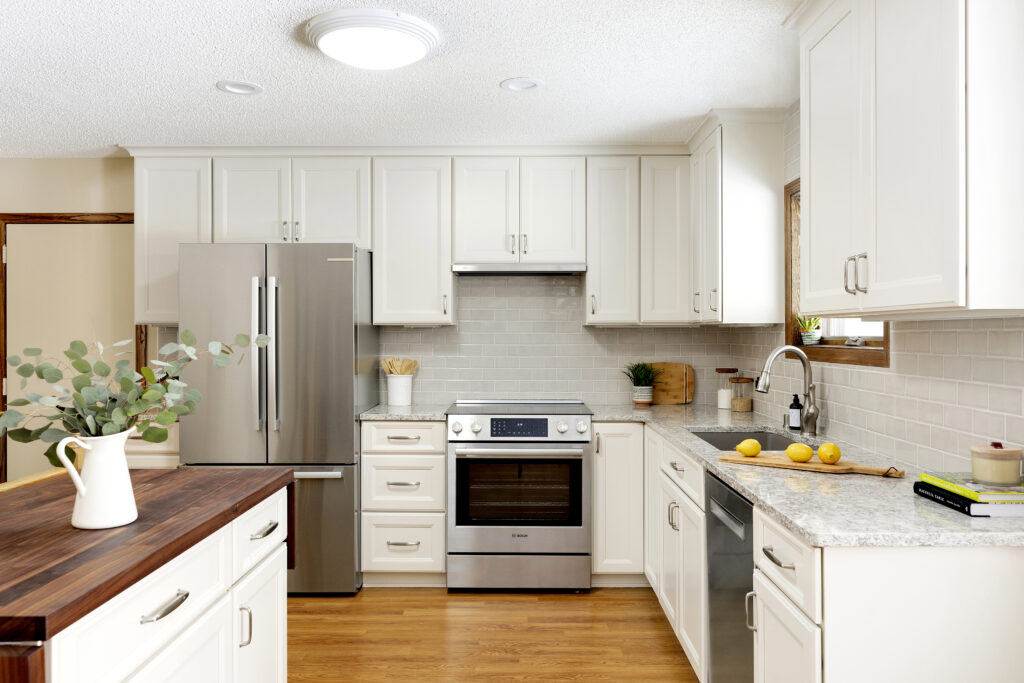 Hidden Features
There are a couple of hidden gems in this kitchen that we simply have to point out! First, our homeowners really wanted some extra clearance above the stove. Typically, a hood vent sticks out past the cabinets, but not here! We found the perfect solution – a pull-out hood vent! When the fan is needed, pull out the hood, and push it back in when you're done!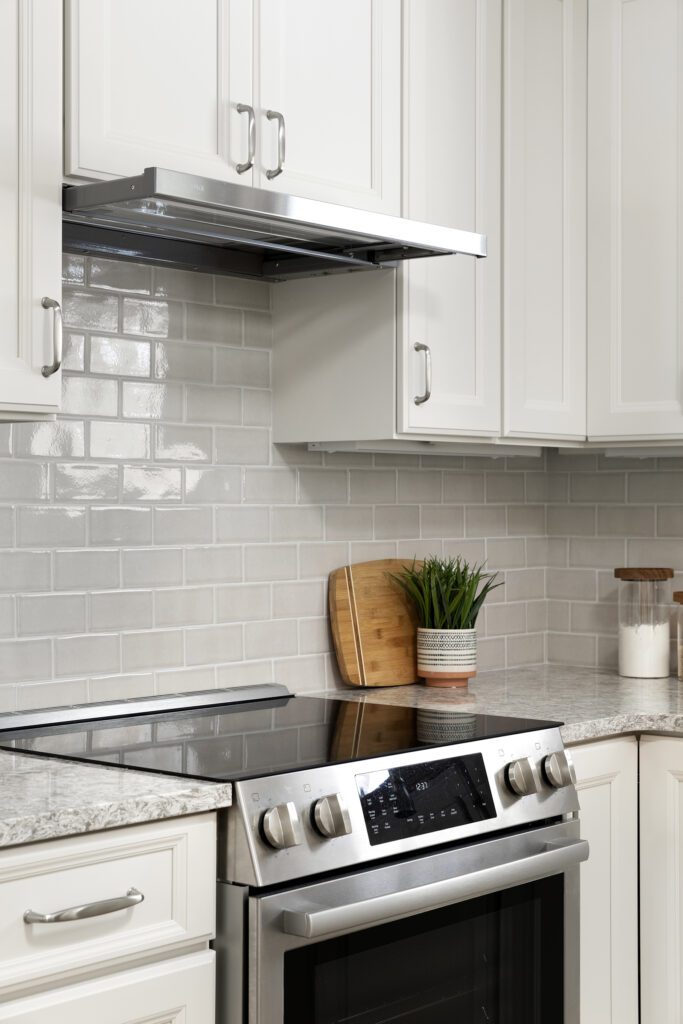 The second hidden gem is the microwave. Microwaves take up a lot of space, and since the homeowners don't use this appliance often, we decided to hide it! Tucked away in the cabinetry, our homeowners simply pop up the door to use the microwave and close it back up once they are done!
Overall, we opened up this space and gave our homeowners everything on their wish list – a new, open kitchen; light and bright; American-made products; and an island!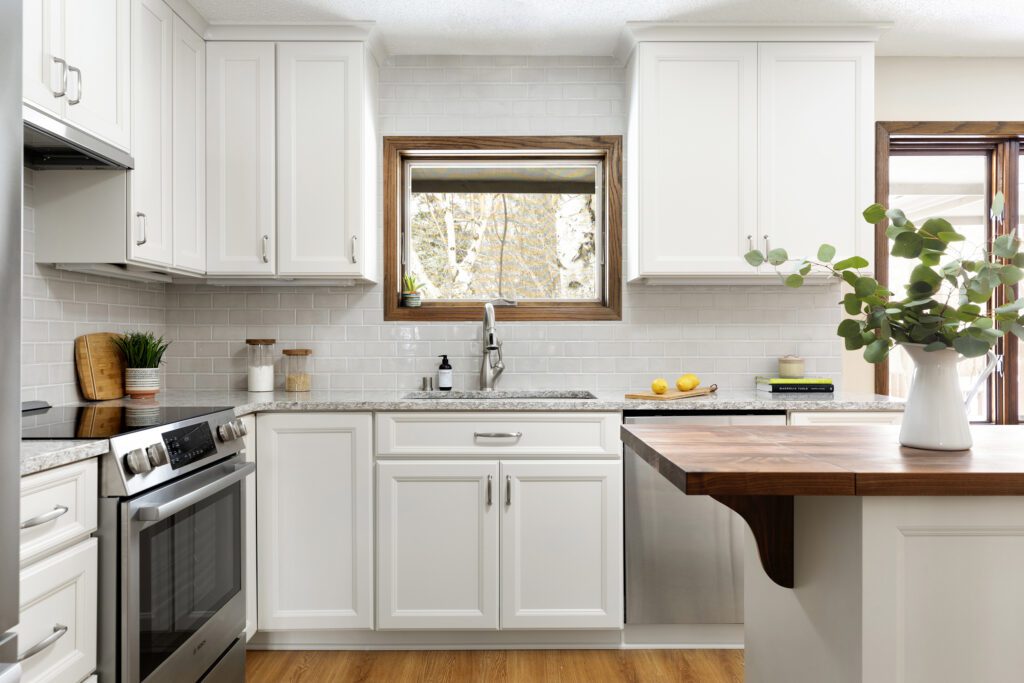 Your Bloomington MN Bath, Basement & Kitchen Remodel Resource!
If you are looking to remodel your bath, kitchen, and basement– then look no further. White Birch Design would love to help you update your home today! Contact us today to get the process started! We look forward to hearing from you.