Perhaps you have a bathroom with limited square footage on your hands. While a full on "demo day" dances through your head – tearing down walls and stealing an extra foot or two from an adjacent bedroom or closet – more often than not there are ways give yourself the look (and feel) of extra elbow room without going to those extremes. Our Lakeville MN bathroom remodel team has laid out a handful of bathroom design tips that will take your space from feeling cramped to roomy.
Glass Shower Enclosures
Replacing an existing shower curtain with a glass shower panel or glass shower door can make all the difference in a bathroom design. Standard or custom glass shower enclosures are available to fit your existing space. An opaque shower curtain, regardless of how trendy the pattern, stops the eye from seeing the extra few feet that lie on the other side. A glass shower door or glass shower panel lets one see the space in its entirety allowing the eye to travel to the end of the bathroom. Choose a patterned glass, or a semi-transparent glass, to regain a bit of privacy if the idea of having your toiletries (and yourself) on full display seems just a bit too open!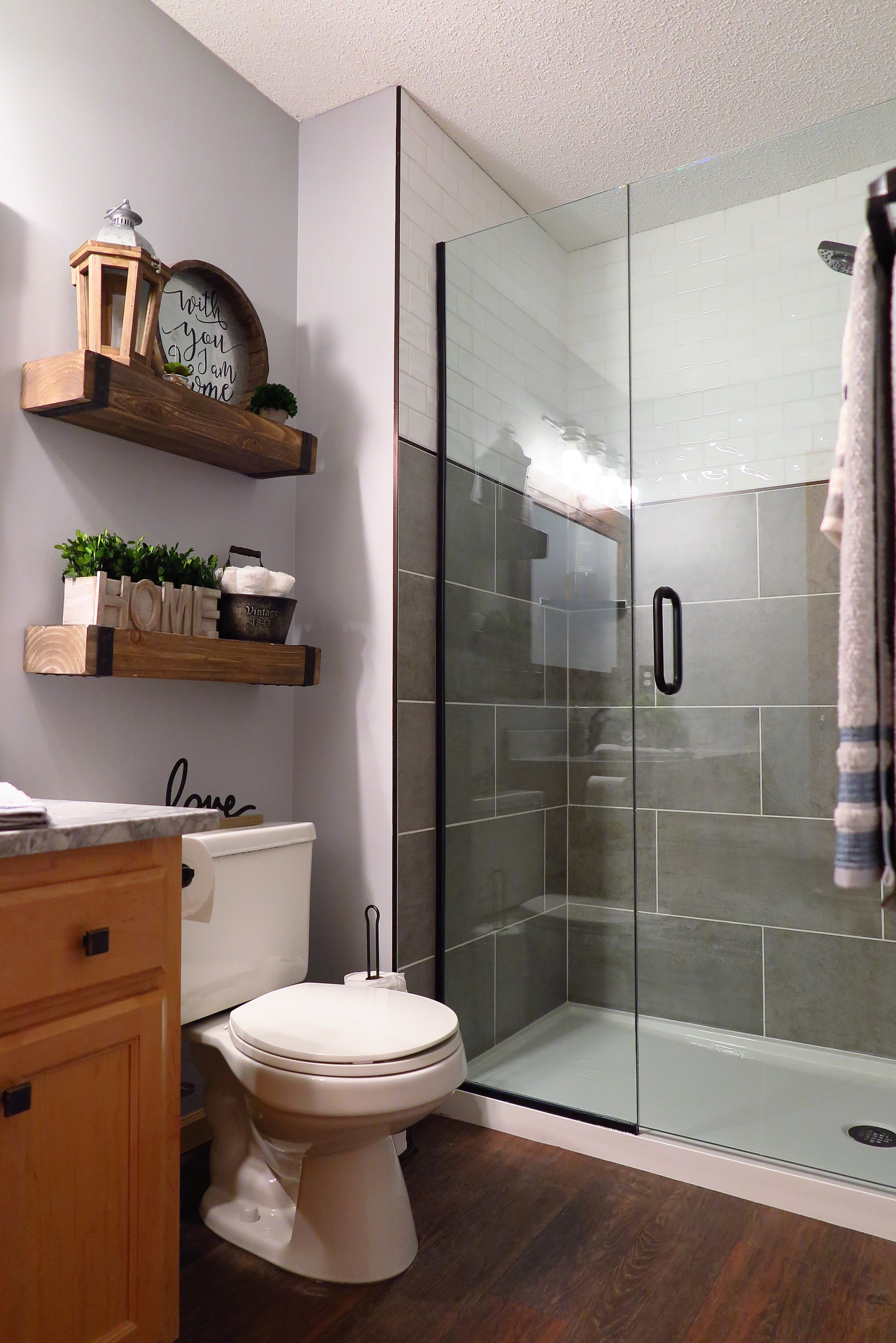 See more photos of this Farmhouse Inspired Bathroom Remodel, Lakeville, MN.
Light Color Scheme
Consider choosing a light color scheme for your bathroom space – from paint or wall coverings, countertops, flooring choices and accessories alike. Starting with the walls, a lighter paint color selection or wall covering will ensure that the light in the room, even if limited, reflects in the space. Continue to layer in lighter tones in your countertops, shower materials and flooring. The consistency of the light color scheme allows for a continuous flow and provides the illusion of more space.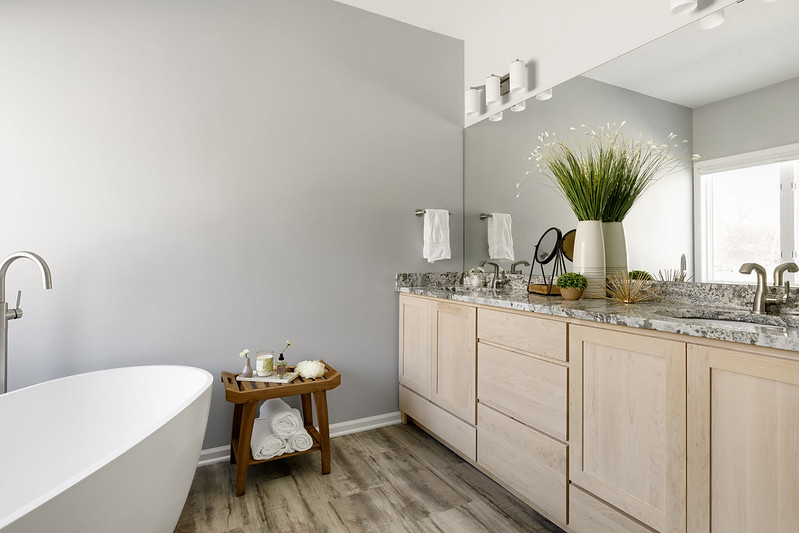 Get inspired! See more phots of our Simply Zen Bathroom Remodel in Lakeville, MN.
Punch of Color and Go Low
If the idea of using a light color scheme in your bathroom design doesn't make your heart sing, add a punch of color and keep it low to maintain your goal of making the bathroom feel larger. The trick here is to pair a light color on the upper part of the room, with your contrasting or accent color of choice in the lower portion of the room. A surprising punch of color for those among us with an adventurous spirit may just do the trick, and keep the bathroom design goal of a more expansive feel.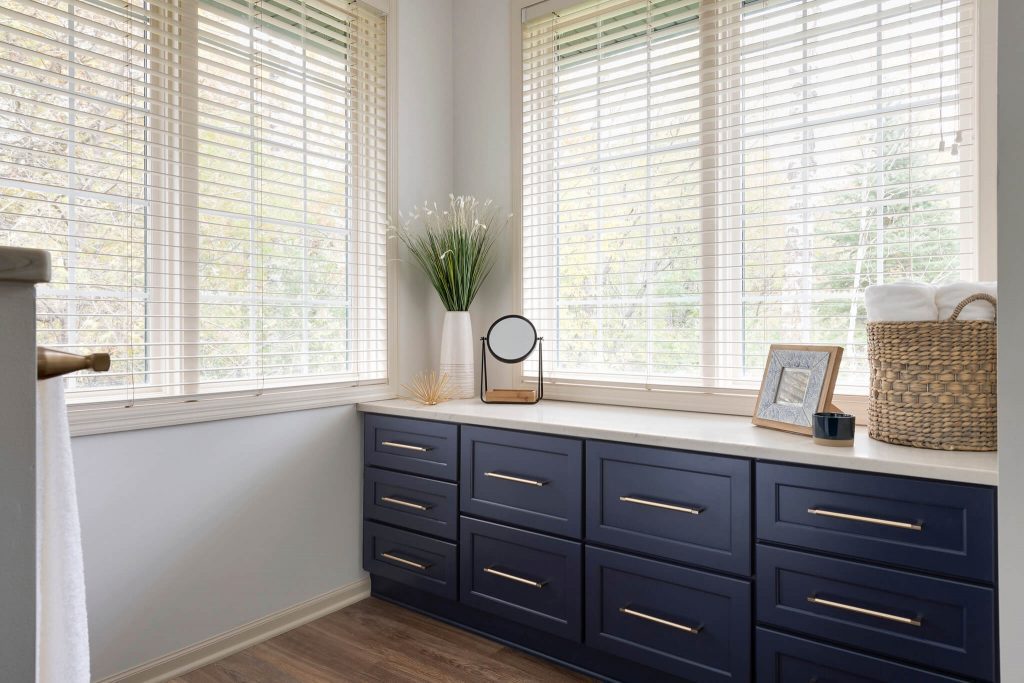 Find inspiration with our Anchors Away Lakeville, MN Bathroom Remodel project

Mirror Mirror on the Wall…
Still the fairest of them all! While using mirrors may seem like an old trick, consider using them in new ways in your bathroom design – taking them all the way to the ceiling, using multiple mirrors, or incorporating an oversized or wall-to-wall mirror.  Mirrors hold both function and aesthetically pleasing attributes and are a simple and incredibly effective way to make bathrooms feel spacious.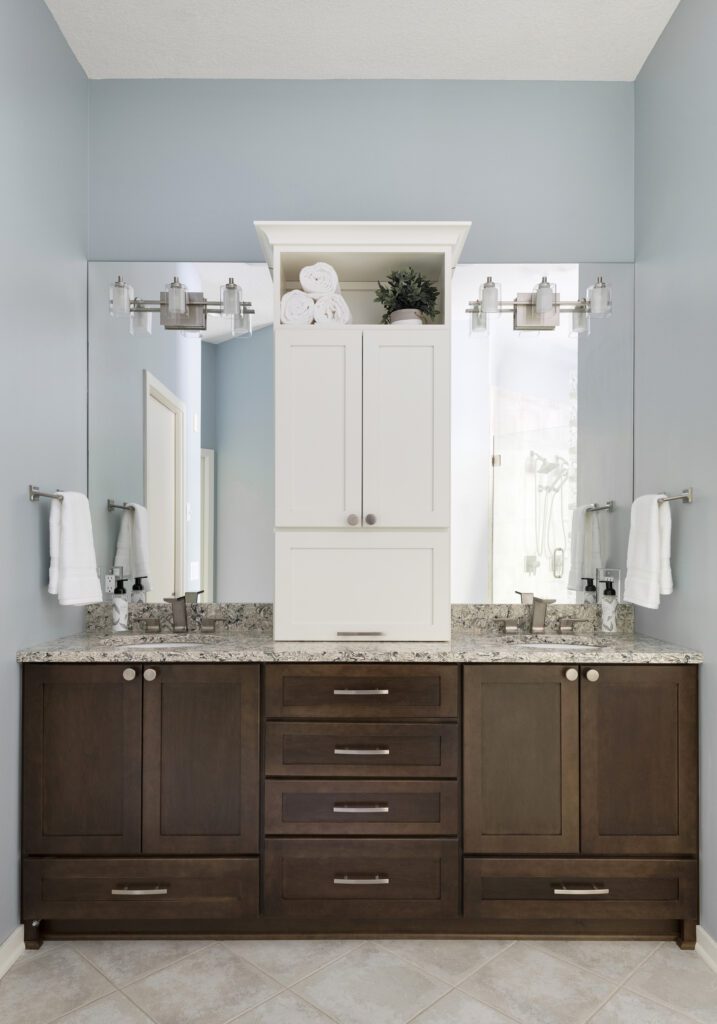 This beautiful large mirrored wall was part of our Modernized Bathroom Remodel in Apple Valley, MN
Floating Vanities
Floating vanities are an exceptional tool to provide both literal and visual roominess in bathroom design. These nifty tricks of the trade are mounted on the wall and don't come down to meet the floor. Floating vanities are available to meet any design aesthetic. The brilliance is that they save floor space without taking away critical storage needs.
White Birch Design, your bathroom design & remodel specialists in the south metro.
When inspiration strikes, contact us to start a conversation about transforming your bathroom! White Birch Design is a full-service design/build/remodeling company specializing in bath, kitchen, and basement design and remodeling projects. Located in Lakeville, Minnesota, we serve the South Metro communities of Lakeville, Rosemount, Eagan, Apple Valley, Burnsville and beyond. Check out our portfolio to see more examples of our work. LOVE WHERE YOU LIVE!