Are you camp sweet or camp savory, a night owl or early bird, a fan of summertime or winter hibernation? Add cabinetry preferences to this quizzical list, and you have jumped smack into the middle of one of the hottest debates in kitchen design today! When deciding between wood finish, white or color cabinetry, there is no wrong answer – it's simply a matter of preference.
Luckily, the White Birch Design remodel team is here to walk you through each cabinetry type and outline what each has to offer.
Wood Tone – Natural Beauty
Natural wood grains and knots show through on wood tone cabinetry[AB2] , showcasing the character and texture of the wood. Wood cabinetry adds instant warmth to any kitchen design and is versatile, offering finish options from a clear coat highlighting the species of wood, to one with a dark espresso stain.
Something to consider? The beauty of wood cabinetry often acts as a primary design element in the space, around which all other elements are woven. In contrast, as we'll discuss in detail later, white cabinetry often acts as a neutral or complementary piece upon which the featured design elements play off.
Care and Upkeep
Wood cabinetry is a mainstay with homeowners and designers alike due in part to how gracefully it ages over the years. In addition, relatively speaking, it is straight forward to maintain. The varied medium of a wood finish hides everyday wear and tear. Something else to consider? When a stained finish is applied, it soaks into the wood, versus laying on top as with a painted finish, allowing the wood to expand and contract more easily with temperature and humidity. This simple fact minimizes cracks and splitting over time. When a touch up IS needed, often times a topcoat blend seamlessly with little effort.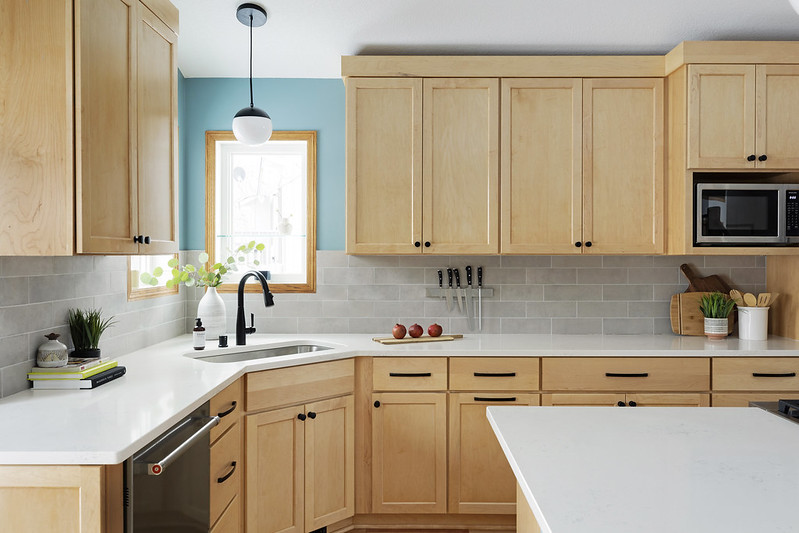 Our Light & Bright Burnsville, MN kitchen remodel is a perfect example of how wood cabinetry can act as a central design element in a space.
Dressed in White
Next up is a classic. Homeowners seeking a bright, clean space with a smooth look often choose white cabinetry. And, with good reason!  White cabinetry brightens up a space almost instantly, providing a timeless look that acts as a foundation from which to build a design.  This adaptability allows a design to go in almost any direction, something many homeowners appreciate. Of course, there are traditionalists among us who wouldn't dream of covering up the beauty of natural wood, but for others, white cabinetry is a dream come true.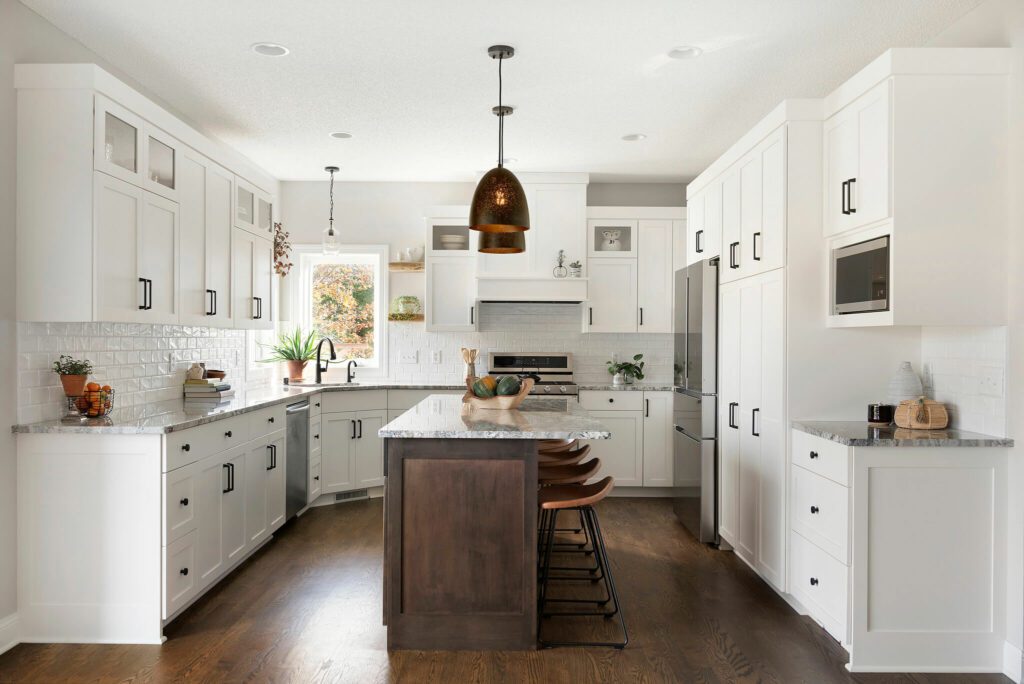 Take a peek at our portfolio of Twin Cities kitchen remodels for examples of some of our favorite white cabinetry projects.
Take note if going this route that whites come in innumerable hues, from pure white to those with warmer or cooler undertones. Know that there is homework to be done to find the right shade for your project!
Care and Upkeep
"Know thyself" is our greatest piece of advice when considering whether to select white cabinetry.  If a little elbow grease and routine maintenance doesn't scare you away, take the plunge. But, if a drop of splattered tomato sauce or a grubby strawberry jam handprint boldly displayed against the otherwise pristine white backdrop makes you twitch, think twice. On the upside, depending upon the finish you choose, white cabinetry gives you a smooth finish with which to work. Even if those grubby little fingers do leave their mark, wiping them off won't take too much effort!
A Splash of Color
If your personality shows itself through color and adding an accent wall simply isn't enough, take the leap to make your cabinets your canvas! Kitchen cabinets no longer are a place where you must play it safe. Our Minneapolis design project portfolio highlights trending cabinet colors in grays, deep blues, and even black. An insider tip? Brushed gold fixtures and pulls play beautifully off these colors.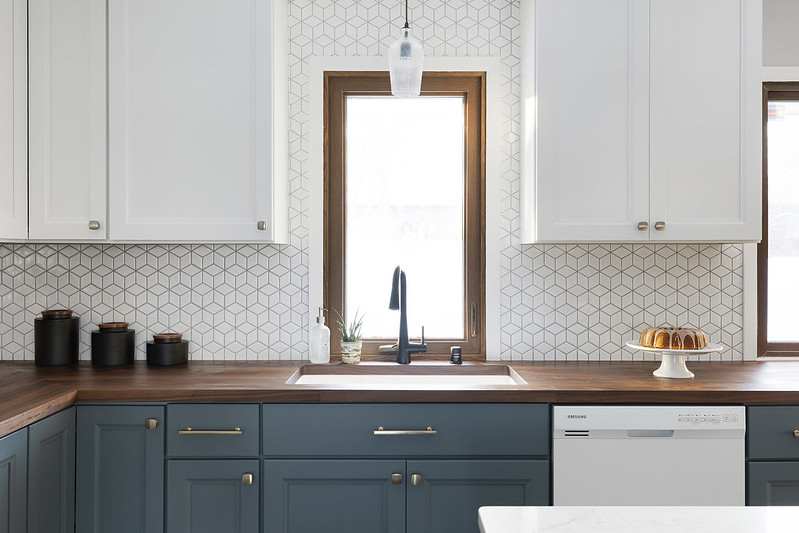 Of course, you don't have to select just one! Why not meet in the middle? We love mixing white and color cabinetry, like pictured in our Beautiful Laguna Burnsville, MN Kitchen Remodel project!
Care and Upkeep
Colored cabinets share similar maintenance pros and cons with their white cabinetry cousins, especially when they share a painted finish. They typically feature the same smooth, uniform finish, and depending upon the color chosen, they may have the added bonus of hiding some of the grime and grunge that everyday life throws at them.
White Birch Design, your kitchen cabinet & home remodel specialists in the South Metro!
We hope you have found our conversation about kitchen cabinetry helpful! If you're still unsure about which avenue is best for your space, contact the White Birch Design Twin Cities team to start a conversation! We'll help you come up with a design that uniquely suites you, your home and your family.
White Birch Design is a full-service design/build/remodeling company specializing in kitchen, bath, and basement design and remodeling projects.  Located in Lakeville, Minnesota, we serve the South Metro communities of Lakeville, Rosemount, Eagan, Apple Valley, Burnsville and beyond. Visit our Twin Cities portfolio to see more examples of our work.