A recent study by Houzz revealed that kitchens are the most popular focus among renovating homeowners. It's not hard to see why. Whether looking for more space, improved functionality, aesthetic appeal, or all of the above, homeowners want their kitchen to stand out and be the centerpiece of the home! As a homeowner, you may be wondering, 'How much does a kitchen remodel cost?" The answer varies, but the main point we'd like to get across is that options are available across all price points that allow a homeowner to add value to and enjoyment of their home. Understanding those options is a great first step to your remodeling journey.
You are probably thinking, "That's great, but I still don't know how much it will cost to remodel my kitchen!" Enter the 2021 Cost vs. Value report! This nationwide report collects data from real home improvement projects and compiles that data into average costs for a host of improvement projects across the country, including the Twin Cities area. According to their most recent report, you can expect to pay on average $22,000 for a minor kitchen remodel, $67,000 for a mid-range remodel, and $133,000 for a major upscale kitchen remodel.
Your next question is probably, "What's the difference between a minor, mid-range, and major remodel?" We've got you covered. We never want homeowners to feel in the dark, whether they are just starting to research or working with us on a project, we believe an informed homeowner is a happy homeowner! Read on as we outline contributing factors to a kitchen remodeling budget while showcasing some beautiful examples that help navigate the details.
Contributing Factors to a Kitchen Renovation
There's a big difference between knocking down walls and some fresh paint plus new hardware! Do you want to start from scratch or simply replace appliances and counters in your existing layout? Factors such as location, size, scope, and material costs influence your total budget. To help you navigate a successful kitchen remodel, we've outlined three ranges of kitchen remodels so you can find the right one for your budget. 
Minor Kitchen Remodel
Even homeowners with a smaller budget can enjoy a gorgeously refreshed kitchen! Ways to transform your kitchen without breaking the bank include:
Open shelving
Replace lighting
Keep existing walls and or floors
Reface or paint cabinets
Update hardware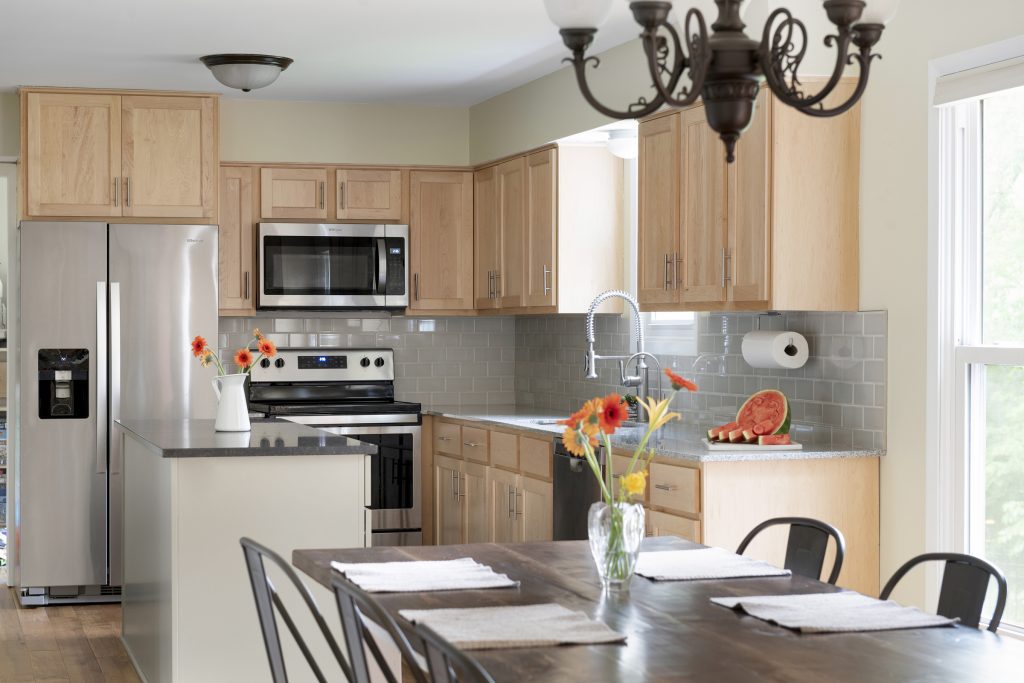 For this Apple Valley kitchen remodel, we worked with the original cabinets, rearranging them slightly to accommodate a new layout, reusing the perimeter countertops, and installing a new island.
Mid-range Kitchen Remodel
Depending on the size of your floor plan and the 'bones' of your room, you can do great things with a mid-range remodel budget. If the average cost in the Twin Cities for a mid-range kitchen remodel is $67,000, where is all that money spent? Here are ways to get the most from a mid-range budget to make your kitchen stand out for the right reasons!
Install new flooring
Replace cabinets with semi-custom options
Update the faucet, sink, and light fixtures
Install new, solid surface countertops
Replace appliances
Add a backsplash
Minor footprint changes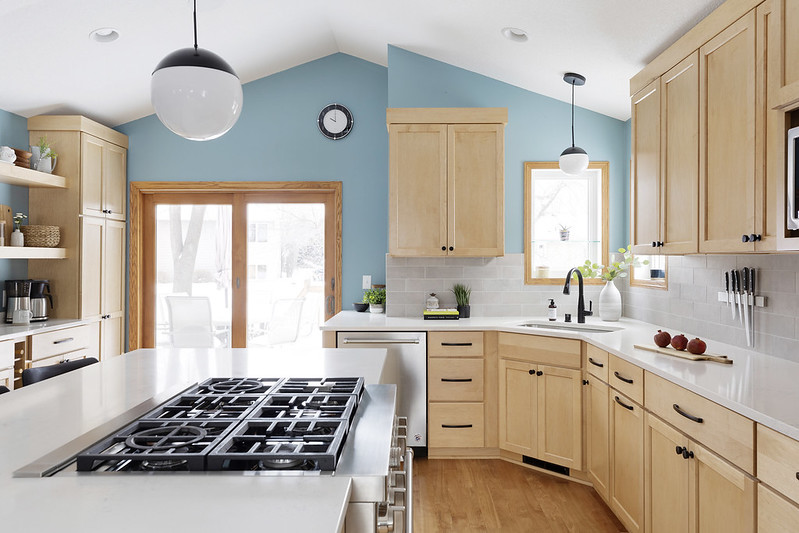 Wood cabinetry and a stock countertop helped control costs in our Light & Bright kitchen remodel project. In addition, we chose to keep the existing wood floors throughout the main level, feathering them into new flooring in the kitchen, previously covered in tile.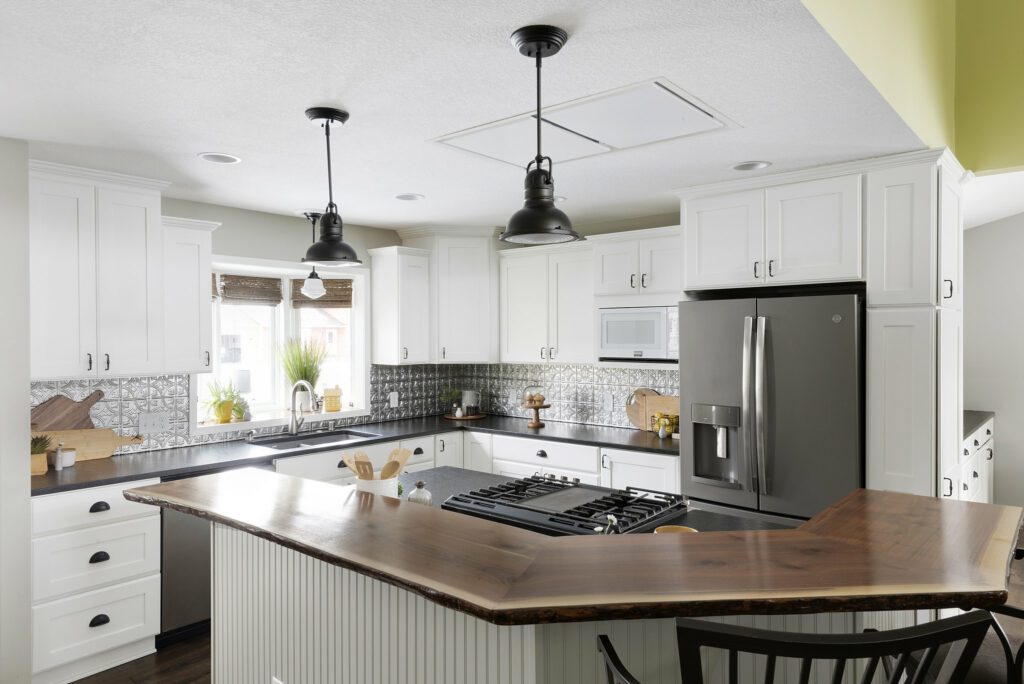 Sometimes homeowners opt to control costs by doing some of the work themselves, as was the case with this Maple Grove kitchen remodel. The homeowner took care of the painting and floor installation, and while we did remove two interior walls and add an island, the footprint changes were minimal, with no appliances moved.
Major Kitchen Remodel
A high-end kitchen gives your home a competitive edge in a selling market and allows you to splurge on some luxury features. If the sky's the limit for your upcoming kitchen remodel, here are ways to make your kitchen dreams come true!
Remove or move walls and relocate plumbing, electrical, and HVAC
Install custom-made cabinetry with sliding storage
Install new, luxurious stone and quartz countertops
Add high-end, state-of-the-art appliances
Install high-end tile on the floors and backsplash
Add architectural details such as crown moldings, built-ins, and fireplaces
Install custom, layered lighting to include room, task, and under-cabinet
Go high-tech with 'smart' appliances and fixtures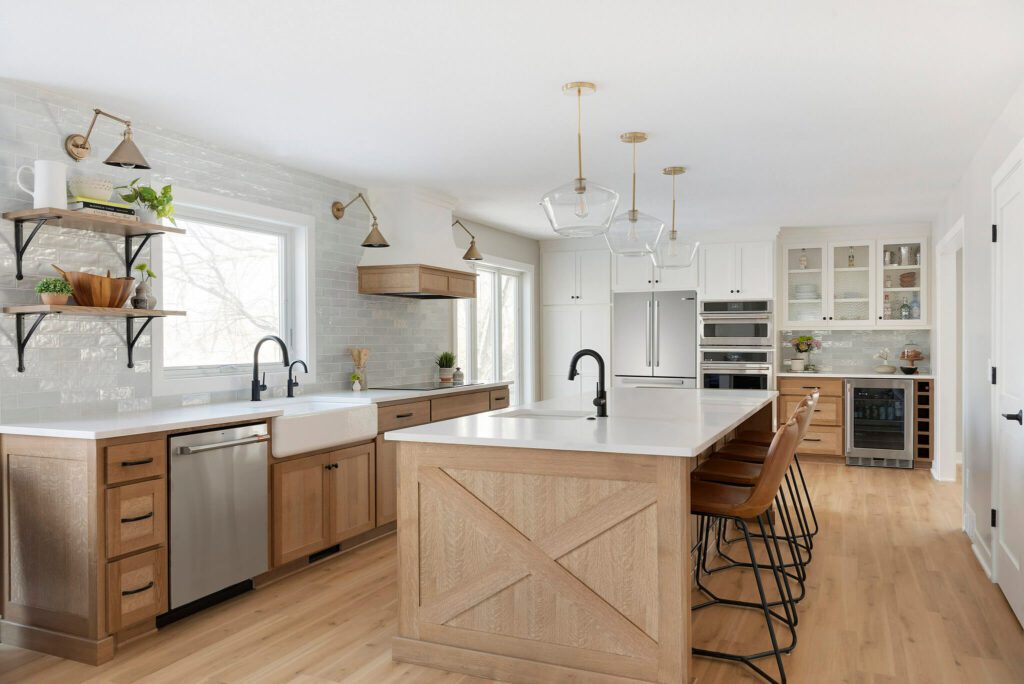 Higher-end finishes, significant layout changes including the removal of a wall, moved appliances, and requests for an added prep sink and extra fridge contributed to the total budget of this stunning Eagan, MN kitchen remodel.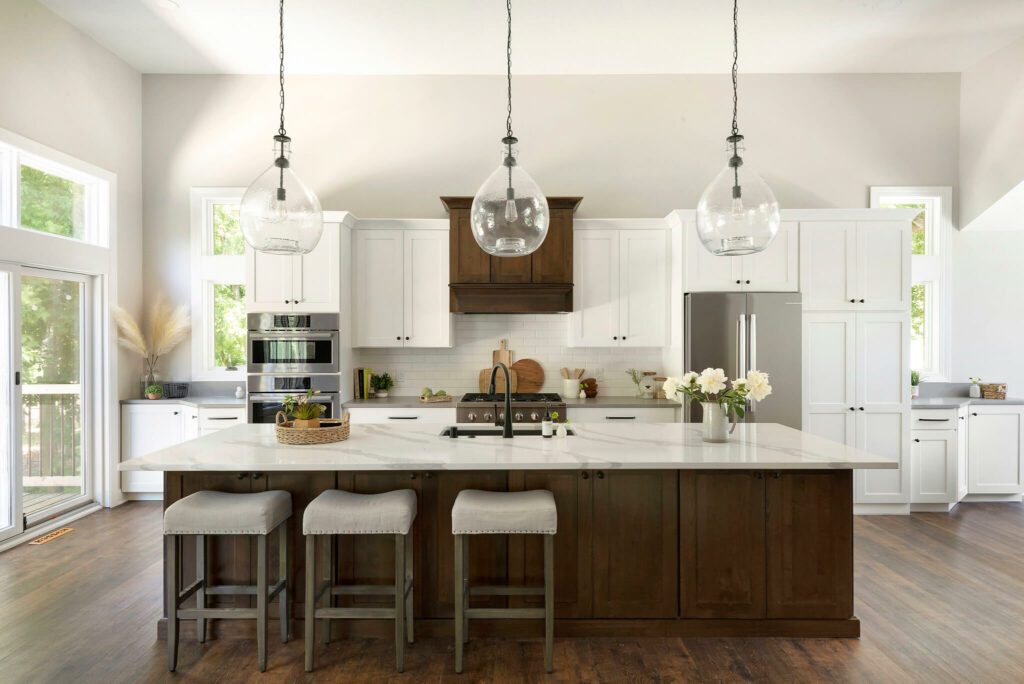 This Lakeville kitchen remodel involved a significant layout change, removing a wall and moving/adding windows to modify the layout. Beautiful custom cabinetry and an extra-large island with a continuous 11-foot quartz countertop complete the transformation.
Your kitchen, bath & home remodel specialists in Lakeville, Apple Valley, Eagan & beyond.
Don't go down the remodeling journey alone! Contact us to start a conversation about transforming your kitchen into one of these amazing kitchen remodels! From concept to completion, we take pride in guiding you through the process of creating the kitchen of your dreams. Located in Lakeville, MN, White Birch Design LLC, is a full-service design/build/remodeling company specializing in bath, kitchen & basement design and remodeling projects. Ready to love where you live?