Each year, we see how home remodeling trends change. Some trends have staying power while others are gone in a blink of an eye! As home designers and remodelers, we want to share our industry experience to help you find inspiration that fits your aesthetic and budget. Ready to embrace 2023 by adding some of these amazing remodeling trends into your home?
Spa Getaway Bathroom
Are you ready to pamper yourself in a spa-like bathroom? Whether it's starting your day sipping coffee 'at the spa' or winding down in a luxurious bath retreat, as seen below, homeowners are looking to 'get away.' Be ready in 2023 to see a significant shift toward interesting, innovative designs with minimalist intention. You can expect more geometric patterns in tile, natural materials like granite and marble for countertops, and a lot more mixing of metal finishes in bathroom cabinetry hardware and lighting.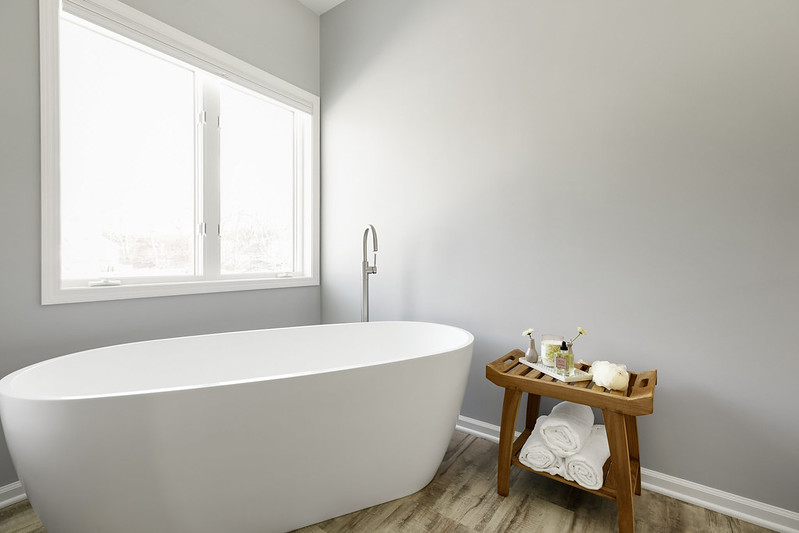 Get inspired! See more photos of our Simply Zen Bathroom Remodel in Lakeville, MN.
Multifunctional Rooms
The past few years have inspired homeowners to continue pushing the envelope for more creative ways to use their spaces. Many are still living, working, entertaining, and even staycationing in their homes. While no one is showering in their dining room quite yet, the status quo of what's acceptable is going to continue to evolve. Whether it's a bedroom/office or a dining room/home bar, 2023 is all about innovation meets multi-function! Open floor plans offer the most flexibility in terms of the use of space. Expect a continued interest in open floor plans designed to accommodate a range of needs. We remodeled this basement below to serve many purposes. It has features that allow the homeowner to host a party with friends and family or enjoy an evening at home with family. For more about this project, see our Pour Me Another Prior Lake, MN Basement Design portfolio page.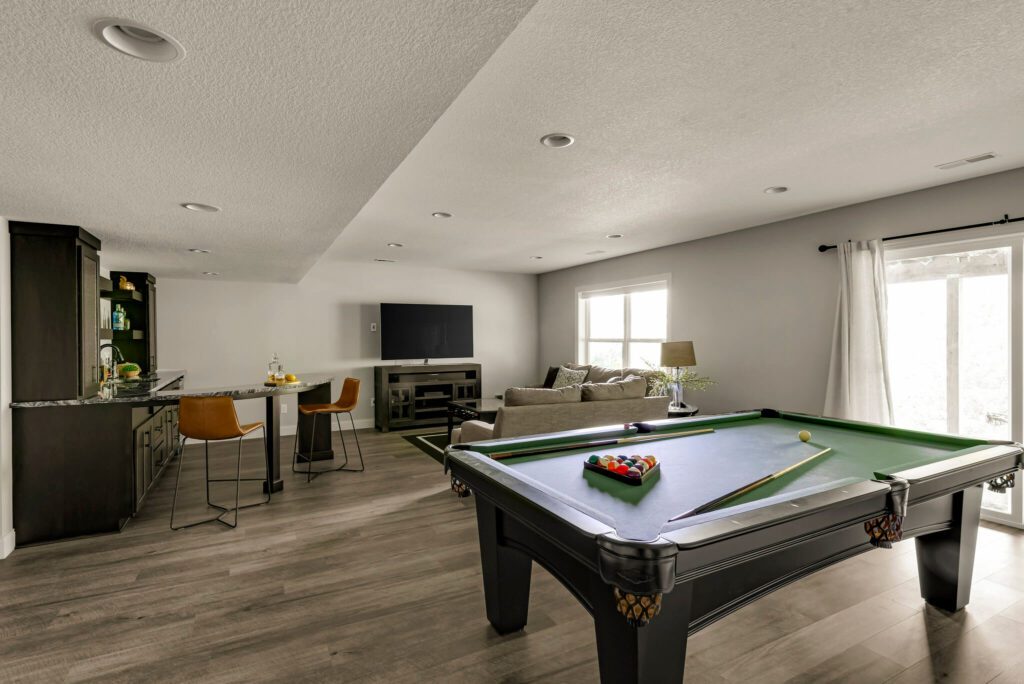 Built-in Storage Solutions
Name a room that doesn't benefit from built-in storage? Whether you're looking to keep items out of sight, spotlight something you love, or add coveted extra space, built-in storage is transformative. Clutter makes our anxiety levels rise. Storage provides the organization homeowners are craving, helping reorganize our homes in a more natural way. 
Declutter your space by adding organization solutions like pull-out shelves for small kitchen appliances and a built-in charging station. Or up your entertaining game as seen below with built-in storage like these wine cubbies flanking a beverage station with beautiful custom textured glass showcasing serving pieces.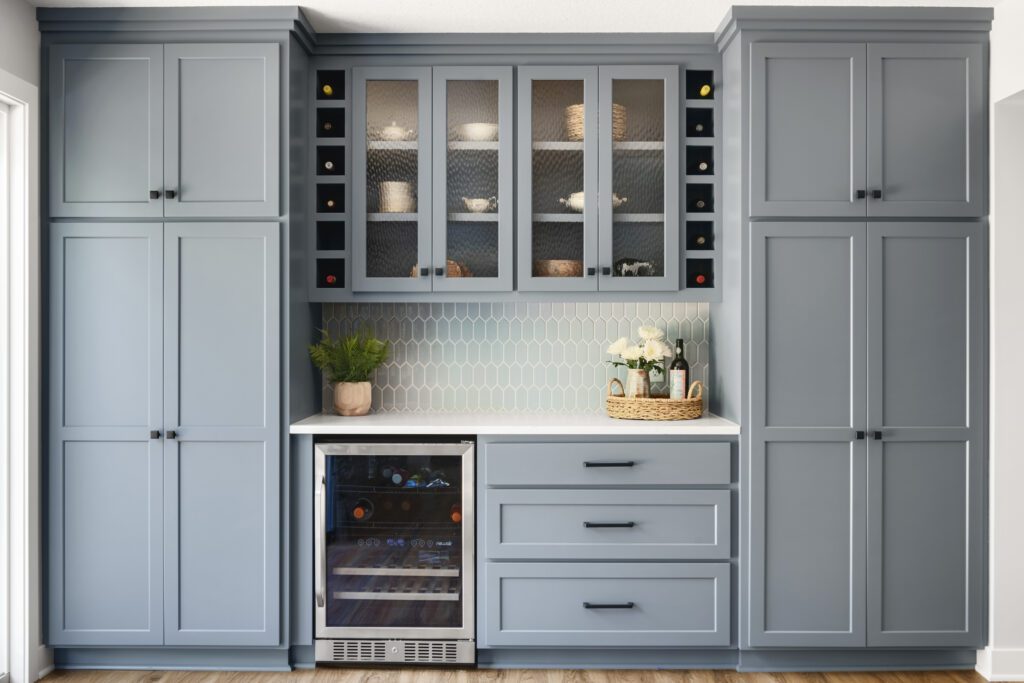 Learn all the details behind our Entertainers Delight Apple Valley, MN Kitchen remodel.
Bold Wall Coverings
Wall coverings, also known as wallpaper decades ago, are back and bolder than ever! Trendsetters are opting for wall coverings in big, bold prints and not on every wall. Since it's a modest investment and doesn't require an army to remove, this trend allows homeowners to show off their personality in any room they choose!
PRO TIP? Textured wallpaper is typically not kid-friendly. If you have young kids, a wallpaper without texture will be easier to clean.
Mixed Materials
Matching furniture is now getting two thumbs down, and the same trend is happening to countertops, backsplashes, hardware, and lighting! 2023 is about using mixed materials. What is mixing materials, you ask? It's when one space uses different types of metal, wood, stone, or tile to create a unique look. It could be a bathroom that has a quirky mix of wood finishes. Or a kitchen, as seen below, where we used a combination of materials with cabinetry in complementary colors, wood and stone countertop surfaces and varying hardware. Don't be afraid to be bold and experiment!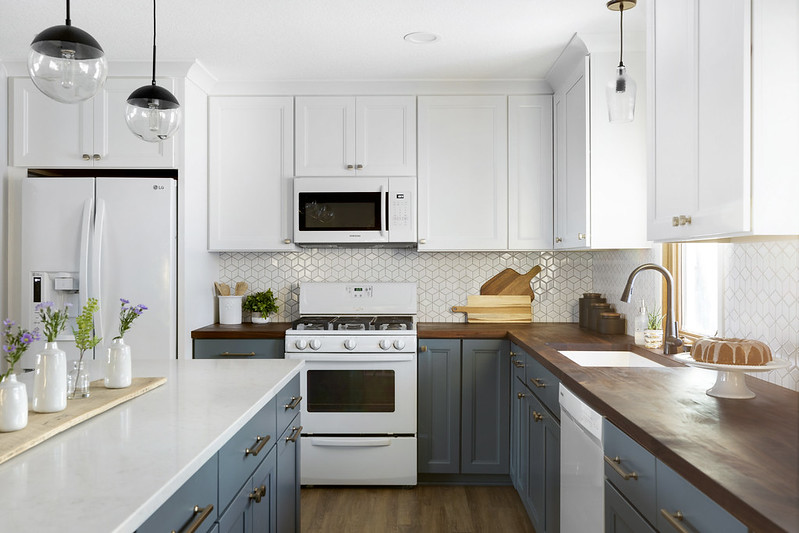 See more photos of our Beautiful Laguna Burnsville, MN Kitchen remodel.
Your home transformation specialists in Lakeville, Apple Valley, Eagan & beyond!
How will you transform your home? We're ready to help! Our team is well-versed in the latest trends in remodeling and design and is prepared to help you create a new and improved space! From concept to completion, we take pride in guiding you through the process of creating the room of your dreams. Located in Lakeville, White Birch Design LLC, is a full-service design/build/remodeling company specializing in bath, kitchen & basement design and remodeling projects. Want to see more? Check out our Portfolio to see more examples of our work. Better yet, contact us to start a conversation about transforming your home!