Searching for the perfect color for your kitchen cabinetry? Choosing color (versus a wood finish) is a wonderful option for injecting your personality into your kitchen design. Color can infuse warmth, interest and contrast, setting the tone for a kitchen design that feels fresh and updated.
That said, cabinetry is a significant investment; care should be taken when choosing a color. A poor color choice can quickly feel outdated and limit design decisions in adjacent areas.  To help, we've compiled our best tips for selecting kitchen cabinetry colors below. We're also sharing some of our favorite colors to work with including popular whites, neutrals, blue and green shades.
Design Tips for Selecting Kitchen Cabinetry Colors
While we would argue there aren't hard and fast rules for selecting kitchen cabinetry colors, there are best guidelines to follow. As with all design advice, we highly recommend working with a professional, like our Lakeville, MN remodel team, to ensure results that work best for your home and space!
Light Versus Dark
Lighter colors are a good choice if you have a small kitchen space or want the space to feel larger. Darker colors add warmth, a good option if you want to bring an element of coziness to a space.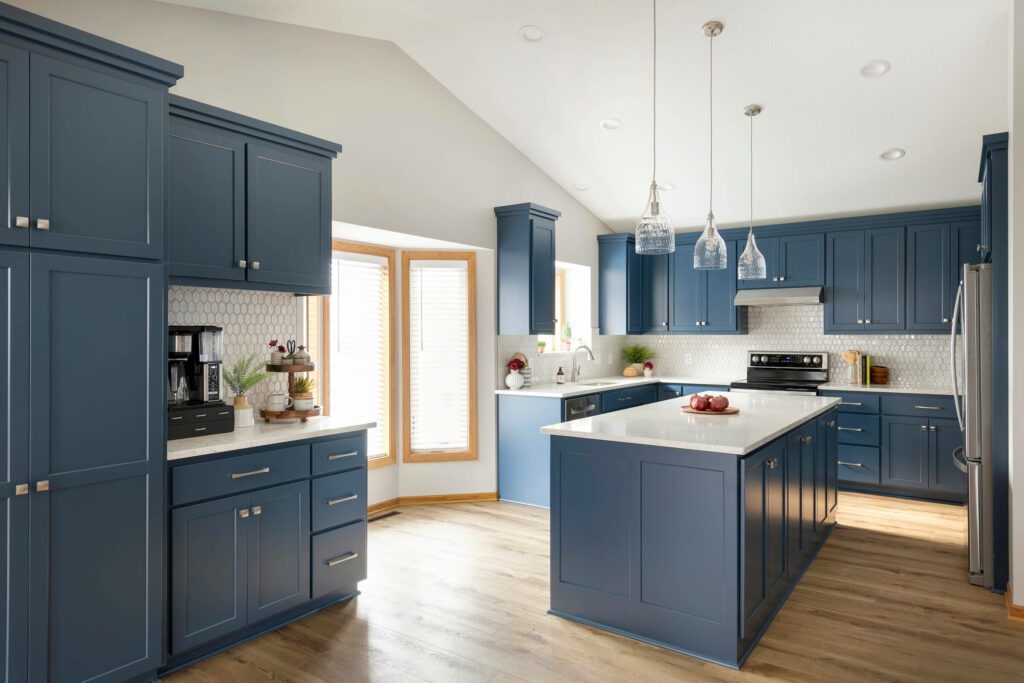 Pairing White Shades with Wood Finishes
Want the best of both worlds? Consider pairing a white or cream cabinetry color with a wood-finished island and accents. The white will leave your space feeling open while the wood finish will bring the warmth and texture you crave.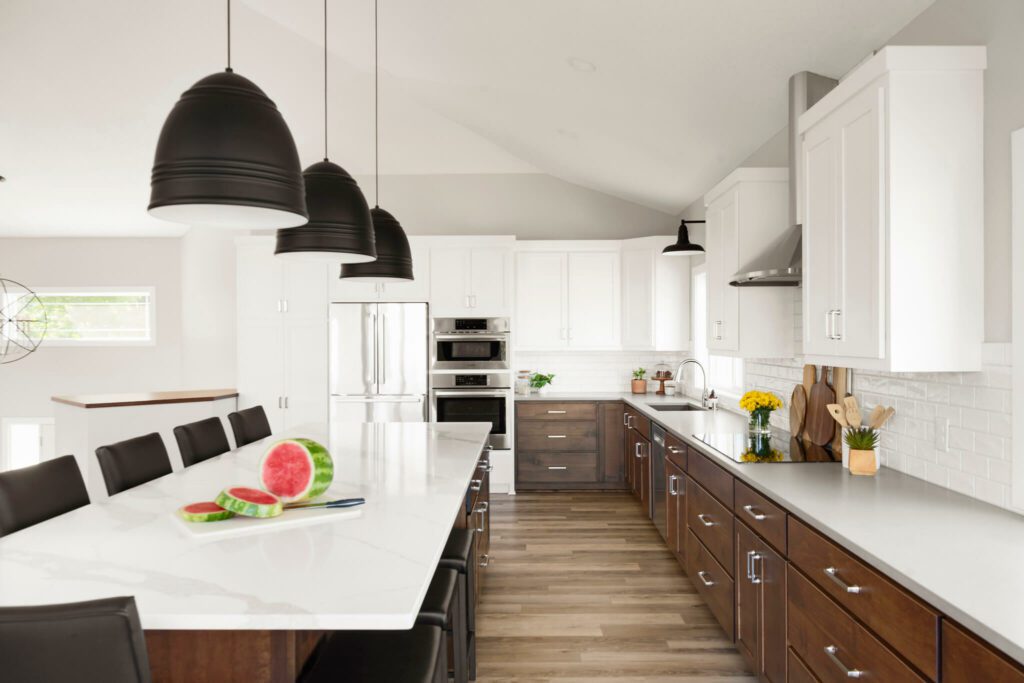 Dual Cabinetry Colors
If you love the look achieved with mixing two colors, consider a white or lighter color on the upper cabinetry and a darker color on the lower cabinetry. Doing it the opposite way will make your kitchen feel too top-heavy.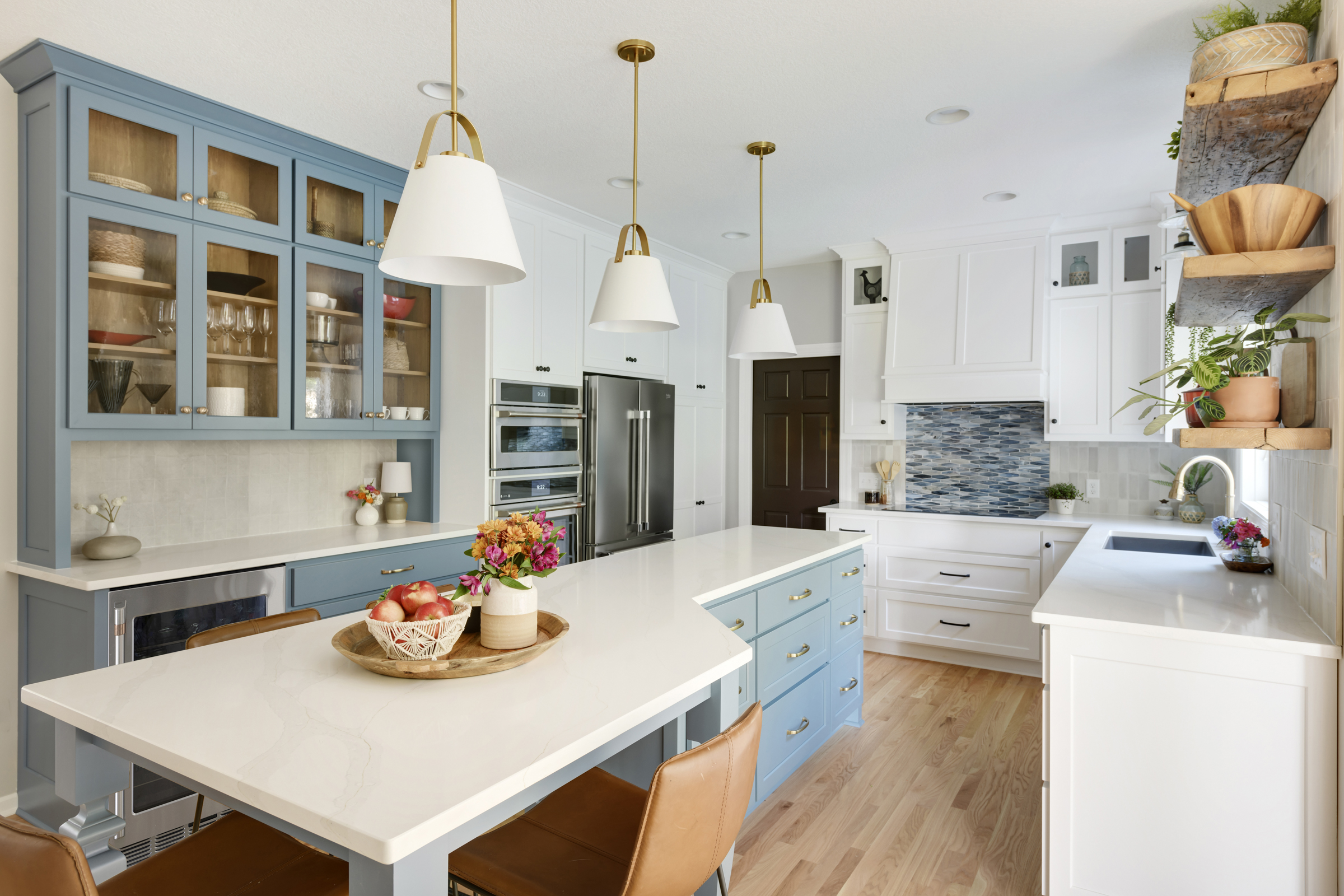 Bold Colors
Speaking generally, bold colors (including all black) can be a visually exciting choice. Want to dip just a foot in the color pool without diving all in? Consider pairing a bold color with white or neutral cabinet color. You'll get the infusion of color you desire but in a way that will stand the test of time and appeal to a broader audience should you ever decide to sell.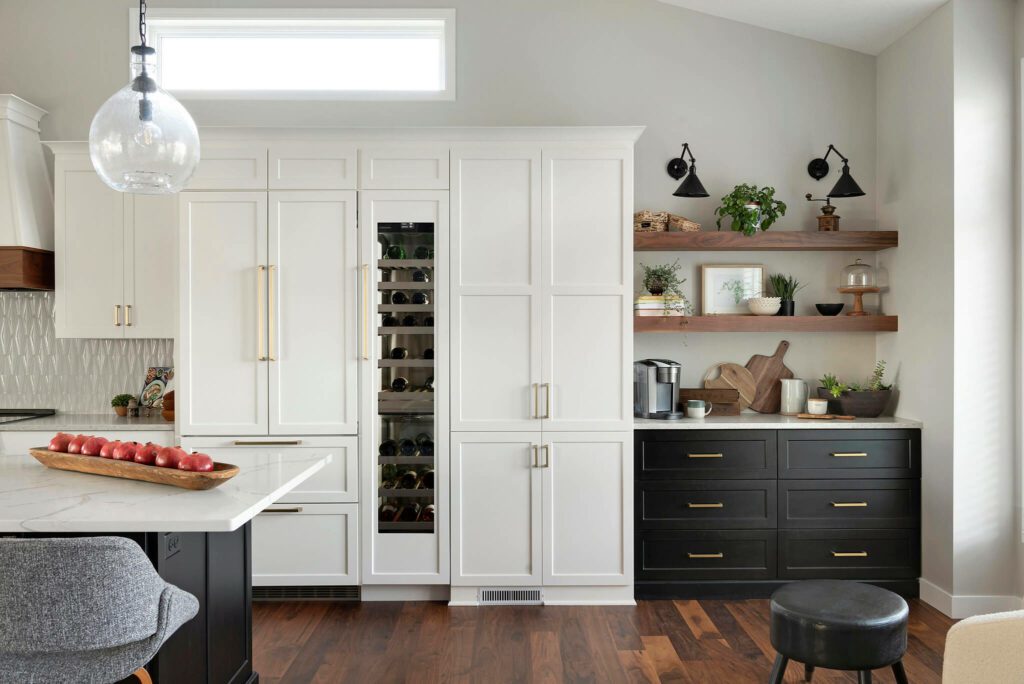 Off-White or Neutral Colored Cabinetry
White cabinetry colors certainly deliver a classic feel, but off-white or cream shades are a wonderful option in several situations including when you want to add warmth to your kitchen yet stick with a generally white color palette or when you want to incorporate wood-finish cabinetry.
Another ideal use for off-white or neutral-colored cabinetry is when you need your cabinetry to play nice with other woodwork throughout the home. A true white shade can make existing woodwork stand out even more. Incorporating an off-white or neutral color is an ideal way to help soften the overall color palette to blend with existing woodwork.
Some of Our Favorite Kitchen Cabinetry Colors
Popular White Cabinetry Color – Sherwin Williams Snowbound White 
A crisp white with just a hint of greige undertones to soften it. A great choice for when you want a 'classic white'.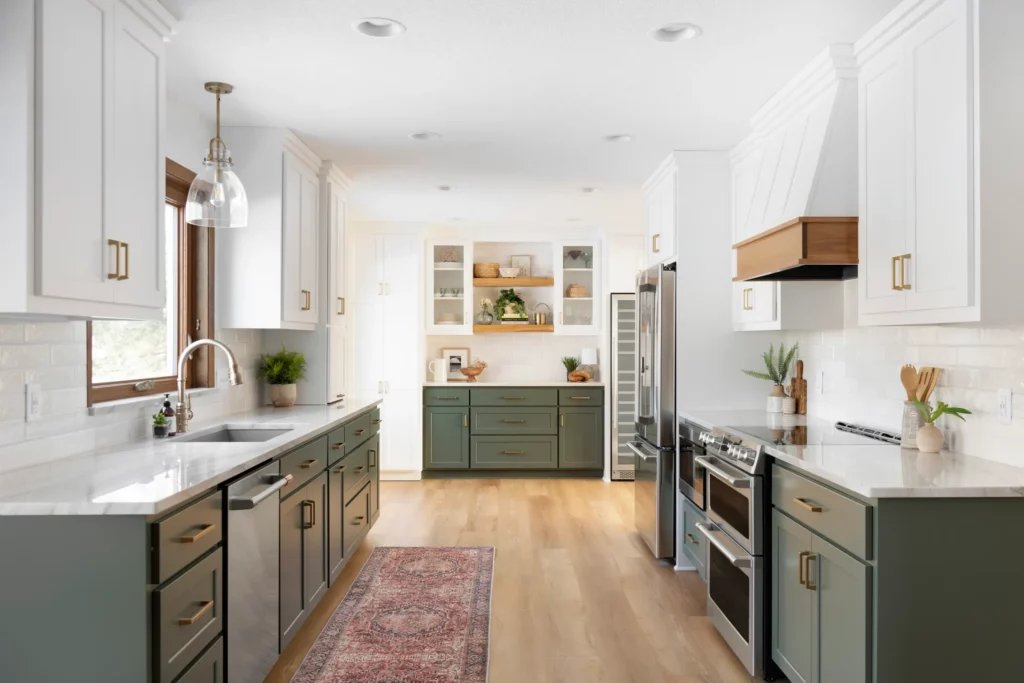 Popular Off-White Cabinetry Color – Benjamin Moore Swiss Coffee
A creamier white with just the right amount of warmth (pictured below on upper cabinetry.) Pairs nicely with color and wood-finished cabinetry.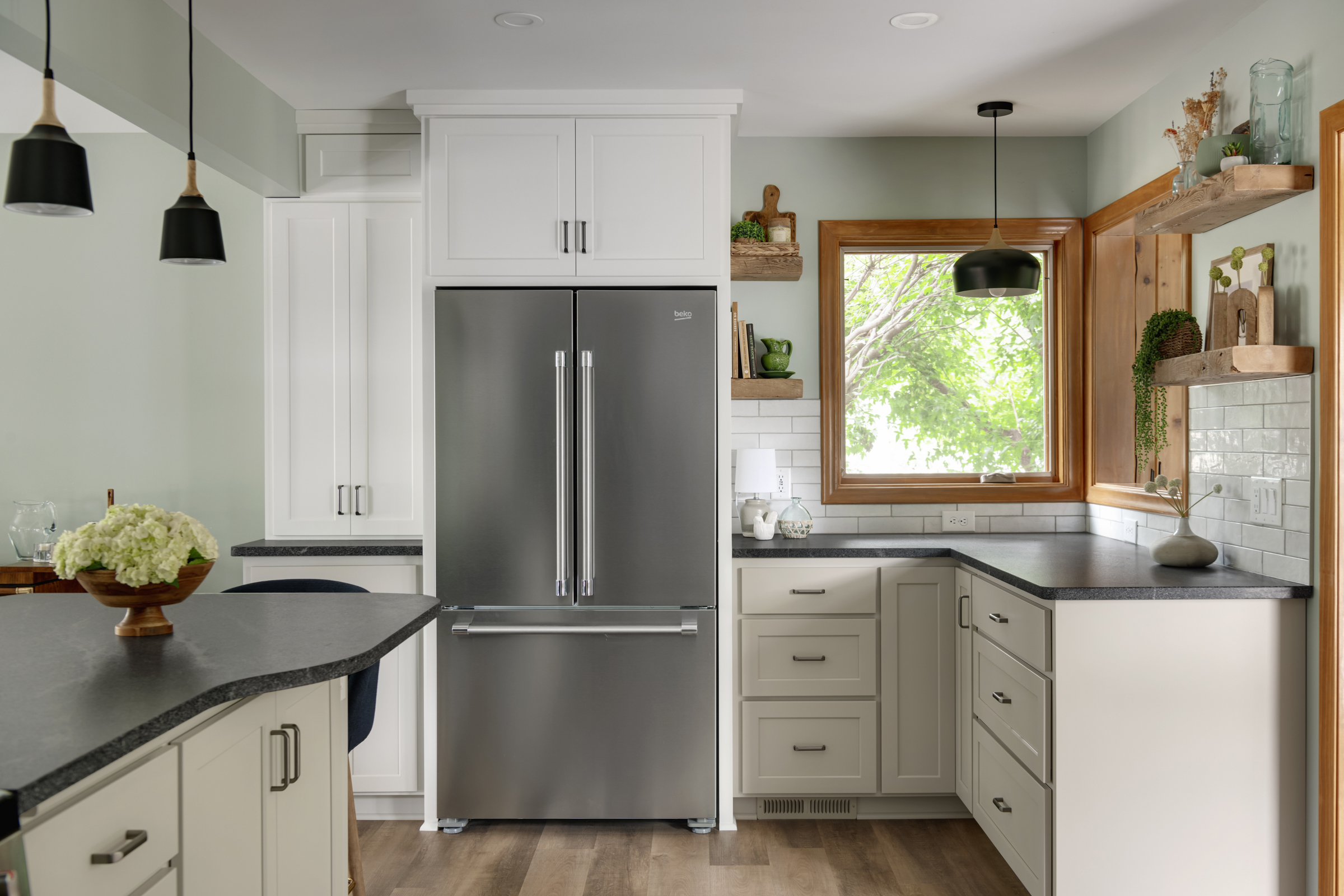 Popular Neutral Color  – Benjamin Moore Revere Pewter
A neutral soft grey tone that bridges between cool and warm. Great choice when you need to incorporate with existing wood-finished trim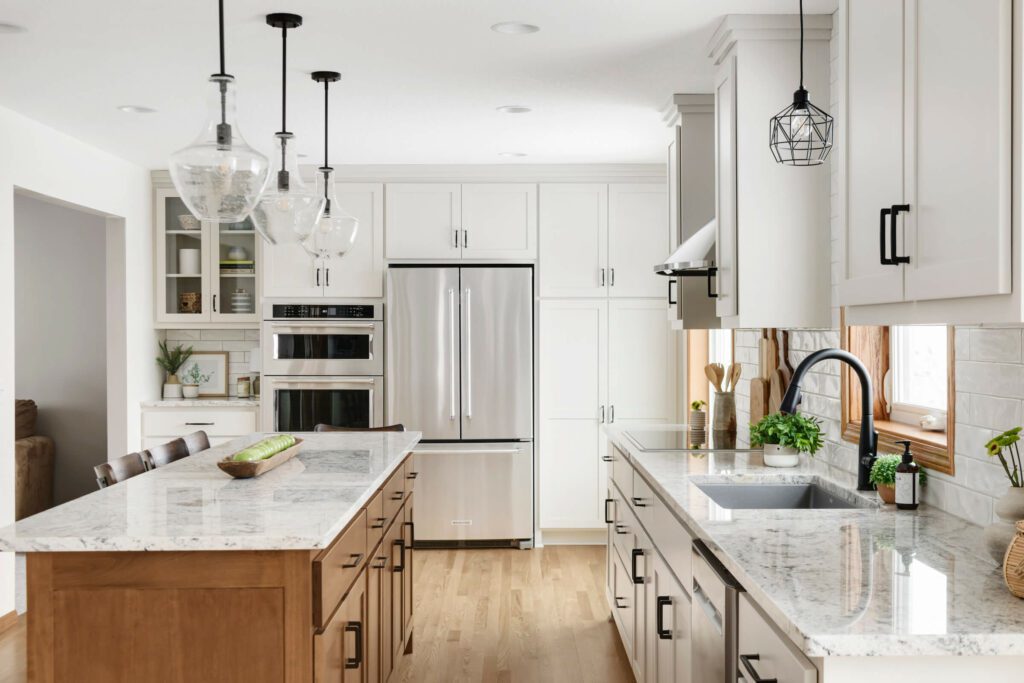 Popular Blue Cabinetry Color – Farrow & Ball Stiffkey Blue
A bold blue that isn't too 'in your face.' Pairs nicely with white countertops and backsplash.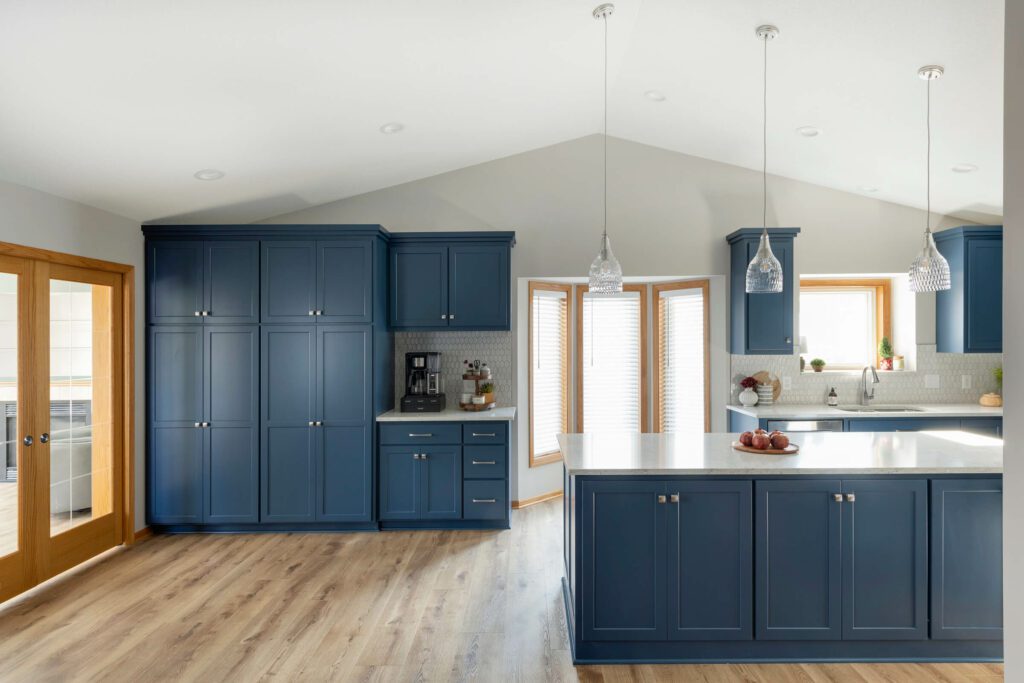 Popular Green Cabinetry Color – Sherwin Williams Pewter Green
A dark, more sophisticated cool green that pairs beautifully white and natural elements like wood and metal.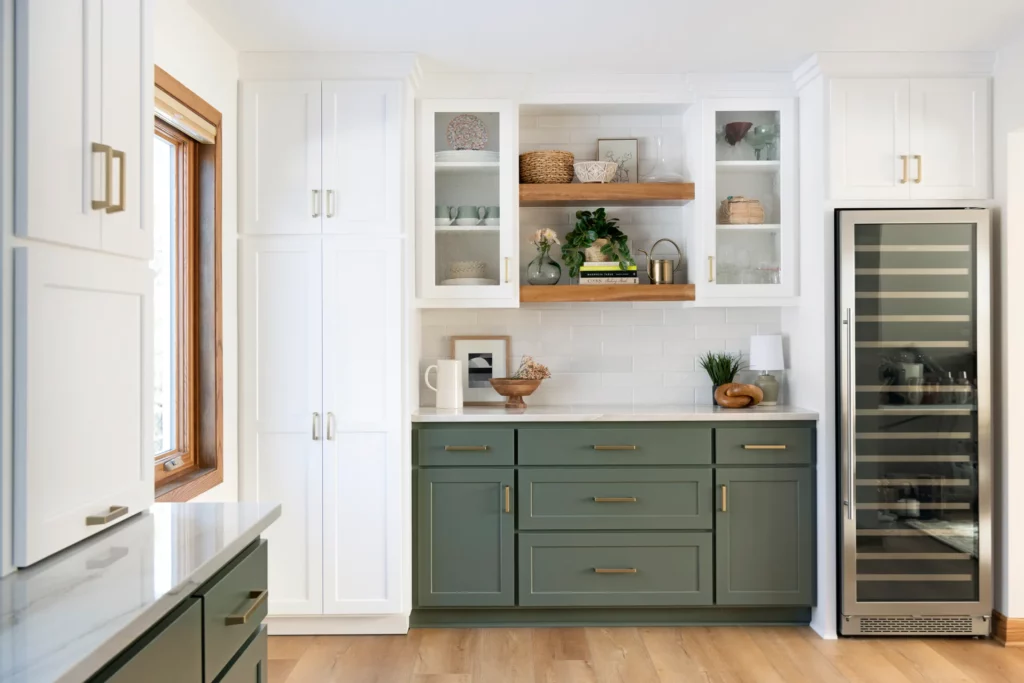 Kitchen Design & Remodel Advice for Your Twin Cities Home
Reach out to us to start a conversation! From partial remodels to total renovations, we believe in listening to our clients to deliver a finished space that delights and inspires. From design to construction, we take pride in guiding you through the process of creating the kitchen of your dreams. Based in Lakeville, MN , White Birch Design LLC is a full-service design/build/remodeling company specializing in bath, kitchen & basement design and remodeling projects. Contact us to start a conversation about transforming your home. Let us help you love where you live!