Considering a kitchen remodel project? We've shared some great information over the past few years aimed at helping homeowners discover the wonderful options available to them and educating them on what to expect when embarking on a home remodeling project. This month, we've decided to gather together some of our most popular articles highlighting tips, tricks, ideas and information on everything related to kitchen remodels. Whether you are still in the dreaming stage or ready to embark on a remodel now, these helpful articles are guaranteed to help you feel better informed and dare we say, more excited, about the kitchen remodel process!

How Much Does a Kitchen Remodel Cost?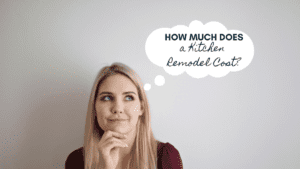 Let's address the elephant in the room and start with the number one question most homeowners have.  The answer to how much a kitchen remodel costs varies, but the main point we cover in this article is outlining contributing factors to a kitchen remodeling budget. We also provide some examples of beautiful kitchen remodels to show the differences in scope.
Kitchen Cabinetry Choices: Wood Vs. White Vs. Color

Are you camp sweet or camp savory, a night owl or early bird, a fan of summertime or winter hibernation? Add cabinetry preferences to this quizzical list, and you have jumped smack into the middle of one of the hottest debates in kitchen design today! There is no wrong answer when deciding between wood finish, white or color cabinetry – it's simply a matter of preference. In this article, we helpfully offer details about each cabinetry option and what it offers in terms of design.

7 Common Kitchen Remodeling Mistakes to Avoid

No one wants to embark on a kitchen remodel only to have it end with regrets. Errors can cost you both in terms of money and enjoyment. We helpfully recap seven common kitchen remodel mistakes to avoid so you can have the beautifully functioning kitchen you envisioned while minimizing costly and time-consuming missteps!

5 Ways to Cozy Up Your Kitchen

Looking for your kitchen to be a warm and welcoming space? There are many ways to bring warmth into a kitchen design while maintaining a timeless look. In this article, we showcase subtle and not-so-subtle ways to incorporate warmth and coziness into a kitchen design.

Before and After: Simply Sophisticated

Ready for one of the best (and most fun!) ways we can help you envision the potential within your kitchen? Don't miss our before and after features which walk you through the design decisions and steps of a particular project while showcasing both before and after photos. Our Simply Sophisticated Lakeville Kitchen Remodel Before & After is one of our more dramatic kitchen transformations and a stunning example of what can happen when you take down a few walls.

Looking for More Kitchen Design & Remodeling Advice?
Have a question we didn't cover here? Reach out to us to start a conversation! From partial remodels to total renovations, we believe in listening to our clients to deliver a design that delights and inspires. Our team is well-versed in the latest trends and is ready to help you create a new and improved space! From concept to completion, we take pride in guiding you through the process of creating the kitchen of your dreams. Located in Lakeville, White Birch Design LLC is a full-service design/build/remodeling company specializing in bath, kitchen & basement design and remodeling projects. Contact us to start a conversation about transforming your home. Let us help you love where you live!